Humanities: Phiosophy, Literature, Art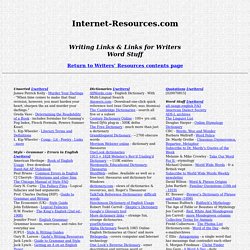 Unsorted [/writers] James Patrick Kelly - Murder Your Darlings - "When time comes to make that final revision, however, you must harden your heart, sharpen the ax and murder your darlings." Greda Vaso - Determining the Readability of a Book - includes formulas for Gunning's Fog Index, Flesch Formula, Powers Sumner Kearl L. Kip Wheeler - Literary Terms and Definitions L. Kip Wheeler - Comp - Lit - Poetry - Links - more Style - Grammar - Errors in English [/writers] American Heritage - Book of English Usage Band-Aid AP Stylebook Paul Brians - Common Errors in English CJ Cherryh - Writerisms and other Sins The Chicago Manual of Style FAQ Gary N.
Economics | Business Studies | Politics | Sociology | History | Law | Marketing | Accounting | Business Strategy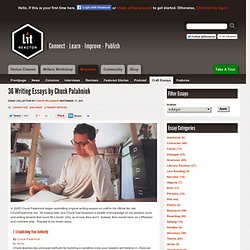 1: Establishing Your Authority Chuck teaches two principal methods for building a narrative voice your readers will believe in. Discover the Heart Method and the Head Method and how to employ each to greatest effect.
Brain Pickings is the brain child of Maria Popova , an interestingness hunter-gatherer and curious mind at large, who also writes for Wired UK and The Atlantic , among others, and is an MIT Futures of Entertainment Fellow. She has gotten occasional help from a handful of guest contributors . Brain Pickings is a human-powered discovery engine for interestingness, a subjective lens on what matters in the world and why, bringing you things you didn't know you were interested in — until you are. Because creativity, after all, is a combinatorial force.
Philosophy Compass : Home