Referance
Go Bibliography
`Just one game,' they said, and started to play. That was yesterday. Note: I'm finding that I don't have as much time as I'd like to read go books these days. If you've recently read a book that you'd like to review, please e-mail your review to me.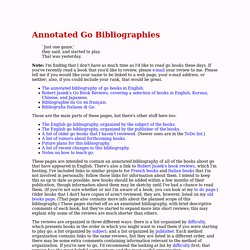 NihonKi-in_GoHomePage
Twin Cities Go Club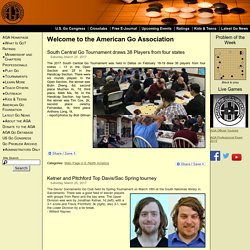 Updated Broadcast Times for Saturday's Lee Sedol – Gu Li Game Thursday January 23, 2014 The highly anticipated first game of the 10-game series (jubango) with $860,000 in prize money between Lee Sedol and Gu Li will be held in China on Sunday, Jan. 26 (Lee Sedol-Gu Li Jubango to be Broadcast Live on KGS 1/20 EJ).
Welcome to the American Go Association
The Go Teaching Ladder (GTL) [Igo, Wei Ch'i, Baduk, WeiQi]
On the 23rd of November the Pandanet Go European Team Championship will start. This is an EGF-tournament where national teams play in a league system on the Pandanet server. The teams consist of up to 12 players, out of which four are selected to play in each round. For the first season, 29 countries are participating in three leagues. There will be nine rounds, the last one in May/June. The finals, with the top four teams, will be held at the European Go Congress in Bordeaux in July 2011.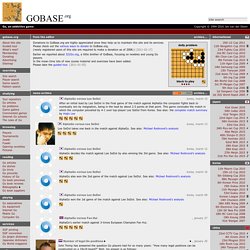 GoBase.org - Go Games, Go Information and Go Study Tools
goproblems.com Home
Fuseki Info - Login
Front Page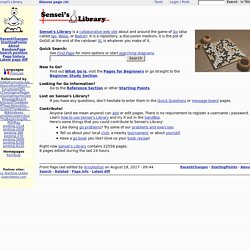 Sensei's Library is a collaborative web site about and around the game of Go (also called Igo, Weiqi, or Baduk). It is a repository, a discussion medium, it is the pot of Go(ld) at the end of the rainbow! SL is whatever you make of it. Quick Search:
GoDiscussions.com - Go Forum