Photo
Le portrait. Nature et couleur. Untitled. Freezing Time and Space Using a Bullet-Time Rig of 100 Digital Cameras. Last week we shared a guest post by photographer Martin Legeer on how he built a Matrix-style bullet-time camera rig using 50 Canon DSLRs.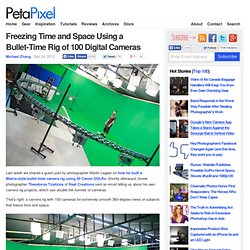 Shortly afterward, Greek photographer Theodoros Tziatzios of Real Creations sent an email telling us about his own camera rig projects, which use double the number of cameras. That's right: a camera rig with 100 cameras for extremely smooth 360-degree views of subjects that freeze time and space. Earlier this year, Tziatzios and photographer George Hatzakis built one of the rigs for a 360° Timefreeze Project at the Olympic Athletic Center of Athens. Comment réaliser une vidéo en Time-Lapse – Tutoriel. Comment réaliser une vidéo en Time-Lapse – Tutoriel Dans le cadre de notre partenariat avec Nikon, je vais vous présenter ici l'art et la manière de réaliser une vidéo en Time-lapse à travers un petit tutoriel.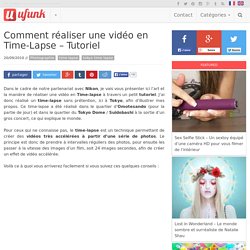 J'ai donc réalisé un time-lapse sans prétention, ici à Tokyo, afin d'illustrer mes propos. Ce time-lapse a été réalisé dans le quartier d'Omotesando (pour la partie de jour) et dans le quartier du Tokyo Dome / Suidobashi à la sortie d'un gros concert, ce qui explique le monde. Pour ceux qui ne connaisse pas, le time-lapse est un technique permettant de créer des vidéos très accélérées à partir d'une série de photos.
Blog - Antoine Guilbert. Digital Timelapse Discussion - Index page. Matériel. Creabar Montage Photo trucage Photo Retouche Photo Avant Après Photo. Multiple Exposure Tutorial. May 28, 2007 \ Design, Photoshop, Tutorials \ 49 Responses This tutorial is long overdue, and I'm horribly sorry about that!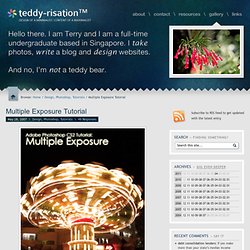 Well this tutorial is made for people who are interested in making similar photos found in this post (Multiple Exposure's Beauty). This tutorial is not limited to Adobe Photoshop CS2 and above – just make sure that your version of Adobe Photoshop allows you to change the Blending Options to "Screen" as well as allows you to alter the exposure of your photos (under Image > Adjustments). This tutorial will be separated into 3 parts due to the slightly different skills used, but the concept behind it remains the same. Like what I've mentioned above, creating images of multiple exposure requires 2 main functions – altering the images' exposures and changing their blending options.
TimeScapes: Rapture. HDR. Mark S. Johnson Photography » Blog Archive » Photoshop Workbench 262: Simulating the Toy Model Look. Using a little Gaussian Blur trickery, it's possible to transform a photograph of a real scene into one that looks more like a toy model.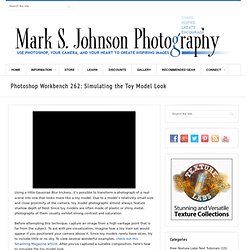 Due to a model's relatively small size and close proximity of the camera, toy model photographs almost always feature shallow depth of field. Since toy models are often made of plastic or shiny metal, photographs of them usually exhibit strong contrast and saturation. Before attempting this technique, capture an image from a high vantage point that is far from the subject. To aid with pre-visualization, imagine how a toy train set would appear if you positioned your camera above it. Ebook – Mercredi Pratique. Cet ebook est né d'une idée simple : chaque mercredi, sur le site Phototrend, nous publions un article synthétique pour expliquer un aspect de la photographie.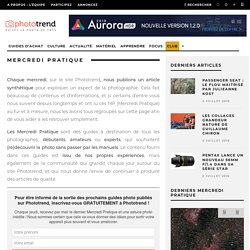 Aujourd'hui, nous avons atteint 98 Mercredi Pratique. Cela fait beaucoup de contenus et d'informations, et si certains d'entre vous nous suivent depuis longtemps et ont lu ces MP (Mercredi Pratique) au fur et à mesure, il devenait de plus en plus tentant de regrouper tous ces articles dans un seul et unique document, accessible à la fois en ligne mais surtout hors ligne, comme certains d'entre vous nous l'ont demandé. L'Ebook des Mercredi Pratique est donc un guide à destination de tous les photographes, débutants, amateurs ou experts, qui souhaitent (re)découvrir la photo sans passer par les manuels.
Le contenu fourni dans ce guide est issu de nos propres expériences, mais également de la communauté qui grandit chaque jour autour du site Phototrend, et qui nous donne l'envie de continuer à produire des articles de qualité. Utopia Photography Switzerland - Utopia Fotografie Schweiz. Enchères eBay + Magasins on-line - Nikon 200mm F/2. Photography Forums. Garden Gnome Software. S Best Photos of terragen. Flickr Hive Mind is a search engine as well as an experiment in the power of Folksonomies.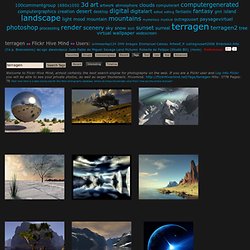 All thumbnail images come directly from Flickr, none are stored on Flickr Hive Mind. These photos are bound by the copyright and license of their owners, the thumbnail links take to you to the photos (as well as their copyright and license details) within Flickr.
---