Musique - Base de Données
Chrome Oxide - Music Collectors pages. Warning: these pages are content-rich (a lot of text, and some graphics-size is currently 40kb).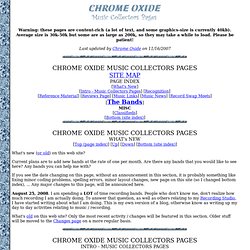 Average size is 30k-50k but some are as large as 200k, so they may take a while to load. Please be patient! Last updated by Chrome Oxide on 11/16/2007 CHROME OXIDE MUSIC COLLECTORS PAGESSITE MAPPAGE INDEX [What's New] [Intro - Music Collectors Pages] [Recognition] [Reference Material] [Reviews Page] [Music Links] [Music News] [Record Swap Meets] [The Bands]MISC [Classifieds] [Bottom (site index)] CHROME OXIDE MUSIC COLLECTORS PAGESWHAT's NEW [Top (page index)] [Up] [Down] [Bottom (site index)] What's new (or old) on this web site? Current plans are to add new bands at the rate of one per month. Are there any bands that you would like to see here? Jazz Discography Project. AllMusic. Rate Your Music. MusicBrainz. Un article de Wikipédia, l'encyclopédie libre.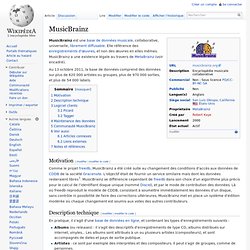 MusicBrainz est une base de données musicale, collaborative, universelle, librement diffusable. Elle référence des enregistrements d'œuvres, et non des œuvres en elles mêmes. MusicBrainz a une existence légale au travers de MetaBrainz (voir encadré). Au 13 octobre 2011, la base de données comprend des données sur plus de 620 000 artistes ou groupes, plus de 970 000 sorties, et plus de 54 000 labels.
Motivation[modifier | modifier le code] MusicBrainz! Robert Christgau: Critiques Album. Covers. Pochettes rock'n roll rockabilly. Pochettes Rares. CD / DVD Album Art Cover Search. LP Discography - Covers & Lyrics. 45cat - Vinyl Database - Records - Music Reviews - Discographies, Discoveries, Discussions. Pochette 45T. Wilson & Alroy's Record Reviews. Labels-Discographies. Album DiscographiesBy Mike Callahan, David Edwards, Patrice Eyries, Randy Watts and Tim Neely Last update: April 6, 2014 The discographies presented here represent a lot of original research, some of which we did some time ago, well before the internet was a possibility, along with a lot of more recent research.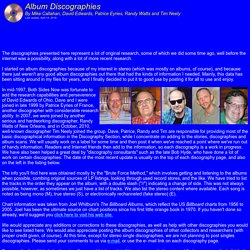 I started on album discographies because of my interest in stereo (which was mostly on albums, of course), and because there just weren't any good album discographies out there that had the kinds of information I needed. Ultimate Music Database.
---