Musique - Base de Données
Warning: these pages are content-rich (a lot of text, and some graphics-size is currently 40kb). Average size is 30k-50k but some are as large as 200k, so they may take a while to load. Please be patient! Last updated by Chrome Oxide on 11/16/2007 CHROME OXIDE MUSIC COLLECTORS PAGESSITE MAPPAGE INDEX [What's New] [Intro - Music Collectors Pages] [Recognition] [Reference Material] [Reviews Page] [Music Links] [Music News] [Record Swap Meets] [The Bands]MISC [Classifieds] [Bottom (site index)] CHROME OXIDE MUSIC COLLECTORS PAGESWHAT's NEW [Top (page index)] [Up] [Down] [Bottom (site index)] What's new (or old) on this web site? Current plans are to add new bands at the rate of one per month. Are there any bands that you would like to see here?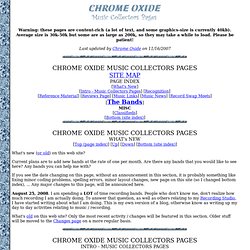 Chrome Oxide - Music Collectors pages
A collector's guide to jazz music CDs/DVDs, iTunes/MP3s and vinyl records (LPs/EPs/45s/78s, etc.):Blue Note, Prestige, Riverside Records (the big three labels of modern jazz); bebop, cool/west coast, hard bop, modal/mode, free/avant-garde jazz musicians; Miles Davis' personal connections, and more. Compiled and maintained by the Jazz Discography Project team.Nobuaki Togashi <togashi>Kohji 'Shaolin' Matsubayashi <shaolin>Masayuki Hatta <mhatta> List of Jazz Musicians: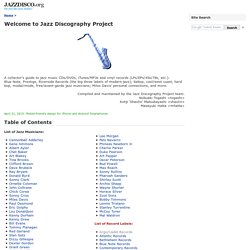 Outward Bound, Eric Dolphy's first album as a bandleader, is unusual for a jazz debut in that instead of being a showcase for Dolphy's songwriting it instead shines the spotlight one last time on the long-time Mingus sideman's prodigious talents on a number of woodwinds. Though Dolphy composed three of the tracks here, all of them are fairly standard hard bop compositions that serve more as a platform for the band's soloing than the rhythmically complex experiments he would become known for later; the other three tracks, such as the standard "Green Dolphin Street," also seem like they were chosen for their malleability. This, of course, is hardly a problem when you're talking about an instrumentalist as gifted as Dolphy, though, as his flighty solos here already prove he was leagues ahead of the genre trappings of his songs, with ambitions as far out as anything you were likely to hear in jazz in 1960.
Un article de Wikipédia, l'encyclopédie libre. MusicBrainz est une base de données musicale, collaborative, universelle, librement diffusable. Elle référence des enregistrements d'œuvres, et non des œuvres en elles mêmes. MusicBrainz a une existence légale au travers de MetaBrainz (voir encadré). Au 13 octobre 2011, la base de données comprend des données sur plus de 620 000 artistes ou groupes, plus de 970 000 sorties, et plus de 54 000 labels. Motivation[modifier | modifier le code]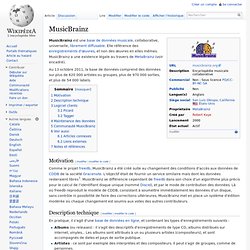 MusicBrainz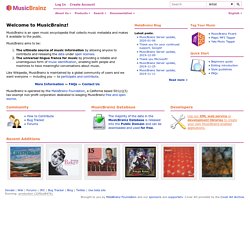 MusicBrainz is an open music encyclopedia that collects music metadata and makes it available to the public. MusicBrainz aims to be: The ultimate source of music information by allowing anyone to contribute and releasing the data under open licenses. The universal lingua franca for music by providing a reliable and unambiguous form of music identification, enabling both people and machines to have meaningful conversations about music. Like Wikipedia, MusicBrainz is maintained by a global community of users and we want everyone — including you — to participate and contribute. MusicBrainz is operated by the MetaBrainz Foundation, a California based 501(c)(3) tax-exempt non-profit corporation dedicated to keeping MusicBrainz free and open source.
This Week in Expert Witness New posts this week in Robert Christgau's Expert Witness blog: Odds and Ends 037: Afuche: Highly Publicized Digital Boxing Match (Cuneiform '11) ***Sun City Girls: Funeral Mariachi (Abduction '10) ***Ben Folds/Nick Hornby: Lonely Avenue (Nonesuch '10) ***Jenny Owen Youngs: An Unwavering Band of Light (self-released '12) **The Wailing Wall: The Low Hanging Fruit (JDub '10) **Ashton Shepherd: Where Country Grows (MCA Nashville '11) **The Superions: Destination . . . Christmas! (Fanatic '10) **Toby Keith: Clancy's Tavern (Show Dog/Universal '11) *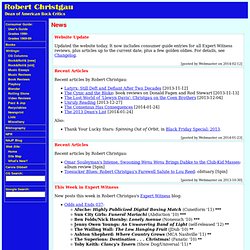 Robert Christgau: Critiques Album
Covers
Pochettes rock'n roll rockabilly
Pochettes Rares
CD / DVD Album Art Cover Search
LP Discography - Covers & Lyrics
45cat - Vinyl Database - Records - Music Reviews - Discographies, Discoveries, Discussions
Pochette 45T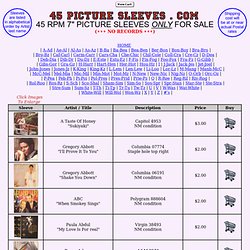 HOME | A-Ad | Ae-Al | Al-As | As-Az | B-Ba | Ba-Bea | Bea-Ben | Ber-Bon | Bon-Boy | Bra-Bro | | Bro-Bz | Caf-Carl | Carm-Carr | Cars-Cha | Che-Chic | Chil-Cole | Coll-Cra | Cre-Cz | D-Dea | | Deb-Dia | Dib-Dr | Du-Dz | E-Este | Estu-Ez | F-Fis | Fix-Fog | Foo-Fox | Fra-Fz | G-Gibb | | Gibs-Gor | Gra-Gz | H-Harr | Hart-Hen | Her-Hot | Hou-Hz | I | J-Jack | Jack-Jes | Jet-Joel | | John-Jones | Jones-Jz | K-King | King-Kz | L-Lem | Len-Lew | Li-Loo | Lor-Lz | M-Mang | Manh-McC | | McC-Mel | Mel-Mia | Mic-Mil | Min-Mot | Mot-Mz | N-New | New-Nic | Nig-Nz | O-Orb | Orc-Oz | | P-Pea | Peb-Ph | Pi-Poi | Pol-Pres | Pres-Prid | Prie-Pz | Q | R-Ree | Reg-Ril | Riv-Rog | | Rol-Roo | Ros-Rz | S-Sch | Sco-Shal | Sham-Sim | Sim-So | Sos-Spr | Spr-Stan | Star-Ste | Ste-Stra | | Stre-Sum | Sum-Sz | T-Th | Ti-Tp | Tr-Tu | Tw-Tz | U | V | W-Was | Wat-White | | White-Will | Will-Wol | Won-Wz | X | Y | Z | #'s | Click Images To Enlarge
Wilson & Alroy's Record Reviews
Labels-Discographies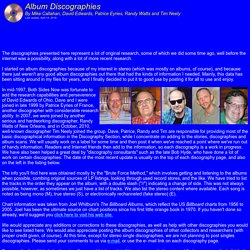 Album DiscographiesBy Mike Callahan, David Edwards, Patrice Eyries, Randy Watts and Tim Neely Last update: April 6, 2014 The discographies presented here represent a lot of original research, some of which we did some time ago, well before the internet was a possibility, along with a lot of more recent research. I started on album discographies because of my interest in stereo (which was mostly on albums, of course), and because there just weren't any good album discographies out there that had the kinds of information I needed.
Ultimate Music Database