Social Consulting Services
Social Media and Text Mining Analytics | Social CRM Tools | Collective Intellect. Oracle Social Cloud is a cloud service that helps you manage and scale your relationship with customers on social media channels.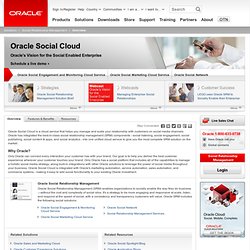 Oracle has integrated the best-in-class social relationship management (SRM) components - social listening, social engagement, social publishing, social content & apps, and social analytics - into one unified cloud service to give you the most complete SRM solution on the market. Why Oracle? Only Oracle can connect every interaction your customer has with your brand. Our goal is to help you deliver the best customer experience wherever your customer touches your brand. Only Oracle has a social platform that includes all of the capabilities to manage a holistic social media strategy; along built-in integrations with other Oracle solutions to leverage the power of social media throughout your business.
Social Media Monitoring, Analytics and Engagement | Visible. Converseon | Full Service Social Media Agency. Campaign Management, Email Marketing, Web Content Management, Social Media Monitoring: Alterian. SDL blends the marketing analytics, campaign management and social media capabilities from the Alterian product suite with that of SDL's leading global Web and Structured Content Management, eCommerce and Language Management capabilities, providing an integrated platform for companies to significantly enhance the global customer experience.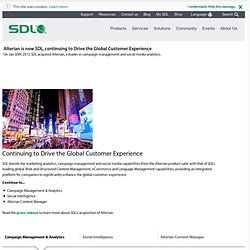 Continue to... Campaign Management & AnalyticsSocial IntelligenceAlterian Content Manager Read the press release to learn more about SDL's acquisition of Alterian. Accueil « Synthesio Synthesio. Synthesio accompagne Nissan depuis début 2011 afin de suivre et d'analyser les conversations des internautes dans 20 pays.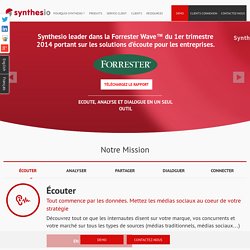 Tous les quatre ans, un des rendez-vous majeurs du rugby mondial, le Lions Rugby Tour, rassemble les meilleurs joueurs anglais, écossais et irlandais pour une tournée en Australie, en Nouvelle-Zélande et en Afrique du Sud. Orange a conclu un partenariat avec Synthesio afin de suivre les avis de ses clients sur les médias sociaux. L'opérateur a ainsi pu identifier et résoudre des problèmes collectifs mentionnés sur les forums.
---