Social Consulting Services
Oracle Social Cloud is a cloud service that helps you manage and scale your relationship with customers on social media channels. Oracle has integrated the best-in-class social relationship management (SRM) components - social listening, social engagement, social publishing, social content & apps, and social analytics - into one unified cloud service to give you the most complete SRM solution on the market. Why Oracle? Only Oracle can connect every interaction your customer has with your brand. Our goal is to help you deliver the best customer experience wherever your customer touches your brand. Only Oracle has a social platform that includes all of the capabilities to manage a holistic social media strategy; along built-in integrations with other Oracle solutions to leverage the power of social media throughout your business.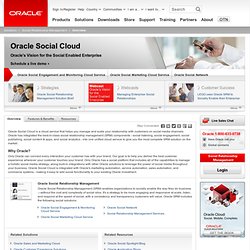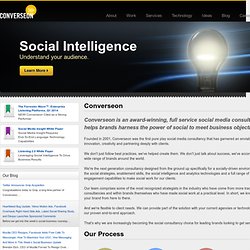 Converseon | Full Service Social Media Agency
Founded in 2001, Converseon was the first pure play social media agency that has garnered an enviable reputation for innovation, creativity and partnering deeply with clients. We don't just follow best practices, we've helped create them. We don't just talk about success, we've accomplished it with a wide range of brands around the world. We're the next generation agency designed from the ground up specifically for a socially-driven environment. We provide the social strategies, enablement skills, the social intelligence and analytics technologies and a full range of social engagement capabilities to make social work for our clients. Our team comprises some of the most recognized strategists in the industry who have come from more traditional big agency, consultancies and within brands themselves who have made social work at a practical level.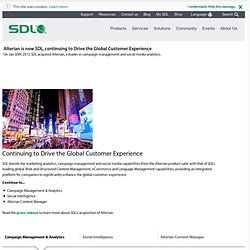 SDL's Social Intelligence Solutions apply research and technology in order to understand and address audience behavior to drive business action. Using KPIs, social media monitoring and research from social media data, SDL Social Intelligence allows you to make agile business decisions that maximize investment in marketing activities to create a seamless customer experience. SDL's Social Intelligence Solutions include: SDL SM2 (formerly Alterian SM2): A social media monitoring tool that provides visibility into your customers' direct thoughts and opinions.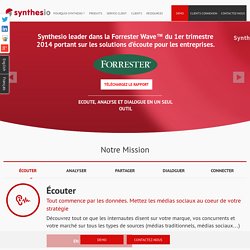 Synthesio accompagne Nissan depuis début 2011 afin de suivre et d'analyser les conversations des internautes dans 20 pays. Tous les quatre ans, un des rendez-vous majeurs du rugby mondial, le Lions Rugby Tour, rassemble les meilleurs joueurs anglais, écossais et irlandais pour une tournée en Australie, en Nouvelle-Zélande et en Afrique du Sud. Orange a conclu un partenariat avec Synthesio afin de suivre les avis de ses clients sur les médias sociaux. L'opérateur a ainsi pu identifier et résoudre des problèmes collectifs mentionnés sur les forums