Html5
Festivals en poche. Depuis trois ans maintenant, le nombre de téléchargements des applications Smartphone gratuites lancées par les grands festivals est en progression, et dynamise la consommation musicale : l'événement se vit désormais toute l'année sur le web, au-delà des pelouses et des chapiteaux.
Reste à déterminer comment les professionnels investissent ce nouveau marché. En 2012, le marché numérique de la musique est en pleine forme alors que les ventes physiques ne cessent de chuter. L'économie des festivals est elle encore florissante. Greencopper , entreprise basée à Montréal, qui propose depuis 2009 de développer, en natif , des applications Smartphone pour assurer la promotion des grands rassemblements musicaux en Europe, aux États-Unis et au Canada , avait eu le nez creux : elle a progressivement gagné la confiance du milieu et des sponsors et son catalogue compte aujourd'hui plus de 50 applications regroupant les principaux festivals de musiques actuelles de France.
LinkedIn has Three-Quarters of a Great iPad App, and 95% HTML5. 25 Best Free WordPress Responsive Themes. Today in the world of web design and development everyone is talking about is Responsive web design.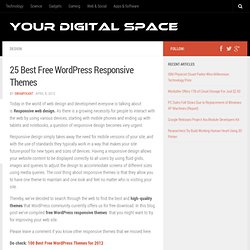 As there is a growing necessity for people to interact with the web by using various devices, starting with mobile phones and ending up with tablets and notebooks, a question of responsive design becomes very urgent. Responsive design simply takes away the need for mobile versions of your site, and with the use of standards they typically work in a way that makes your site future-proof for new types and sizes of devices. Having a responsive design allows your website content to be displayed correctly to all users by using fluid grids, images and queries to adjust the design to accommodate screens of different sizes using media queries. The cool thing about responsive themes is that they allow you to have one theme to maintain and one look and feel no matter who is visiting your site. 10 HTML5-Ready Blank, Bare-Bones and Naked Themes for Wordpress. If you are a WordPress developer and are looking for an easy way of rapidly building HTML5 ready themes without having to re-write the same WordPress code over and over, then this post is for you.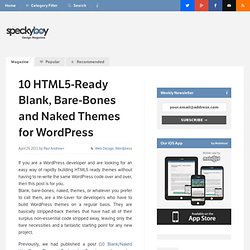 Blank, bare-bones, naked, themes, or whatever you prefer to call them, are a life-saver for developers who have to build WordPress themes on a regular basis. They are basically stripped-back themes that have had all of their surplus non-essential code stripped away, leaving only the bare necessities and a fantastic starting point for any new project. The Wilderness Downtown.
---