Discussions
Si l'homme était dot d'une e-mémoire totale et ternelle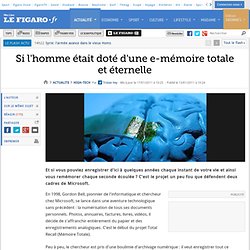 Et si vous pouviez enregistrer d'ici à quelques années chaque instant de votre vie et ainsi vous remémorer chaque seconde écoulée ? C'est le projet un peu fou que défendent deux cadres de Microsoft. En 1998, Gordon Bell, pionnier de l'informatique et chercheur chez Microsoft, se lance dans une aventure technologique sans précédent : la numérisation de tous ses documents personnels. Photos, annuaires, factures, livres, vidéos, il décide de s'affranchir entièrement du papier et des enregistrements analogiques. C'est le début du projet Total Recall (Mémoire Totale).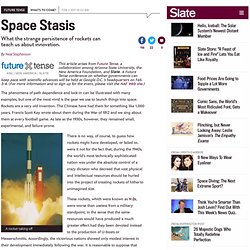 Atomic bombs turned out to be expensive, dirty, controversial, and of limited military use (it was difficult to find targets sufficiently large to be worth using them on). So they might have fizzled out, were it not for the fact that there just happened to be another victorious nation, controlled by a dictator, every bit as evil as the V-2 maker, but not so crazy, who insisted that his nation, the USSR, had to have atomic bombs too. Moreover, the conditions existing in the USSR then were such as to enable the development of that bomb in near-perfect secrecy.
What the strange persistence of rockets can teach us about innovation.By Neal Stephenson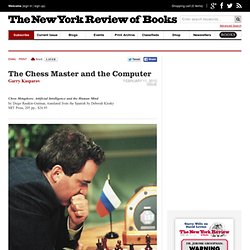 Chess Metaphors: Artificial Intelligence and the Human Mind by Diego Rasskin-Gutman, translated from the Spanish by Deborah Klosky
The Chess Master and the Computer by Garry Kasparov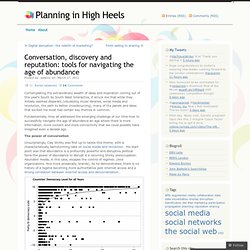 Conversation, discovery and reputation: tools for navigating the age of abundance « Planning in High Heels
Contemplating the extraordinary wealth of ideas and inspiration coming out of this year's South by South West Interactive, it struck me that while they initially seemed disparate (visualizing music libraries, social media and revolution, the path to better crowdsourcing), many of the panels and ideas that excited me most had certain key themes in common.
Press Info - Letter from Steve Jobs
I last saw Steve Jobs a year and half ago. I spent an hour alone in his company while he showed me the latest piece of magical hardware to have come from the company he had founded in 1976, the yet to be released Apple iPad. Naturally I was flattered to have been approved by him to be the one to write a profile for Time Magazine and to be given a personal demonstration of the device of which he was so clearly proud and for which he had such high hopes.
Steve Jobs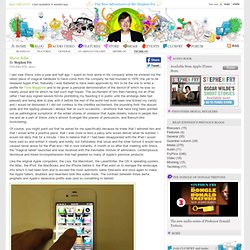 Switzerland could become the first country to outlaw PowerPoint presentations if a new party runs in the October parliamentary elections. Matthias Poehm, founder of the Anti-PowerPoint Party, claims that €350bn could be saved globally each year by ditching the scourge of public speaking. Poehm believes that the software takes people away from their work and teaches them little.
The political party that wants to ban PowerPoint | Technology