Getting To Know Android
Here I archive my sources for using and customizing Android phones. Jan 2
Google for Android
57 min ago Sony Lifelog app now available in Google Play for Xperia Z2, expanding to other Sony phones Sony's Lifelog application is now available in Google Play for the Xperia Z2, and will be coming soon to Xperia devices running Android 4.4.2. The Lifelog application, and the Sony Smartband (available at Newegg) work in tandem to keep track of your movement, and capture your physical, social, and Internet activities right from your wrist.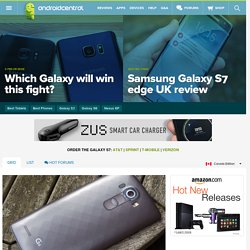 Page 5 - What is LTE?
So, what is LTE? To most, it is a faster network technology. To network operators around the world, it is a way to simplify their infrastructures to reduce costs while improving the quality of their offerings to subscribers. Advertisements by network operators declare it as the "most advanced" network technology.