Arpaton
arpaton
Precise Manipulation of Chromosomes in Vivo Enables Genome-Wide Codon Replacement. Microfluidic technologies for synthetic biology. [Int J Mol Sci. 2011] - PubMed result. Methods in Enzymology : Multiplexed Genome Engineering and Genotyping Methods : : Applications for Synthetic Biology and Metabolic Engineering. Volume 498, 2011, Pages 409–426 Synthetic Biology, Part B — Computer Aided Design and DNA Assembly Edited By Christopher Voigt Engineering at the scale of whole genomes requires fundamentally new molecular biology tools.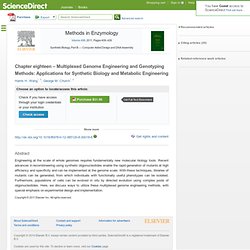 Recent advances in recombineering using synthetic oligonucleotides enable the rapid generation of mutants at high efficiency and specificity and can be implemented at the genome scale. With these techniques, libraries of mutants can be generated, from which individuals with functionally useful phenotypes can be isolated. Bringing It Together with RNA. Automatic Compilation from High-Level Biologically-Oriented Programming Language to Genetic Regulatory Networks. Citation: Beal J, Lu T, Weiss R (2011) Automatic Compilation from High-Level Biologically-Oriented Programming Language to Genetic Regulatory Networks.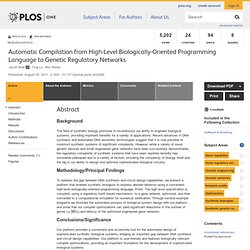 PLoS ONE 6(8): e22490. doi:10.1371/journal.pone.0022490 Editor: Eshel Ben-Jacob, Tel Aviv University, Israel Received: March 15, 2011; Accepted: June 22, 2011; Published: August 5, 2011. The Allure of Synthetic Biology. Biologists have been manipulating genomes ever since Paul Berg first described a method to covalently join duplex DNA molecules in 1972.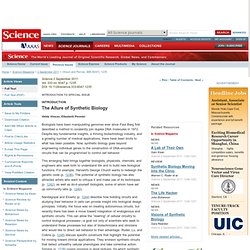 Despite key fundamental insights, a thriving biotechnology industry, and a growing number of medical applications, there have been limits to what has been possible. Now, synthetic biology goes beyond engineering individual genes to the construction of DNA-encoded circuits that can be programmed to control cell behavior. A Grand Challenge in Biology. Multi-Input RNAi-Based Logic Circuit for Identification of Specific Cancer Cells. Engineered biological systems that integrate multi-input sensing, sophisticated information processing, and precisely regulated actuation in living cells could be useful in a variety of applications.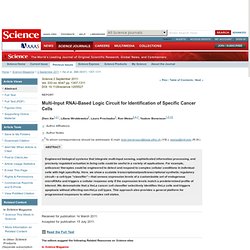 For example, anticancer therapies could be engineered to detect and respond to complex cellular conditions in individual cells with high specificity. Here, we show a scalable transcriptional/posttranscriptional synthetic regulatory circuit—a cell-type "classifier"—that senses expression levels of a customizable set of endogenous microRNAs and triggers a cellular response only if the expression levels match a predetermined profile of interest.
We demonstrate that a HeLa cancer cell classifier selectively identifies HeLa cells and triggers apoptosis without affecting non-HeLa cell types. 110118_imaginenano. Sequential Establishment of Stripe Patterns in an Expanding Cell Population.
Pearltrees videos
Getting started.
---