Arpaton
arpaton
Precise Manipulation of Chromosomes in Vivo Enables Genome-Wide Codon Replacement
Microfluidic technologies for synthetic biology. [Int J Mol Sci. 2011] - PubMed result
Volume 498, 2011, Pages 409–426 Synthetic Biology, Part B — Computer Aided Design and DNA Assembly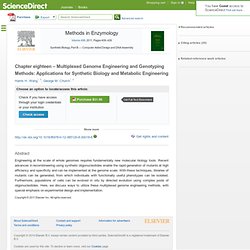 Methods in Enzymology : Multiplexed Genome Engineering and Genotyping Methods : : Applications for Synthetic Biology and Metabolic Engineering
Bringing It Together with RNA
Automatic Compilation from High-Level Biologically-Oriented Programming Language to Genetic Regulatory Networks
Biologists have been manipulating genomes ever since Paul Berg first described a method to covalently join duplex DNA molecules in 1972. Despite key fundamental insights, a thriving biotechnology industry, and a growing number of medical applications, there have been limits to what has been possible. Now, synthetic biology goes beyond engineering individual genes to the construction of DNA-encoded circuits that can be programmed to control cell behavior.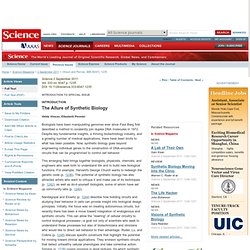 The Allure of Synthetic Biology
A Grand Challenge in Biology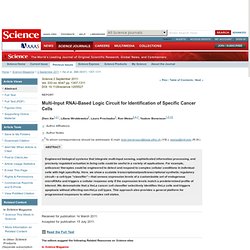 Engineered biological systems that integrate multi-input sensing, sophisticated information processing, and precisely regulated actuation in living cells could be useful in a variety of applications.
Multi-Input RNAi-Based Logic Circuit for Identification of Specific Cancer Cells
110118_imaginenano
Sequential Establishment of Stripe Patterns in an Expanding Cell Population