Chinois
???.NEO.RETRO.XpEX.1.0 | ???????? ???? ???? - Classic Chinese Character Typeset - typeset.ipcn.org
Online Chinese Input Method Editor (IME) 在线拼音输入法
InputKing online IME - type your language on any computer
InputKing Online Input System is a web-based multilingual input method editor (IME). To use this tool, you don't need to download and install any software on your computer. Also it is much more convienient than ordinary virtual keyboard input method. System Requirement: Your browser must be able to properly display the language that you want to type. Supported Operating Systems: Windows, Mac, Linux, UNIX, etc.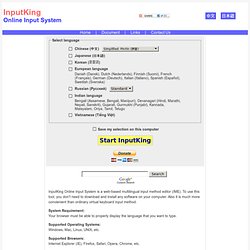 Introduction Every copy of Mac OS X 10.3 (Panther), 10.4 (Tiger), 10.5 (Leopard), 10.6 (Snow Leopard), and 10.7 (Lion) comes with built-in multilingual support that includes Chinese. In addition, all OS 9 CDs worldwide include Chinese support. "WorldScript" is Apple's trademark for the technology that supported multiple languages on Macintosh computers before OS X. It remains as part of the Carbon framework in OS X. In WorldScript, each language has a "script" that supports character-set and encoding standards for that language.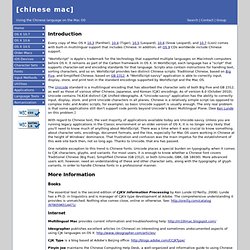 [chinese mac] Home
Lire et écrire le chinois sur ordinateur Lire le chinois sur ordinateur est aujourd'hui devenu chose facile. La plupart des navigateurs permettent maintenant de décoder les pages écrites en chinois, sans ajout d'un logiciel externe. Généralement cela se fait automatiquement.
Guide de recherche en études chinoises - Chinois et informatique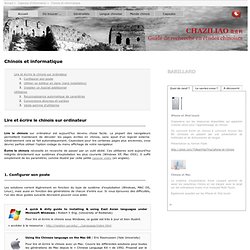 Etymology