Online Puzzles
Create A Crossword Puzzle Enter up to 20 words and hints (clues) below to create your own puzzles. There's no need to use all 20 words, you could use as little as two. Hints can be left blank. This free online crossword creator software can be a great tool for educators.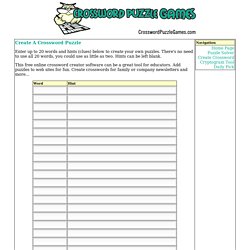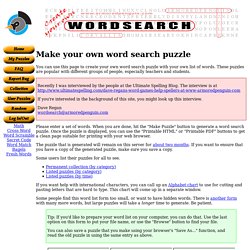 You can use this page to create your own word search puzzle with your own list of words. These puzzles are popular with different groups of people, especially teachers and students. Please enter a set of words. When you are done, hit the "Make Puzzle" button to generate a word search puzzle.
Instant Crossword Puzzle Maker
EclipseCrossword is the fast, easy, free way to create crossword puzzles in minutes. It's never been simpler—just give EclipseCrossword a list of words and clues, and it does the rest. In seconds, you'll have a crossword puzzle with just the words you want.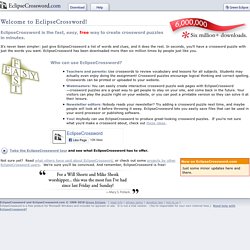 Expressing our Gratitude VocabularySpellingCity appreciates teachers and parents who recommend our site and mobile apps to colleagues and friends, share us on Facebook, follow us on Twitter, and other social media. Thanks to all teachers who have shared their best classroom practices using VocabularySpellingCity via online reviews, speaking at conferences and posting on social media about us. We especially appreciate the thoughtful input you give us to help guide our product development to better serve you and your students.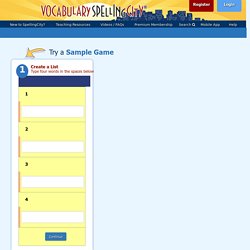 Can you solve a crossword puzzle without any clues, or are you as clueless as our crossword puzzle? Crossword puzzles have been around for years. They started out on sheets of paper and in books. There are still old fashioned crossword puzzle printables that can be found online.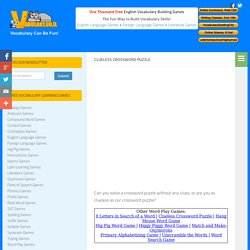 Clueless Crossword Puzzle
Free Puzzlemaker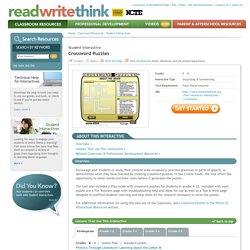 Download the plug-in tools you need to use our games and tools, or check to see if you've got the latest version. Learn more Looking for ways to engage your students in online literacy learning? Find more interactive tools that help them accomplish a variety of goals-from organizing their thoughts to learning about language.
Crossword Puzzles