Weed
If There Were Ever A Pro-Marijuana Video To Go Viral, This Is It | NORML Blog, Marijuana Law Reform
State By State Revenue From Marijuana If It Were Legal | Prose Before Hos
If you are the webmaster of this site make sure that: You have uploaded correctly your files to the public_html directory which is the web-root of your account; You have not misspelled the URL. Bear in mind that letters are case sensitive and no blank spaces are recommended; In case you have applied SEO - SEF URL rewrite rules, make sure you have renamed the htaccess.txt file to .htaccess.
How to make hash oil | Cannabis kreations
Joaquin "El Chapo" Guzman Loera thanks US presidents for making him a billionaire.Joaquin "El Chapo" Guzman Loera reported head of the Sinaloa cartel in Mexico, ranked 701st on Forbes' yearly report of the wealthiest men alive, and worth an estimated $1 billion, today officially thanked United States politicians for making sure that drugs remain illegal. According to one of his closest confidants, he said, "I couldn't have gotten so stinking rich without George Bush, George Bush Jr., Ronald Reagan, even El Presidente Obama, none of them have the cajones to stand up to all the big money that wants to keep this stuff illegal. From the bottom of my heart, I want to say, Gracias amigos, I owe my whole empire to you." According to sources in the Mexican government, President Calderon is begging American officials to, in the words of reggae great Peter Tosh, legalize it. "Oh yeah," said an official close to the Mexican president, "Felipe is going crazy.
Mexican Drug Lord Officially Thanks American Lawmakers for Keeping Drugs Illegal | Cannabis Culture Magazine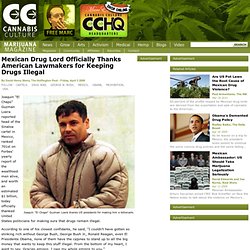 Six More Awesome Pro-Marijuana Ads | I Love Weed
Students for Sensible Drug Policy (SSDP)