Fashion
Lightning Factory
WhatsTrend Blog
Grayzine
design your own fashion
LellaVictoria
BY LOLO.
Human sea
Obsessee.
travinia
The Guilty Hyena
dirtyflaws
Basic Appeal
STELLA'S WARDROBE
Style Scrapbook
FASHIONNERDIC
The Collaborative Agency
Celebrity Style and Fashion Trend Coverage at WhoWhatWear.com
BLEACH BLACK
FrouFrouu
shiny plastic hag
STYLE GOSSIPER
cocorosa
New Pre-Fall Collections: Thakoon, Zac Posen, Ports 1961, and More -- The Cut
NOTCOT.ORG
YOUNG SHIELDS
July stars
THE LOCALS | Street Style from Copenhagen and elsewhere - featuring the locals straight from the street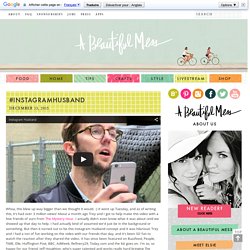 A Beautiful Mess
Hi, it's Mandi from Making Nice in the Midwest. When my husband and I first moved into our ranch home two years ago, we weren't quite sure how to fill out the long living room space, but we were sure we wanted some extra storage for our modest collection of books. After quite some time of living with this empty corner of the living room, I decided the perfect solution for the space was to build an adjustable shelving system that could eventually be lengthened into a workspace.
PARK & CUBE
Home
childhood flames
Carolines Mode | StockholmStreetStyle
because im addicted
The cherry blossom girl
Le Fashion
Organic food, health & beauty - Planet Organic
Kingdom Of Style
I know I've said it endless times but never in a million years will I be able to learn to crochet. Pigs will fly first. But Saffron Johns only needed four and that was to learn to crochet with wire!!!! Saffron creates wonderful work which she sells on her etsy store Other Worlds A world filled with detailed creatures, moments in time and treasures from the worlds of imagination and dreams. She specializes in wire art of all kinds including original art and sculpture, unusual one of a kind jewelry and crochet wire jewelry which even features semi precious stones.
Style Bubble