Fashion
Lightning Factory. WhatsTrend Blog. Grayzine. Design your own fashion. LellaVictoria. BY LOLO. Human sea. Obsessee. Travinia. The Guilty Hyena. Dirtyflaws. Basic Appeal. STELLA'S WARDROBE. Style Scrapbook. FASHIONNERDIC. The Collaborative Agency. Celebrity Style and Fashion Trend Coverage at WhoWhatWear.com. Streetstyles. BLEACH BLACK.
FrouFrouu. Shiny plastic hag. STYLE GOSSIPER. Cocorosa. New Pre-Fall Collections: Thakoon, Zac Posen, Ports 1961, and More -- The Cut. NOTCOT.ORG. YOUNG SHIELDS. July stars. THE LOCALS | Street Style from Copenhagen and elsewhere - featuring the locals straight from the street. A Beautiful Mess. Hey, friends!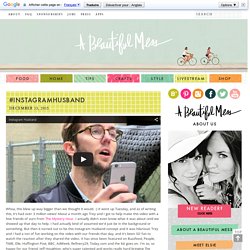 I'm here to share my new favorite happy hour recipe! It's fresh, herbal-y, and citrus-y. PARK & CUBE. Home. Childhood flames. Carolines Mode | StockholmStreetStyle. Because im addicted. The cherry blossom girl. Le Fashion. Organic food, health & beauty - Planet Organic. Kingdom Of Style. Every wee while I come across a company who strike me as the real deal.
A company whose mission and morals are every bit as wonderful as what they make. A company where their truth, honesty and vision is every bit as special as their product. It dawned on me that these companies are more often than not menswear, which when I thought about was perhaps not too surpring. Back in the day, 90% of what I wore was menswear - Supreme, Stussy, Maharishi, X-Large, Fuct, Final Home, YMC and 100% of it from my dear Dr Jives. Jackets, Sneakers, Knitwear, Bags everything came from Candleriggs. Style Bubble.
---