ändra vanor
Get flash to fully experience Pearltrees
It turns out that taking just five minutes a day to document your work progress and feelings can have a powerful impact. After analyzing over 238 diaries from happy workers, Teresa Amabile shares key takeaways for staying motivated at work, including the importance of measuring progress, documenting challenges, and taking time to reflect. Teresa Amabile is a professor and director of research at Harvard Business School, and coauthor of The Progress Principle . A psychologist, Teresa studies how everyday work life can influence people and their performance. Her research encompasses creativity, productivity, innovation, and inner work life — the confluence of emotions, perceptions, and motivation that people experience as they react to events at work. Based on research into nearly 12,000 daily diary entries from over 200 professionals inside organizations, The Progress Principle illuminates how everyday events at work can impact employee well-being and performance.
"I am doing 43 things" People have known for years that making a list of goals is the best way to achieve them. But most of us never get around to making a list. 43 Things is great for that!
Denna video och sångtext är så oerhört starka. Det är så lätt att glömma bort hur det ser ut i världen och att vi faktiskt kan välja att bidra och hjälpa till efter våra förutsättningar. Som Michael Jacksson påminner oss om börjar alltid den goda förändringen hos oss själva.
Login Be more productive! Questions How much does it cost? The Online CEO task management is currently a free (and unsupported) service of the Topfunky Corporation .
NOTE The "Productivity Tools" menu supercedes this page. Check it out The Printable CEO™ (PCEO) was born from a desire to focus my time more productively. For me, that means things that make my freelance practice sustainable and fun. The Printable CEO name comes from the idea that a good CEO should focus primarily on those things that move the company forward; since I can't afford to hire my own CEO, being able to print one out seemed like the next best thing! :-)
I haven't yet had a chance to review the progress on last year's resolutions in depth, but I can see that I didn't make as much progress on them as I would have hoped. Or did I? As I was updating the Concrete Goals Tracker on Jan 1st, it occured to me that this was the very tool I could use for tracking my progress toward my new resolutions throughout the entire year. I just needed to create a new weighted list of goals.
GOAL DATE: May 17th, 2011 (My 36th bday!) My list of things for the 101 things project, featured on this site. I was looking through some of the lists posted on the master list, and was inspired by the folks who categorized their lists into sections.
I do a lot of work with self-improvement and creativity in and around my website at [chrisbrogan.com] , and one really common "wish" I hear from friends and readers is constant: "I wish I could have the energy [ability/ skills / ideas] to write every day." Congratulations. I've granted your wish. Gather close. I'll tell you the secret. This is it.
Editor's note : This is a guest post from Ian Newby-Clark , an associate professor of psychology at the University of Guelph in Ontario, Canada who studies habit change. As a psychology professor who has studied habit change for several years, I have some advice about effective habit change. My advice is general. It applies to any habit that you would like to change.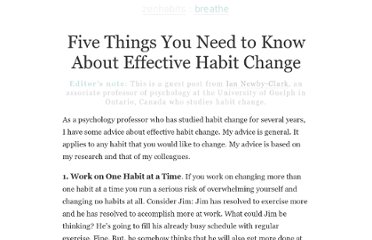 Research reveals a curved relationship between practice and automaticity. Say you want to create a new habit, whether it's taking more exercise, eating more healthily or writing a blog post every day, how often does it need to be performed before it no longer requires Herculean self-control ? Clearly it's going to depend on the type of habit you're trying to form and how single-minded you are in pursuing your goal. But are there any general guidelines for how long it takes before behaviours become automatic? Ask Google and you'll get a figure of somewhere between 21 and 28 days.
We are what we repeatedly do. Excellence, then, is not an act, but a habit. - Aristotle Our daily lives are often a series of habits played out through the day, a trammeled existence fettered by the slow accretion of our previous actions. But habits can be changed, as difficult as that may seem sometimes.