Varia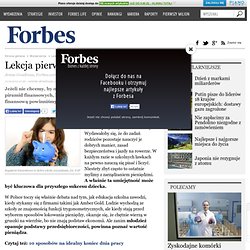 Po konretną wiedzę z różnych dziedzin posyłamy dzieci do szkoły. Wydawałoby się, że do zadań rodziców pozostaje nauczyć je dobrych manier, zasad bezpieczeństwa i jazdy na rowerze. W każdym razie w szkolnych ławkach na pewno nauczą się pisać i liczyć. Niestety zbyt często to ostatnie mylimy z zarządzaniem pieniędzmi. A właśnie ta umiejętność może być kluczowa dla przyszłego sukcesu dziecka. W Polsce toczy się właśnie debata nad tym, jak edukacja szkolna zawodzi, kiedy stykamy się z firmami takimi jak Amber Gold.
Jak uczyć dzieci zarządzania pieniędzmi? - Artykuły - Forbes.pl
"Sometimes the most important thing in a whole day is the rest we take between two deep breaths." – Etty Hillesum Are you familiar with those days where you feel like you have too much going on – way too much work, a dozen errands, e-mails to check, voicemails to listen to, and a growing list of things you really need to handle? Or what about those days where you feel like you're on autopilot and just going through the motions? Nothing is really wrong, but for one reason or another you just feel… blah . I am way too familiar with all of those types of days. In fact, I spent years having crazy days, blah days and all the other type of mentally draining days in between.
One Simple Thing You Can Do To Instantly Improve Your Day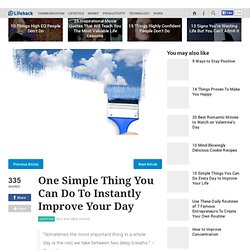 Not all that claims to be growth is real growth . Much of what masquerades as growth is a narcissistic pursuit in a shrewd disguise. What I've come to realize is that much of the time, when I think I've been growing, I haven't really been growing. I've been trying to fix or improve myself. The line between authentic growth on the one hand, and fake growth on the other, is an obscured landscape. Sometimes I think that I'm growing, and I really believe wholeheartedly that I am.
Self Development Mistake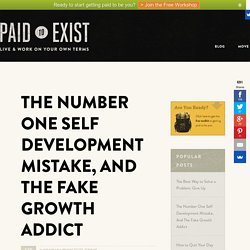 Why You're Not Happy
Add These Five Commands to the Top of Your To-Do List, Avoid the Most Common Deathbed Regrets
Palliative care nurse Bronnie Ware published a list of the five most common regrets of dying patients in her care. Blogger, developer, and entrepreneur Paul Graham took the list to heart, adding the following five commands to the top of his to-do list: Don't ignore your dreams; don't work too much; say what you think; cultivate friendships; be happy. We've actually mentioned Ware's list before ; Graham's commands are simply inverted versions of these regrets: I wish I'd had the courage to live a life true to myself, not the life others expected of me. I wish I hadn't worked so hard.
Will Power - Self Discipline - Guidance, Development and Exercises
By Remez Sasson Are there negative habits you wish you to overcome, such as smoking, excessive eating, laziness, procrastination, or lack of assertiveness? To overcome these habits, you need a certain degree of willpower and self discipline. The possession of these skills can make a great difference in your life, bringing to the fore, inner strength, self mastery and decisiveness, which are vital for success and personal growth.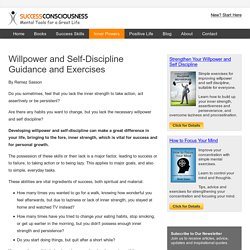 VIA Me > Breakthrough in Positive Psychology > Home
Your character strengths are already within you, but isolating and identifying them can be complicated, confusing and incredibly time-consuming. The VIA Me! Character Strengths Profile is designed to help you easily discover the strengths you already have and gain deeper insight into what makes you who you are.
When Life Hacks You Off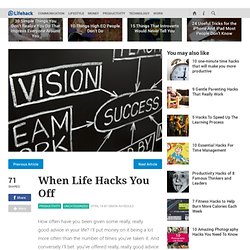 How often have you been given some really, really good advice in your life? I'll put money on it being a lot more often than the number of times you've taken it. And conversely I'll bet you've offered really, really good advice far more often than it's been taken. (As an aside I'll wager that the times good advice is taken is pretty similar to the number of times the advice matched what the person receiving the advice wanted to do in the first place!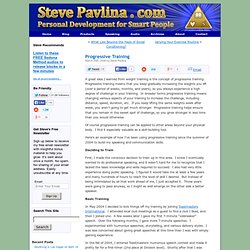 A great idea I learned from weight training is the concept of progressive training . Progressive training means that you keep gradually increasing the weights you lift (over a period of weeks, months, and years), so you always experience a high degree of challenge in your training. In broader terms progressive training means changing various aspects of your training to increase the challenge, including distance, speed, duration, etc.
Progressive Training
Jim Citrin at Yahoo! Finance set out to study the daily routine of 20 CEOs. Surprisingly, he received responses to his survey from 17 of the 20 CEOs polled. Jim's questions were focused around their daily routines. There was overwhelming similarity between the daily routines of all the CEOs.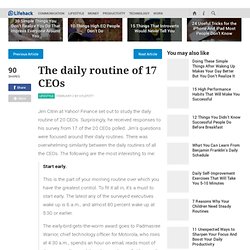 The daily routine of 17 CEOs
Do, or do not. There is no 'try'. – Yoda You're thinking about starting a business. You want to travel the world some day . "If I were your age" , you tell your daughter, "I'd get out of this town too." You would have gotten that girl's phone number, but then her friend came and whisked her away.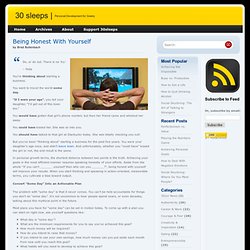 Being Honest With Yourself
In the absence of clearly defined goals, we become strangely loyal to performing daily acts of trivia. – Unknown So you've finally figured out your goal in life: To become a successful entrepreneur . You've never liked working for others.
The Most Common Mistake People Make When Setting Goals
The Right Habits
Your willpower is limited , so when you decide to take on something new—whether it's an exercise routine or, say, cooking—you're at least in theory limiting your ability to take on some other habit. But as New York Times writer and author of The Power of Habit Charles Duhigg explains, so-called 'keystone habits' create a chain reaction that can significantly influence the success of other habits. It's like making five good decisions for the price of one. So how do you identify your keystone habits? Where should a would-be habit master start? When I was reporting my book, The Power of Habit , this question was always at the back of my mind.
I love a good hard-boiled egg. The emphasis here is on the word good. It is SO hard to get a good hard boiled egg. It is almost impossible.
Got EGGS?
Every cook, being human, errs, bungles, botches, and screws up in the kitchen once in a while. If you have not "caramelized" fruit in salt rather than sugar, you have not suffered the most embarrassing mistake made by one of our editors. We did not have to look much farther than our staff―and their encounters with readers, friends, and relatives―to compile a list of common, avoidable culinary boo-boos. The creative cook can often cook her way out of a kitchen error, but the smart cook aims to prevent such creativity from being necessary. Here are over 40 ways to be smarter every time.
How to Be Fashionable at 20
Edit Edited by Ben Rubenstein, Axiom, Liz321, Flickety and 14 others Every wardrobe has gaps, but a wardrobe that can provide a suitable outfit 95% of the time is a must for women or men of any age.
puzzling dot org: Why keep an online diary?
akapit z trzema linkami: ciekawa forma pisania. dużo hipertekstów, brak chronologii. sieć pojęciowa mojej głowy? to może być coś dla mnie! by arghaton Dec 1