RPG Software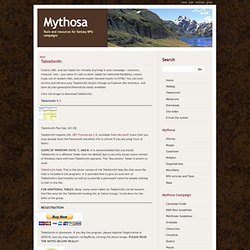 Create, edit, and use tables for virtually anything in your campaign - monsters, treasure, inns...you name it! Link to other tables for unlimited flexibility, create maps out of random tiles, and even export favored results to HTML!
Realm of Mythosa | Main / TableSmith
DA: The RolePlayer's Digital Assistant
Directory - Games > Roleplaying > Software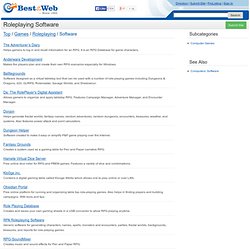 The Adventurer's Diary
Registration Code Generation
ScreenMonkey Downloads
NBOS Software Home Page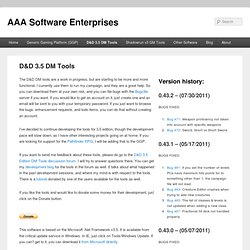 D&D 3.5 Edition DM tools
The D&D DM tools are a work in progress, but are starting to be more and more functional. I currently use them to run my campaign, and they are a great help. So you can download them at your own risk, and you can file bugs with the Bugzilla server if you want. If you would like to get an account on it, just create one and an email will be sent to you with your temporary password.
CrystalBall Lite is Shareware. You can freely distribute copies of CrystalBall Lite provided you are not selling or making a profit from the copies that are being distributed.
CrystalBall Lite - CrystalBallSoft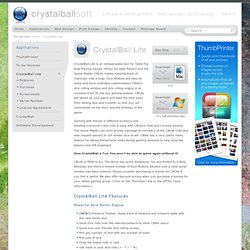 Introduction
DnD4eCM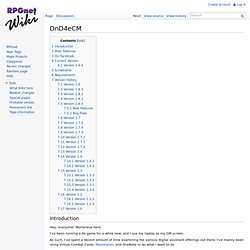 The Adventurer's Diary - A helping utility for Roleplaying (RPG) Gamers
Games: Roleplaying: Software
Software/Character_Generators/Dungeons_and_Dragons at Effie's Great Wyrm
Darn it! I was going to post a link to a cool post on cheesecake baking tips I found on a blog yesterday, but sometime between then and now the blog got protected and made private. Also, here's a sobering and interesting view on the war in Iraq. I generally try to stay away from political stuff here for various reasons, but sometimes when I find a particularly interesting perspective that doesn't read the same as every other post or article out there, I decide to link it.
Links Directory: RPG Software and Web Tools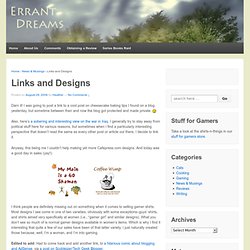 Deepwoods Software - Role Playing Database : Organize your table top gaming
Do you play table top RPGs and would you like to dump that messy notebook? The Role Playing Database can reduce your messy notebook of character sheets, maps, spell sheets, monster descriptions, and other essential information you need to drag around to your games with a USB memory stick! Yes, be prepared for a game anywhere there is a computer with an USB connector!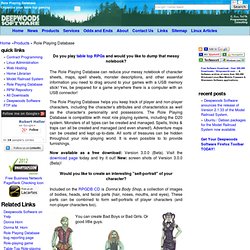 Phastinus Download
.: The Creator System
The Creator System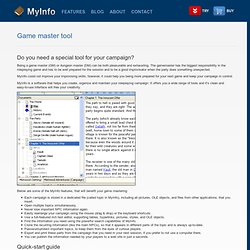 Do you need a special tool for your campaign? Being a game master (GM) or dungeon master (DM) can be both pleasurable and exhausting. The gamemaster has the biggest responsibility in the roleplaying game and has to be well prepared for the session and to be a good improvisator when the party does something unexpected.
Game master tool | gamemaster software
Fantasy World Productions
MonsterDB is a front-end for a monster database.
AutoRealm SourceForge site Free (GNU General Public License) Win95/98/XP Features
AutoRealm
RPGXplorer
RPG Manager - Create and manage your own RPG worlds
Bastion: A fantasy online RPG that you can play with your friends over the web
The RPG Toolbox Free Online Tools
Wyrm Tools :: RPG Tool Suite
DM Genie - Software for 3rd Edition RPG
RPG Gaming tools for Alternity, dungeons and dragons 3rd edition, etc.