RPG Software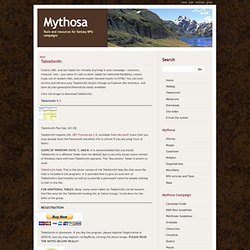 Create, edit, and use tables for virtually anything in your campaign - monsters, treasure, inns...you name it! Link to other tables for unlimited flexibility, create maps out of random tiles, and even export favored results to HTML! You can even archive and retrieve your TableSmith results through an Explorer-like interface, and have all your generated information easily available. Click the image to download TableSmith. TableSmith 5.1 TableSmith File Size: 421 KB
Realm of Mythosa | Main / TableSmith
DA: The RolePlayer's Digital Assistant
Directory - Games > Roleplaying > Software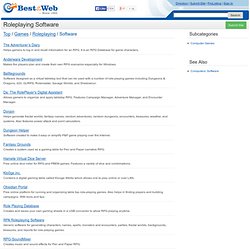 The Adventurer's Diary Helps gamers to log in and recall information for an RPG. It is an RPG Database for game characters. Battlegrounds
Registration Code Generation
ScreenMonkey Downloads
NBOS Software Home Page
Inspiration Pad Pro for Android™ now available(11-27-2013) All your favorite random generators now on your Android phone or tablet! Inspiration Pad Pro for Android is now available! Get it at Google Play! ScreenMonkey Lite v1.8 now available(04-28-2013) A new update to the ScreenMonkey Online Gaming Tool is available. This update enables several features that previously were only available in the paid commercial version - chat archives, multi-monitor support, and saving/loading encounters.
D&D 3.5 Edition DM tools
CrystalBall Lite is Shareware. You can freely distribute copies of CrystalBall Lite provided you are not selling or making a profit from the copies that are being distributed. Copies of CrystalBall Lite must include all documentation and files originally distributed with the software from the developers web site. CrystalBall Lite is NOT free. You are provided with a demo of CrystalBall Lite that is limited to 3 Notes and you will be reminded to register every 20 rolls. Entering a valid serial number will lift this limit.
CrystalBall Lite - CrystalBallSoft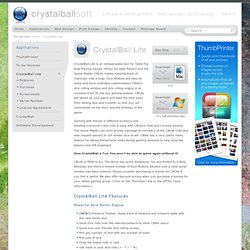 Introduction Hey, everyone! Mortaneus here. I've been running a 4e game for a while now, and I use my laptop as my GM screen. As such, I've spent a decent amount of time examining the various digital assistant offerings out there.
DnD4eCM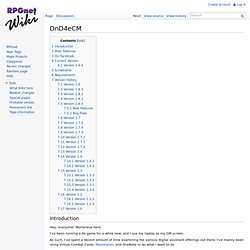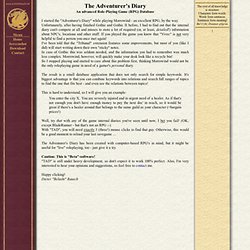 The Adventurer's Diary - A helping utility for Roleplaying (RPG) Gamers
I started the "Adventurer's Diary" while playing Morrowind - an excellent RPG, by the way. Unfortunately, after having finished Gothic and Gothic II before, I had to find out that the internal diary can't compete at all and misses to store a lot of required (or, at least, detailed!) information about NPC's, locations and other stuff. If you played the game you know that "Vivec" is not very helpful to find a person you once met again!
Games: Roleplaying: Software
Software/Character_Generators/Dungeons_and_Dragons at Effie's Great Wyrm
Darn it! I was going to post a link to a cool post on cheesecake baking tips I found on a blog yesterday, but sometime between then and now the blog got protected and made private. Also, here's a sobering and interesting view on the war in Iraq. I generally try to stay away from political stuff here for various reasons, but sometimes when I find a particularly interesting perspective that doesn't read the same as every other post or article out there, I decide to link it.
Links Directory: RPG Software and Web Tools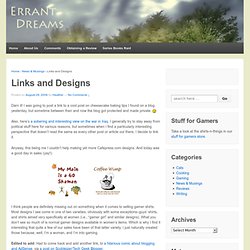 Deepwoods Software - Role Playing Database : Organize your table top gaming
Do you play table top RPGs and would you like to dump that messy notebook? The Role Playing Database can reduce your messy notebook of character sheets, maps, spell sheets, monster descriptions, and other essential information you need to drag around to your games with a USB memory stick! Yes, be prepared for a game anywhere there is a computer with an USB connector!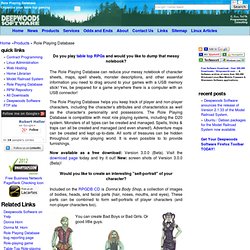 Phastinus Download
.: The Creator System This will be the final release of The Creator System. We will be adding more tile sets and will fix minor bugs but with all the other (paying) projects we have it's hard to keep The Creator System project up. We are a small company of programmers and artists who love RPG games (our president has been roling dice for 30 years now). In 1995 The Creator System started out as just a small program to help make maps and soon became part of our companys design line up.
The Creator System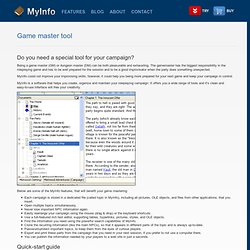 Do you need a special tool for your campaign? Being a game master (GM) or dungeon master (DM) can be both pleasurable and exhausting. The gamemaster has the biggest responsibility in the roleplaying game and has to be well prepared for the session and to be a good improvisator when the party does something unexpected.
Game master tool | gamemaster software
Fantasy World Productions
MonsterDB is a front-end for a monster database. It was created to allow quick and easy reference to all the monsters in d20 System Reference and other sources once added. The 4.1 release is the final release I will be making. The long awaited update to the 3.5 SRD and to Vb.NET has been canceled. The source for the last release canidate has been posted to the download section.
AutoRealm SourceForge site Free (GNU General Public License) Win95/98/XP Features Fractal lines and curves AutoNAME, a random name generator Overlays Glyph line styles
AutoRealm
RPGXplorer
RPG Manager - Create and manage your own RPG worlds
Bastion: A fantasy online RPG that you can play with your friends over the web
September 17th, 2013 US Direct Express Card Advantages When the US Department of Treasury introduced the US Direct Express prepaid debit card, it was met with some skepticism. Afterall, other government issued prepaid cards have been poorly managed, especially the eppicard program, which is notorious for poor and unresponsive customer service.
The RPG Toolbox Free Online Tools
Wyrm Tools is a suite of tools to make your gaming more productive regardless of which rules system you use. More importantly, it is an RPG tool platform. While this project anticipates to offer the standard RPG tool fare (such as a character generator and editor), it gives users the flexibility to add their own tools, even to the point of defining their own game systems. The foundation of Wyrm Tools is the Eclipse Rich Client Platform. Wyrm Tools is to be to RPGs what Eclipse is to, well, everything else.
Wyrm Tools :: RPG Tool Suite
DM Genie - Software for 3rd Edition RPG
RPG Gaming tools for Alternity, dungeons and dragons 3rd edition, etc.