Ressources Montessori
Practical: means basic, useful, purposeful Life: means the way of living. Practical life Exercises are just that, they are Exercises so the child can learn how to do living activities in a purposeful way.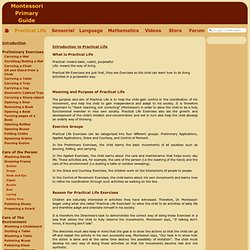 Montessori - Practical Life - Introduction
Aid to Life
Canadian Montessori Teacher Education Institute
Montessori AMI Primary Guide: Discover Practical, Sensorial, Language and Mathematic Exercises
MobileMe Gallery
The Montessori Great Lesson Page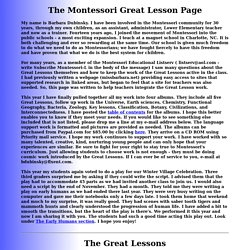 My name is Barbara Dubinsky.
Montessori for Everyone - Montessori Blog
Le jardin de Maria - Accueil
MontessoriMaterials.org
The Montessori Goldmine