Ressources Montessori
Practical: means basic, useful, purposeful Life: means the way of living. Practical life Exercises are just that, they are Exercises so the child can learn how to do living activities in a purposeful way. The purpose and aim of Practical Life is to help the child gain control in the coordination of his movement, and help the child to gain independence and adapt to his society. It is therefore important to "Teach teaching, not correcting" (Montessori) in order to allow the child to be a fully functionional member in hios own society. Practical Life Exercises also aid the growth and development of the child's intellect and concentration and will in turn also help the child develop an orderly way of thinking. Practical Life Exercises can be categorized into four different groups: Preliminary Applications, Applied Applications, Grace and Courtesy, and Control of Moment.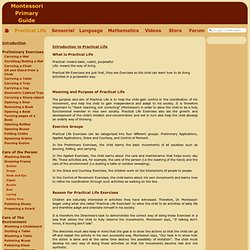 Montessori - Practical Life - Introduction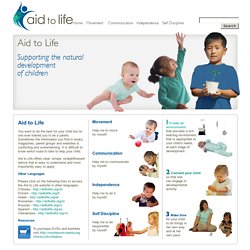 You want to do the best for your child but no one ever trained you to be a parent. Sometimes the information you find in books, magazines, parent groups and websites is conflicting and overwhelming. It is difficult to know which route to take to help your child. Aid to Life offers clear, simple, straightforward advice that is easy to understand and most importantly easy to apply.
Aid to Life
Canadian Montessori Teacher Education Institute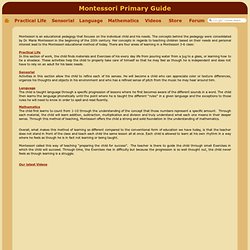 Montessori AMI Primary Guide: Discover Practical, Sensorial, Language and Mathematic Exercises
Montessori is an educational pedagogy that focuses on the individual child and his needs. The concepts behind the pedagogy were consolidated by Dr. Maria Montessori in the beginning of the 20th century. Her concepts in regards to teaching children based on their needs and personal interest lead to the Montessori educational method of today. There are four areas of learning in a Montessori 3-6 class: In this section of work, the child finds materials and Exercises of his every day life from pouring water from a jug to a glass, or learning how to tie a shoelace.
MobileMe Gallery
The Montessori Great Lesson Page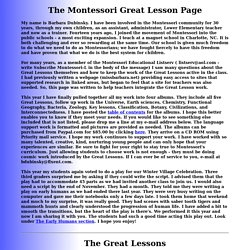 My name is Barbara Dubinsky. I have been involved in the Montessori community for 30 years, through my own children, as an assistant, administrator, Lower Elementary teacher and now as a trainer. Fourteen years ago, I joined the movement of Montessori into the public schools - a most exciting expansion. I teach at a magnet school in Charlotte, NC.
Montessori for Everyone - Montessori Blog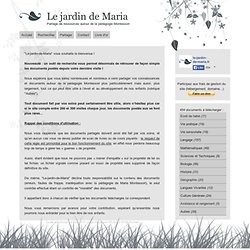 "Le-jardin-de-Maria" vous souhaite la bienvenue ! Nouveauté : un outil de recherche vous permet désormais de retrouver de façon simple les documents postés depuis votre dernière visite ! Nous espérons que vous serez nombreuses et nombreux à venir partager vos connaissances et documents autour de la pédagogie Montessori plus particulièrement mais aussi, plus largement, tout ce qui peut être utile à l'éveil et au développement de nos enfants (rubrique "Autres"). Tout document fait par vos soins peut certainement être utile, alors n'hésitez plus car si le site compte entre 200 et 300 visites chaque jour, les documents postés eux se font plus rares... Rappel des conditions d'utilisation :
Le jardin de Maria - Accueil
MontessoriMaterials.org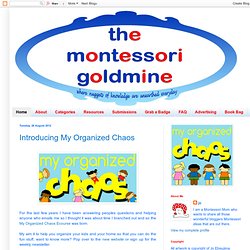 The Montessori Goldmine
First, let me thank everyone who has been in touch, we are all OK and I am updating the other blog if you want to know what is going on. Well, I can't just sit here and do nothing, there is so much devastation, the death toll is continuing to get higher and just looking at the images it is obvious that there will be a lot of clean up ahead. So, I have decided to run an auction and would be honoured if you could get involved. I am planning to run it in the same way as the QLD flood appeal auction with each blogger holding an auction or raffle on their own blog. You can donate or give whatever you like, Montessori files or something you make or something you have bought but please choose something that you are willing to post worldwide. The money will be donated to Global Giving once you have donated you will be sent a receipt number this will act as your raffle number, for those who win an auction you will need to send proof of donation to the person whom win from.