Calendar
Share, Tag and Organize events for promotion via Twitter - Calen. Event Calendar. Calendar for WordPress | Blogging Pro. Written by Jim Reyes in Kieran O'Shea has released a Calendar for WordPress plugin.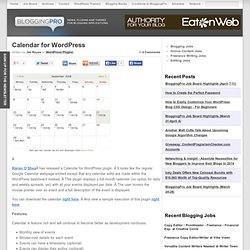 It looks like the regular Google Calendar webpage embed except that any calendar edits are made within the WordPress dashboard instead.  This plugin displays a full-month calendar (no option for daily and weekly spreads, yet) with all your events displayed per date.  The user hovers the mouse pointer over an event and a full description of the event is displayed. Easy WordPress and Google Calendar Integration. Google Calendar was meant not only to make your life easier with a free, easily-accessible online calendar.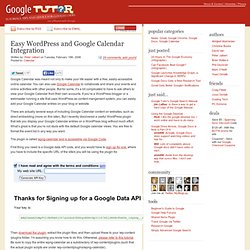 You can also use Google Calendar to collaborate and share your events and online activities with other people. But for some, it's a bit complicated to have to ask others to view your Google Calendar from their own accounts. If you're a WordPress blogger or a webmaster running a site that uses WordPress as content mangement system, you can easily add your Google Calendar entries on your blog or website. There are actually several ways of including Google Calendar content on websites, such as direct embedding (more on this later).
But I recently discovered a useful WordPress plugin that lets you display your Google Calendar entries on a WordPress blog without much effort. Web Calendars from localendar.com. WP SMASHING WordPress Theme at Bust A Theme. In creating WP SMASHING I updated the functionality of the just-released WP CALENDAR by adding a theme options page in the admin menu.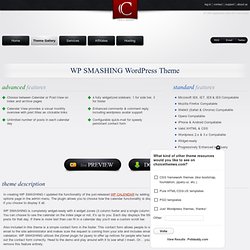 The plugin allows you to choose how the calendar functionality is displayed – if you choose to display it all. WP SMASHING is completely widget-ready with 4 widget zones (3 column footer and a single column sidebar). Welcome to Tungle. SCHED*: The ultimate social scheduling app for your conference,
---