Not Interested!
Shmotter - Influence the fashion
All Consuming
Connosr - Whisky Social Network - Malt Whisky Reviews, Ratings,
Product Ratings from Millions of Reviews – Find the Best Product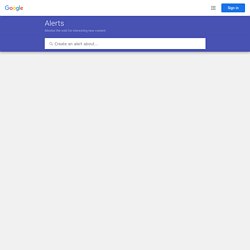 Avec les alertes Google, vous êtes averti par e-mail lorsque de nouveaux résultats correspondant aux termes que vous recherchez sont publiés (Web, actualités, etc.). Saisissez une requête de recherche que vous souhaitez surveiller. Vous verrez un aperçu du type de résultats que vous recevrez. Exemples d'utilisation des alertes Google : Suivi de l'évolution d'un sujet d'actualitéRéception d'informations sur les activités récentes d'un concurrent ou d'un secteurSuivi de l'actualité d'une personnalitéSuivi des résultats d'une équipe sportive
First, enjoysthin.gs is a great place to save and share things you enjoy allowing you to highlight specifically what you like about each thing. After signing up with your usual , you can install the bookmarklet by dragging this to your bookmarks bar → Enjoy This . Soon, the things you've enjoyed will make a neat page like this... except it'll be filled with things that you enjoy. More ...
Everybody enjoys things @ enjoysthin.gs
Youtego Beta - Welcome to Youtego