David Coleman-CCSS
Copy of The Scarlet Letter by Sharanda Payseur on Prezi. Common Core Curriculum Maps | Digital Resources. These digital resources and tools for creating, collaborating, researching, and sharing can be found in the Common Core Curriculum Maps.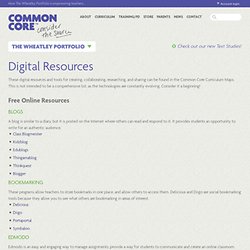 This is not intended to be a comprehensive list, as the technologies are constantly evolving. Consider it a beginning! Free Online Resources Bookmarking These programs allow teachers to store bookmarks in one place, and allow others to access them. Home. Next Generation Science Standards. Myths about Common Core State Standards: Myth #2 Aligned with College and Workplace-readiness | Common Core State Standards. What We're Watching: David Coleman on the Common Core Standards.
Allan Alach - Google+ - Nobel Prize Economist Refutes David Coleman's Crackpot… David Coleman on ELA Common Core Standards. Watch this video presentation here: Shifts in literacy with CC 1. 50 percent stories and 50 percent informational text.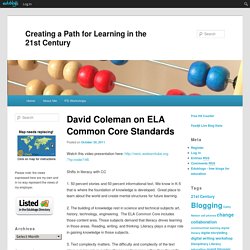 We know in K-5 that is where the foundation of knowledge is developed. Great place to learn about the world and create mental structures for future learning. Nobel Prize Economist Refutes David Coleman's Crackpot Literacy Theory. They're here... The Common Core Standards - Available for Comment. This was five-year-old Carol Anne's ominous announcement made at her parents' home while starring into a static television when referring to the presence of unknown beings in her home.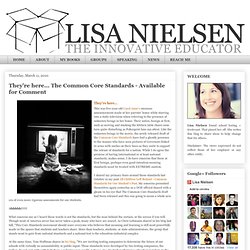 Their antics, benign at first, such as moving and stacking the kitchen table chairs soon turn quite disturbing as Poltergeist fans can attest. Like the unknown beings in the movie, the newly released draft of the Common Core Standards have had a ghostly presence to the masses who have seen pictures of Governors linked in arms with smiles on their faces as they unite to support the release of standards for a nation. While I do agree the premise of having international or at least national standards, makes sense, I do have concerns that these at first benign, perhaps even good-intention-seeming standards must be treated with EXTREME caution.
I shared my primary fears around these standards last October in my post All Children Left Behind - Common Standards for Our Student's Past. David Coleman on the Common Core State Standards | Bill & Melinda Gates Foundation. Literacy in Other Disciplines. Common Core State Standards: Principles of Development.
Co-author David Coleman on the ELA standards of the Common Core State Standards - Part 2. Co-author David Coleman on the ELA standards of the Common Core State Standards - Part 1. David Coleman: The Architect - School of Thought: 11 Education Activists for 2011. Coleman may not be the most well-known education player in his family — his mom is president of Bennington College in Vermont — but his quiet work behind the scenes on the proposed Common Core standards make him among the most influential figures in American education today.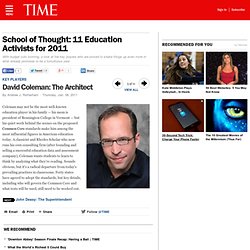 A classicist and Rhodes Scholar who now runs his own consulting firm (after founding and selling a successful education data and assessment company), Coleman wants students to learn to think by analyzing what they're reading. Sounds obvious, but it's a radical departure from today's prevailing practices in classrooms. Forty states have agreed to adopt the standards, but key details, including who will govern the Common Core and what tests will be used, still need to be worked out. Next John Deasy: The Superintendent. David Coleman, Student Achievement Partners, LLC. Content in Context Skip to content Content in Context 2014 Adapting to the Evolving Education Environment What does it take to thrive in today's dynamic world of changes, challenges and opportunities?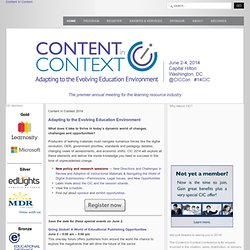 David Coleman's common core bullshit - Substance News. Susan Ohanian - October 19, 2011 "[A]s you grow up in this world you realize people really don't give a shit about what you feel or what you think." Thus, Common Core Standards architect David Coleman delivered [1] the core pedagogy of the Common Core State Standards (CCSS) to educators gathered at the New York State Department of Education in April 2011.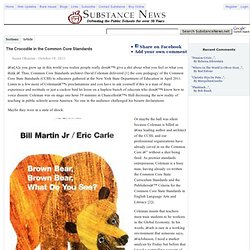 Listen to a few more of Coleman's proclamations and you have to ask yourself if this is a man of deep experience and rectitude or just a cuckoo bird let loose on a hapless bunch of educrats who don't know how to voice dissent. "Bringing the Common Core to Life" : Resources : Race to the Top : NYSED. On April 28, participants engaged with a leading author and architect of the Common Core State Standards (CCSS), David Coleman, to understand how the Core Standards for College and Career Readiness build on the work New York State has done in developing a standards-based system and their specific implications for teachers and instructional leaders state wide.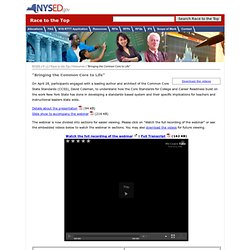 Details about the presentation (94 KB)Slide show to accompany the webinar. The war on education (and reading): David Coleman's common core of nonsense. Susan Ohanion, Daily Censored - Common Core Curriculum Standards entrepreneur David Coleman is barnstorming the country claiming that schools need to deemphasize fiction and obliterate any semblance of reader response.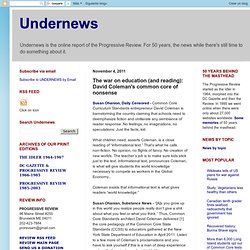 No feelings, no imaginations, no speculations: Just the facts, kid. What children need, asserts Coleman, is a close reading of "informational text." That's what he calls non-fiction. No opinion, no flights of fancy.
---