Excel
18 Jul 2012 Charts help you visualize numeric data in a graphical format but the problem is there are just too many types of charts to choose from. You have bar charts, bubble charts, pie charts, line histograms and so on. couch mode print story If you are finding it hard to pick the right chart type for your type of data, refer to chart chooser diagram, also available as a PDF, designed by Andrew Abela. Start from the center of the poster and take the route that best matches your data type.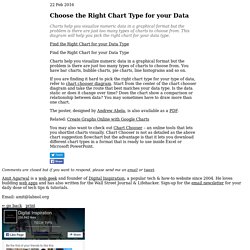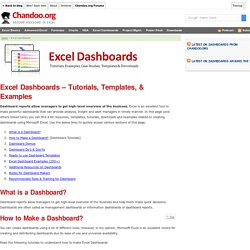 Dashboard reports allow managers to get high-level overview of the business. Excel is an excellent tool to make powerful dashboards that can provide analysis, insight and alert managers in timely manner. In this page (and others linked here) you can find a lot resources, templates, tutorials, downloads and examples related to creating dashboards using Microsoft Excel. Use the below links to quickly access various sections of this page. What is a Dashboard? Dashboard reports allow managers to get high-level overview of the business and help them make quick decisions.
excel dashboard
excel 2010 dashboard
Microsoft Excel Tutorials - BetterSolutions.com
Some Useful VBA Functions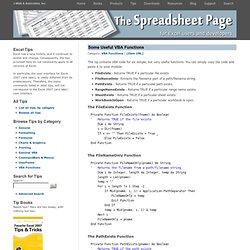 Category: VBA Functions | [Item URL] This tip contains VBA code for six simple, but very useful functions. You can simply copy the code and paste it to your module. FileExists - Returns TRUE if a particular file exists. FileNameOnly- Extracts the filename part of a path/filename string.
Example Code for sending mail from Excel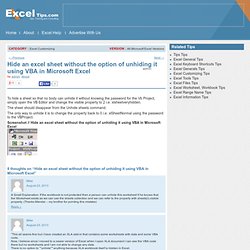 Hide an excel sheet without the option of unhiding it using VBA in Microsoft Excel
To hide a sheet so that no body can unhide it without knowing the password for the Vb Project, simply open the VB Editor and change the visible property to 2 i.e. xlsheetveryhidden. The sheet should disappear from the Unhide sheets command. The only way to unhide it is to change the property back to 0 i.e. xlSheetNormal using the password to the VBProject. Screenshot // Hide an excel sheet without the option of unhiding it using VBA in Microsoft Excel
If you are looking for Excel VBA code samples, here are some pages that should be useful to you. Click on the links above to access the code. I also have a few more generic prcedures listed here.Please note that most of the examples on this site were written for Office 2003, but will work (for the most part) on Office 2007 and 2010. Don't forget to check out the Video Tutorials page! Fix Badly Imported Formulas If you have imported formulas from another program, you might have run into this problem where an apostrophe gets added to the beginning of each formula; so instead of viewing the results of the formula, you are viewing the formula itself.
Excel VBA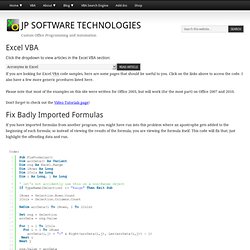 Write values to a header row
Create Default Workbook Template (book.xlt) Create a blank workbook, customized with number of sheets, fonts, styles etc.Hit F12 to save the workbook, in the 'Save As Type' dropdown, choose 'Template'For the filename, type 'book' (to save the template as book.xlt in your XLSTART folder) This will be the default workbook whenever you start Excel. Create Default Worksheet Template (sheet.xlt)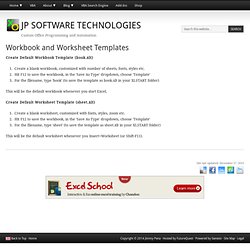 Workbook and Worksheet Templates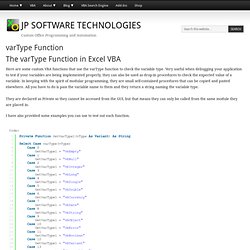 varType Function
The varType Function in Excel VBA Here are some custom VBA functions that use the varType function to check the variable type. Very useful when debugging your application to test if your variables are being implemented properly, they can also be used as drop-in procedures to check the expected value of a variable. In keeping with the spirit of modular programming, they are small self-contained procedures that can be copied and pasted elsewhere.
Sample Outlook Automation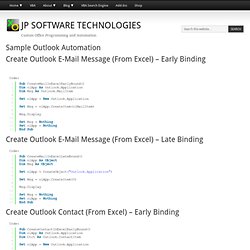 Create Outlook E-Mail Message (From Excel) – Early Binding Create Outlook E-Mail Message (From Excel) – Late Binding Create Outlook Contact (From Excel) – Early Binding Create Outlook Contact (From Excel) – Late Binding
Process all Files in a Folder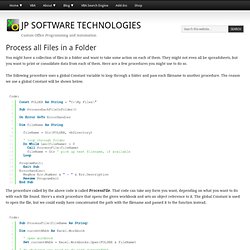 You might have a collection of files in a folder and want to take some action on each of them. They might not even all be spreadsheets, but you want to print or consolidate data from each of them. Here are a few procedures you might use to do so.The following procedure uses a global Constant variable to loop through a folder and pass each filename to another procedure. The reason we use a global Constant will be shown below. The procedure called by the above code is called ProcessFile. That code can take any form you want, depending on what you want to do with each file found.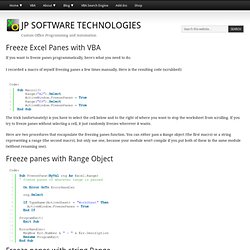 Freeze Excel Panes with VBA
If you want to freeze panes programmatically, here's what you need to do.I recorded a macro of myself freezing panes a few times manually. Here is the resulting code (scrubbed): The trick (unfortunately) is you have to select the cell below and to the right of where you want to stop the worksheet from scrolling. If you try to freeze panes without selecting a cell, it just randomly freezes wherever it wants. Here are two procedures that encapsulate the freezing panes function. You can either pass a Range object (the first macro) or a string representing a range (the second macro), but only use one, because your module won't compile if you put both of these in the same module (without renaming one).
IncSight DB IncSight DB lets you set up professional Excel dashboards linked to an Excel database. Set up your first Excel dashboard report in less than an hour. Add any number of reports.
Excel Dashboards
Excel Add-In (XLA) Best Practices and Design Techniques
This article contains information regarding best practices for developers creating add-ins using Excel's VBA editor in Office 2003. They may also apply to other Excel versions. I will update this page from time to time.
Adjusting comment properties can be frustrating, especially if you're stuck doing it manually. Here is some sample VBA code that lets you adjust all comments at once, to keep your workbook looking consistent. See All about Comment shapes for even more sample VBA code.To follow along manually, first display a comment by right clicking on any cell with a comment and choosing Show/Hide Comments.
Comment Shape Formatting
Check If Office App Is Running
You may have a need in your application to check if a particular Office app is running. Here is some sample code that does just that. Paste the following code at the top of a standard module in any Office program that supports VBA. In this example we're checking for the heavy hitters — Excel, Outlook, Access, PowerPoint and Word.
Calculation Mode and Excel Optimization
How to properly set calculation mode in Excel VBA Most people set calculation mode to 'manual' at the beginning of the code, then set it to 'automatic' at the end. This assumes that the setting was 'automatic' in the first place and the user wants the calculation mode to be 'automatic' after the code finishes. While I believe that in 99.9% of cases, calculation should always be set to automatic (see Spreadsheet Speeding up Re-calculations for explanation), your code should never make unrequested changes without notifying the user. Here is how to properly set the calculation mode so it is restored to whatever it was previously. Optimize your macros
Automated Word Mail Merge From Excel
Automate Internet Explorer
Send Email from Excel
Sending Email
Different Ways to Take Advantage of the E-mail Features of Excel
Ron's Excel Tips
Excel VBA. FREE Excel VBA Code & Excel Macro Help
Excel Pages
Using Microsoft Excel Worksheet Functions in Visual Basic [Excel 2003 VBA Language Reference]
Nested Functions - Nested Functions in Excel