Appreciativeinquiryfrance
Tollec Bernard
Strenghts based consultant and coach (Appreciative Inquiry)
Appreciative Inquiry - Un site utilisant WordPress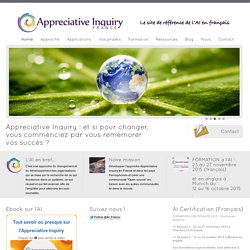 La prochaine réunion du réseau européen des Praticiens en Appreciative Inquiry se déroulera en Italie à Reggio Emilia dans la région de Milan/Bologne. Vous trouverez plus d'informations dans notre blog. Nous serons en mai à côté de Rome pour suivre une formation dans le cadre de Lincoln Workshop Series : AI human Interaction Lab. Une des 6 formations supplémentaires que nous donnons à la suite de la formation "AI foundation Course"
Jason Mitchell is the head of the Social Cognitive and Affective Neuroscience Lab at Harvard University. He uses functional neuroimaging (fMRI) and behavioral methods to study how we infer the thoughts, feelings, and opinions of others (i.e., how we mentalize ), as well as how we reason about counterfactual experiences. During Jason's session on Day 1 of the 2010 Summit he explored the subject of "Making Sense of Others".
Summits Blog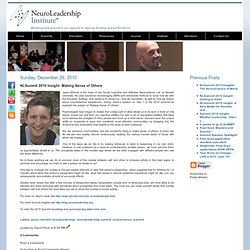 Sallie Lee & Shared Sun Studio
HBR by Involve Consulting
Creativity by Involve Consulting
Neuroscience byInvolve Consulting
Leadership by Involve Consulting
Lateral Thinking by Involve
Fast Company byInvolve Consulting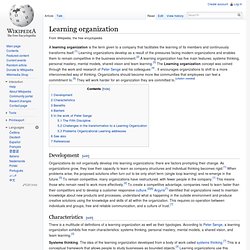 A learning organization is the term given to a company that facilitates the learning of its members and continuously transforms itself. [ 1 ] Learning organizations develop as a result of the pressures facing modern organizations and enables them to remain competitive in the business environment. [ 2 ] A learning organization has five main features; systems thinking, personal mastery, mental models, shared vision and team learning. [ 3 ] The Learning organization concept was coined through the work and research of Peter Senge and his colleagues (Senge, 1994). It encourages organizations to shift to a more interconnected way of thinking. Organizations should become more like communities that employees can feel a commitment to. [ 4 ] They will work harder for an organization they are committed to. [ citation needed ] [ edit ] Development Organizations do not organically develop into learning organizations; there are factors prompting their change.
Team Academy » History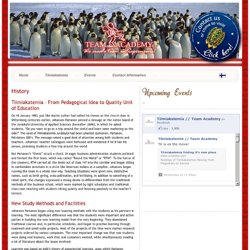 Tiimiakatemia – From Pedagogical Idea to Quality Unit of Education On 19 January 1993, just like Martin Luther had nailed his theses on the church door in Wittenberg centuries earlier, Johannes Partanen pinned a message on the notice board of the Jyväskylä University of Applied Sciences (hereafter JAMK), in which he asked students, "Do you want to go on a trip around the world and learn some marketing on the side?" The seed of Tiimiakatemia Jyväskylä had been planted (Leinonen, Partanen, Palviainen 2001). The message raised a good deal of attention among both students and teachers. Johannes' teacher colleagues were bemused and wondered if he'd lost his senses, promising students a free trip around the world.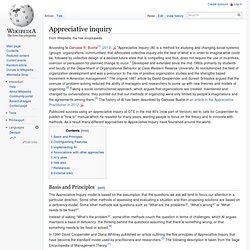 Appreciative Inquiry (sometimes shortened to "AI") is primarily an organizational development method which focuses on increasing what an organization does well rather than on eliminating what it does badly. Through an inquiry which appreciates the positive and engages all levels of an organization (and often its customers and suppliers) it seeks to renew, develop and build on this. Its proponents view it as being applicable to organizations facing rapid change or growth. [ 1 ] Stowell and West (1991) have been credited with the development of the "Appreciative Inquiry Method" (AIM). The Appreciative Inquiry method was proposed in the 1990s and arose out of the lessons learnt from research undertaken into the methods of knowledge elicitation (West,1991).
About Jackie Kelm | Appreciative Living
You're listening to Jackie Kelm's Sirius Satellite XM radio interview on the "Fully Alive" Show with Dr. Greg & Lisa Popcak To contact Jackie for your next event, email her at JKelm@AppreciativeLiving.com or call (800) 214-0959 or (843) 881-1106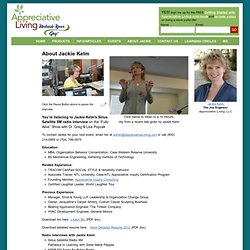 The European network around Appreciative Inquiry and Strength Based Change
Gervase Bushe
Gervase Bushe (pronounced Jervis Bush) has 30 years of experience in a wide range of organizational change and development projects. Early in his career he focused on large companies making the transition from command and control bureaucracies to team based organizations. Later he worked primarily with technology-based, high growth companies helping them retain their team cultures while becoming more structured. Most recently he's been working in the most complex and difficult to change organizations of all: healthcare and public education. Gervase has worked with companies to redesign their structures, change their cultures, improve their customer satisfaction and increase their operational effectiveness. Gervase primarily consults to executives and internal change teams in two areas: 1) developing more effective executive teams and 2) designing transformational change processes.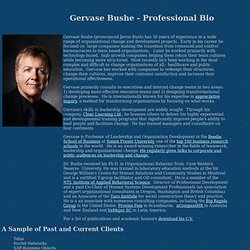 Involve Consulting
L'Appreciative Inquiry « Involve Consulting – La performance collective par l'Appreciative Inquiry
Nous avons décidé d'expliquer plus en détails l' sur ce site, car cette approche que nous utilisons de façon privilégiée reflète bien la philosophie du cabinet Involve Consulting et correspond en toute chose aux valeurs que nous portons et aux convictions que nous souhaitons apporter à nos clients. Il n'y a pas véritablement de traduction française à l' , mais on trouve régulièrement « » ou « « . Plus qu'une méthode c'est une toute nouvelle façon d'envisager le développement des organisations et du leadership.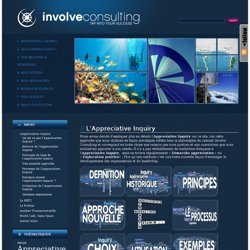 Livres sur l'Appreciative Inquiry « Involve Consulting – La performance collective par l'Appreciative Inquiry
La performance Collective avec l'Appreciative Inquiry chez Philips on Vimeo
Un bilan annuel de Philips basé sur les forces de l'organisation on Vimeo
Leadership development Experiential Learning by Involve Consulting on Vimeo