Lies Exposed
Resveratrol: Don't Buy the Hype. Stephen Barrett, M.D.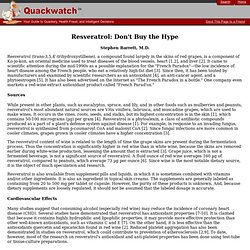 Resveratrol (trans-3,5,4'-trihydroxystilbene), a compound found largely in the skins of red grapes, is a component of Ko-jo-kon, an oriental medicine used to treat diseases of the blood vessels, heart [1,2], and liver [2]. It came to scientific attention during the mid-1990s as a possible explanation for the "French Paradox"—the low incidence of heart disease among the French people, who eat a relatively high-fat diet [3].
Why Are Antipsychotic Drugs Prescribed to Children? By Dr.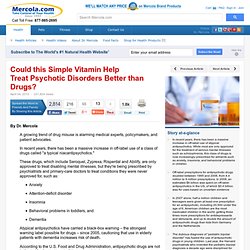 Mercola A growing trend of drug misuse is alarming medical experts, policymakers, and patient advocates.In recent years, there has been a massive increase in off-label use of a class of drugs called "a typical niacantipsychotics. " These drugs, which include Seroquel, Zyprexa, Risperdal and Abilify, are only approved to treat disabling mental illnesses, but they're being prescribed by psychiatrists and primary-care doctors to treat conditions they were never approved for, such as: Anxiety Attention-deficit disorder Insomnia Behavioral problems in toddlers, and Dementia Atypical antipsychotics have carried a black-box warning – the strongest warning label possible for drugs – since 2005, cautioning that use in elderly patients with dementia increases risk of death.According to the U.S.
FDA Says Walnuts Are a "New Drug" March 07, 2012 | 371,174 views Share By Dr.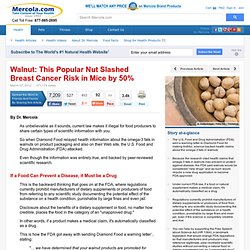 Mercola. The Nestle Boycott – what's that all about then? | Note From Lapland. Inspired by Dara's post on the same topic over at Readily A Parent Every time I hear about the Nestle boycott I feel confused.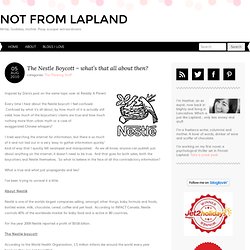 Confused by what it's all about, by how much of it is actually still valid, how much of the boycotters' claims are true and how much nothing more than urban myth or a case of exaggerated Chinese whispers? I tried searching the internet for information, but there is so much of it and not laid out in a very 'easy to gather information quickly' kind of way that I quickly felt swamped and manipulated. As we all know, anyone can publish just about anything on the internet, it doesn't need to be true. And that goes for both sides, both the boycotters and Nestle themselves. Nestlé SA : Who, Where, How Much? Nestlé SAAvenue Nestlé 55 / Case postale 353 1800 Vevey SwitzerlandTel: +41-21-924 21 11 Fax: +41-21-921 18 85 +41-21-921 17 20 +41-21-921 64 88 +41-21-924 48 00Company Structure/OwnershipNestlé SA is a publicly owned company with 406 subsidiaries around the world.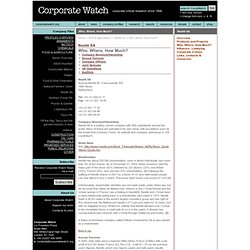 Many of these are operated in its own name, with exceptions such as the Israeli food company Osem. Its website lists company addresses in 104 countries[7].Share ValueSee: has about 250 000 shareholders, none of whom individually own more than 3% of the shares. As of December 31, 2003, Swiss investors held the major part of the stock (42%) followed by US citizens (22%) and British (10%), French (8%), and German (5%) shareholders. [8].Following the splitting of Nestlé shares in 2001 by a factor of 10, less well-heeled people can now afford to buy a share. Previously each share cost around £1,470. Syria: my enemy's enemy is not my friend. The UN is not perfect.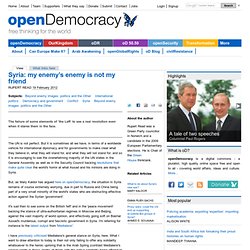 But it is sometimes all we have, in terms of a worldwide vehicle for international diplomacy and for governments to make clear what they believe in, what they will stand for, and what they will not stand for; and so it is encouraging to see the overwhelming majority of the UN states in the General Assembly as well as in the Security Council backing resolutions that make quite clear the world's horror at what Assad and his minions are doing in Syria. But, as Mary Kaldor has argued here on openDemocracy, the situation in Syria remains of course extremely worrying, due in part to Russia and China being part of a very small minority of the world's states who are obstructing effective action against the Syrian 'government'. Don't Ask, Don't Tell: The Story We Weren't Allowed to Air. The Center for Media and Democracy publishes a regular email update of our breaking news and investigative reporting that is available right to your inbox.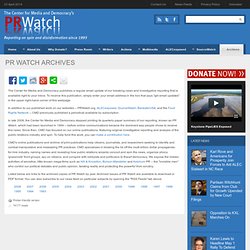 To receive this publication, simply enter your email address in the box that says "get email updates" in the upper right-hand corner of this webpage. In addition to our published work on our websites -- PRWatch.org, ALECexposed, SourceWatch, BanksterUSA, and the Food Rights Network -- CMD previously published a periodical available by subscription. In late 2008, the Center for Media and Democracy stopped printing its quarterly paper summary of our reporting, known as PR Watch, which had been launched in 1994 -- before online communications became the dominant way people chose to receive this news.
---