Statistics and Research Sources
8 Tips for Using Stats in Your Presentation
3 Content Tools Every Business Needs | Inc. 5000
Research Service from Scottish Enterprise | Scottish Enterprise
The Business Gateway Information Service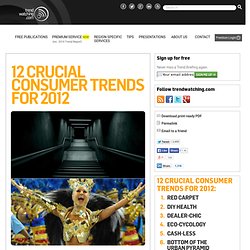 Introduction | This year, much as in previous years, some brands may be staring into the abyss, while others will do exuberantly well. And while we can't offer any help to defaulting nations or bankrupt companies, we do believe that there are more opportunities than ever for creative brands and entrepreneurs to deliver on changing consumer needs. From Canada to Korea. Hence this overview of 12 must-know consumer trends (in random order) for you to run with in the next 12 months. Onwards and upwards: In 2012, department stores, airlines, hotels, theme parks, museums, if not entire cities and nations around the world will roll out the red carpet for the new emperors, showering Chinese visitors and customers with tailored services and perks, and in general, lavish attention and respect.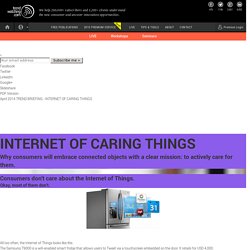 s 12 Consumer Trends for 2012
The INTERNET OF CARING THINGS means connected objects that serve consumers' most important needs: physical and mental wellbeing, safety, security, oversight of loved ones, and more. You're probably already familiar with the innovations that have blazed an early CARING trail. The Nest smart thermostat*, NIKE fuelband and Fitbit, for example. But now, as consumer demand and technological capacity converge, the INTERNET OF CARING THINGS will evolve in exciting new directions. Check out the examples below – divided into five categories of CARING – for a glimpse of these... * Indeed, just after we first wrote about the INTERNET OF CARING THINGS in December 2013, Google placed a USD 3.2 billion bet on it with their purchase of Nest Labs.
Aberdeen Stats and Facts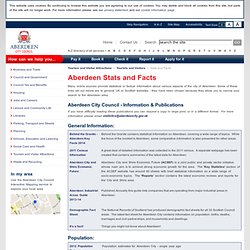 Many online sources provide statistical or factual information about various aspects of the city of Aberdeen. Some of these links set out below are to general UK or Scottish websites - they have been chosen because they allow you to narrow your search to the Aberdeen area. Aberdeen City Council - Information & Publications If you have difficulty reading these publications you can request a copy in large print, or in a different format. For more information please email statistics@aberdeencity.gov.uk
Scot Gov Economy Statistics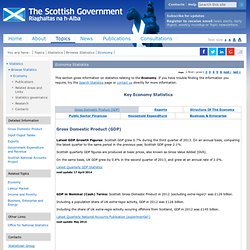 Gross Domestic Product (GDP) Latest GDP Growth Figures: Scottish GDP grew 0.7% during the third quarter of 2013. On an annual basis, comparing the latest quarter to the same period in the previous year, Scottish GDP grew 2.1%.