Inspiration
Pin by Aperture Business Group on Inspirational. Inspiration Index. How to Stay Inspired As an Entrepreneur | Video. Serial entrepreneur Jen Groover offers her advice on keeping the fire alive, even after you've been running your business for a while.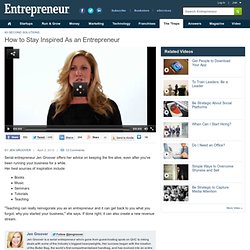 Her best sources of inspiration include: Books Music Seminars Tutorials Teaching "Teaching can really reinvigorate you as an entrepreneur and it can get back to you what you forgot, why you started your business," she says. If done right, it can also create a new revenue stream. Jen Groover is a serial entrepreneur who's gone from guest-hosting spots on QVC to inking deals with some of the industry's biggest heavyweights. Innovation Starvation. RSA Animate - The Empathic Civilisation.
Seth Godin Meetup - Glasgow, United Kingdom | May 18, 2011.
---