Information_aesthetics
The map of the future (Wired Italia) on the Behance Network. The italian magazine WIRED asked us to draw a map based on the scenarios developed by the Institute for the Future in Palo Alto to help the reader in the net of ideas and hypothesis built by 7000 influencers from all over the world.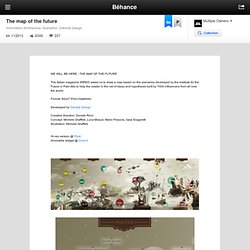 Format: 82x27 Print (Gatefold) Developed by Density Design Creative direction: Donato RicciConcept: Michele Graffieti, Luca Masud, Mario Porpora, Gaia ScagnettiIllustration: Michele Graffieti Hi-res version @ FlickrZoomable widget @ Closr.it. Visualizations | Rock The Boat Marketing. "And, the audience sprang to its feet and cheered…" If you're in the online content business, such physical signs of positive reinforcement are hard to come by.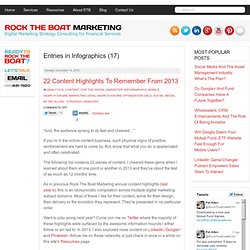 But, know that what you do is appreciated and often celebrated. The following list contains 22 pieces of content. A visual exploration on mapping complex networks. Data Visualization Is Reinventing Online Storytelling. Tentative de cartographie des forums francophones les plus actifs. Je vous présente ma première tentative de cartographie des forums francophones les plus actifs, conçue pour aider les internautes à (re)découvrir ce petit monde.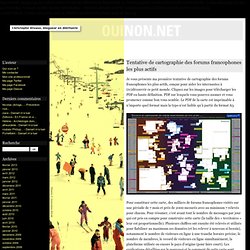 Cliquez sur les images pour télécharger les PDF en haute définition. PDF sur lesquels vous pourrez zoomer et vous promener comme bon vous semble. Le PDF de la carte est imprimable à n'importe quel format mais la typo n'est lisible qu'à partir du format A3. Map Artists. Information Esthetics | Towards a Model of Information Aesthetics in Information Visualization - Reference List.
Museum data dashboard - data visualization & visual design. An online information dashboard for the Indianopolis Museum of Art, which attempts to measure & visualize various aspects of the museum's performance. the goal of this dashboard is to seek to quantify & report out on areas of activity of general interest to museum observers & to particular interest to museum studies specialists, colleagues & patrons. tracked data attributes include "Fans on Facebook", "KWh per Day Energy Consumption" & "Number of Art Works on Loan".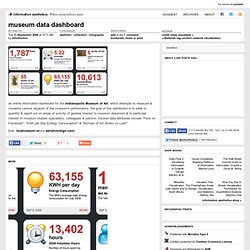 [link: imamuseum.or|via serialconsign.com] 12 Cool Visualizations to Explore Books | FlowingData. There's reading a book, and then there's looking at, exploring, and experiencing a book.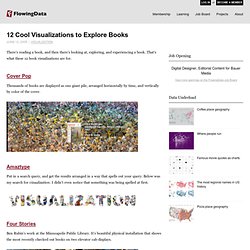 That's what these 12 book visualizations are for. Cover Pop Thousands of books are displayed as one giant pile, arranged horizontally by time, and vertically by color of the cover.
---