Information_aesthetics
The map of the future (Wired Italia) on the Behance Network
Visualizations | Rock The Boat Marketing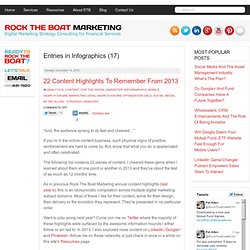 "And, the audience sprang to its feet and cheered…" If you're in the online content business, such physical signs of positive reinforcement are hard to come by. But, know that what you do is appreciated and often celebrated. The following list contains 22 pieces of content.
Today's consumer seems to have an insatiable appetite for information, but until recently making sense of all of that raw data was too daunting for most. Enter the new "visual scientists" who are turning bits and bytes of data -- once purely the domain of mathematicians and coders -- into stories for our digital age. Maybe it was the way CNN's John King made sense of the minutiae of delegate data from this past year's election on a giant touch screen, or how Nate Silver of FiveThirtyEight parsed polling data -- either way the art of "data visualization" has exploded recently and it is fundamentally changing the way we create and consume narratives about events, products and services. Google has built a pretty good brand and business off of organizing the world's information, of course.
Data Visualization Is Reinventing Online Storytelling
Je vous présente ma première tentative de cartographie des forums francophones les plus actifs, conçue pour aider les internautes à (re)découvrir ce petit monde. Cliquez sur les images pour télécharger les PDF en haute définition. PDF sur lesquels vous pourrez zoomer et vous promener comme bon vous semble. Le PDF de la carte est imprimable à n'importe quel format mais la typo n'est lisible qu'à partir du format A3.
Tentative de cartographie des forums francophones les plus actifs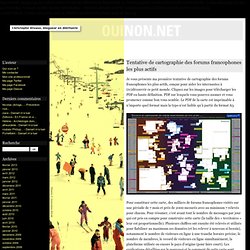 Map Artists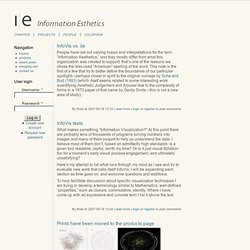 Completed: March–July, 2005 Making data meaningful—this phrase could describe what dozens of professions strive for: Wall Street systems designers, fine artists, advertising creatives, computer interface researchers, and many others. Occasionally something important happens in these practices: a data representation is created that reveals the subject's nature with such clarity and grace that it both informs and moves the viewer. We both understand and care.
Information Esthetics |
Towards a Model of Information Aesthetics in Information Visualization - Reference List
museum data dashboard - data visualization & visual design
an online information dashboard for the Indianopolis Museum of Art, which attempts to measure & visualize various aspects of the museum's performance. the goal of this dashboard is to seek to quantify & report out on areas of activity of general interest to museum observers & to particular interest to museum studies specialists, colleagues & patrons. tracked data attributes include "Fans on Facebook", "KWh per Day Energy Consumption" & "Number of Art Works on Loan". [link: imamuseum.or|via serialconsign.com]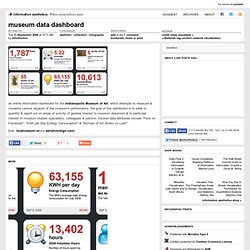 12 Cool Visualizations to Explore Books | FlowingData
There's reading a book, and then there's looking at, exploring, and experiencing a book. That's what these 12 book visualizations are for. Cover Pop Thousands of books are displayed as one giant pile, arranged horizontally by time, and vertically by color of the cover.