LiPhone 4G révélé: scandale et scoop - Transnets
L'iPhone 4G révélé: scandale et scoop - Transnets - Blog LeMonde
Gizmodo, un des principaux sites de gadgets, publie des infos sur l'iPhone 4G, prochaine version - encore ultra secrète - des joujoux en or de Steve Jobs. Une histoire à dormir debout avec une touche de rocambolesque, assez d'infos pour exciter les geeks et cette petite dose de scandale possible qui fait les meilleures "unes". L'appareil, apparemment un prototype, semble avoir été trouvé dans un bar de Silicon Valley à 30 kilomètres du siège d'Apple. Gray Powell, ingénieur de 27 ans, l'aurait oublié sur son tabouret après avoir posté un message sur Facebook célébrant les vertus éthyliques des bières allemandes. Les gens de Gizmodo ont démonté l'appareil et en exposent les principales caractéristiques sur leur site.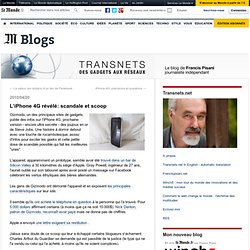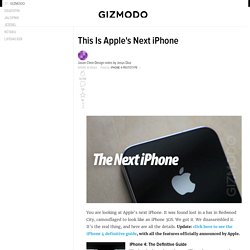 This Is Apple's Next iPhone - Iphone 4 - Gizmodo
Actually, Jobs didn't provide all the details. Just the surface. For example, did you know that 900Mhz UMTS is now supported? The real secrets are available at:
A Letter: Apple Wants Its Secret iPhone Back - Iphone 4 - Gizmod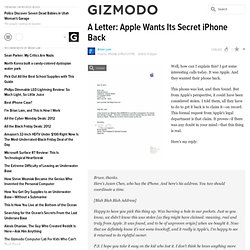 This leak looks bad, but it's really not that bad at all. Think about it this way: Engadget, Giz, Wired, and tons of other reputable names in the tech world have recently been focusing on three things: iPad, Android, and the Apple vs. Google vs. Microsoft war.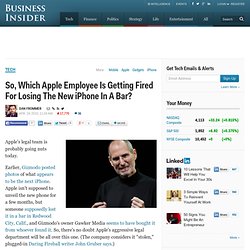 Apple's legal team is probably going nuts today. Earlier, Gizmodo posted photos of what appears to be the next iPhone. Apple isn't supposed to unveil the new phone for a few months, but someone supposedly lost it in a bar in Redwood City, Calif., and Gizmodo's owner Gawker Media seems to have bought it from whoever found it. So, there's no doubt Apple's aggressive legal department will be all over this one. (The company considers it "stolen," plugged-in Daring Fireball writer John Gruber says.) But Apple's HR department surely isn't far behind, and someone could easily get fired for losing a prototype like this.
So, Which Apple Employee Is Getting Fired For Losing The New iPh
How Apple Lost the Next iPhone - Leak - Gizmodo
SExpand The Gourmet Haus Staudt. A nice place to enjoy good German lagers. And if you are an Apple Software Engineer named Gray Powell, it's also a nice place to lose the iPhone 4 prototype. Gray Powell—a North Carolina State University 2006 graduate and talented amateur photographer—is an Apple Software Engineer working on the iPhone Baseband Software, the little program that enables the iPhone to make calls.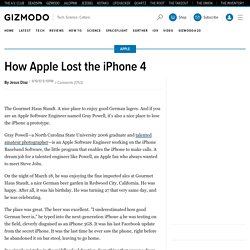 Screen_shot_2010-04-19_at_22.08.34-460.png (Image PNG, 460x212 p
Gizmodo paid for iPhone 4G: so are they receivers of stolen good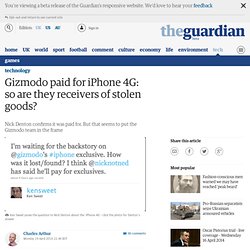 Did Gizmodo buy that iPhone 4G it's been showing off? Ken Sweet asked whether Gizmodo had bought the "found" iPhone 4G, and Nick Denton replied: yup. (EdibleApple is saying that Gizmodo paid $10,000, but offers no evidence to back it up.) This might however put Gizmodo - or whoever handed over the money - in a difficult position.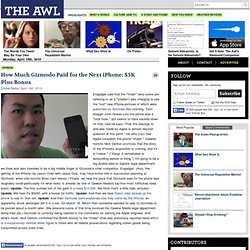 Engadget said that the "finder" (who some are referring to as a "stealer") was charging to see the "lost" new iPhone-pictures of which were published on Gizmodo this morning. Tech blogger John Gruber said the phone was a "total hoax," but seems to have backed down on that; now he says "That this belongs to and was made by Apple is almost beyond question at this point." He also says that Apple considers the phone "stolen." Gawker honcho Nick Denton promises that the story of the iPhone's acquisition is coming, and it's a "corker." ("Slang: A remarkable or astounding person or thing.")
How Much Gizmodo Paid for the Next iPhone: $5K Plus Bonus - The