3D
Blender Tutorials Downloads Videos & Education – Blender Cookie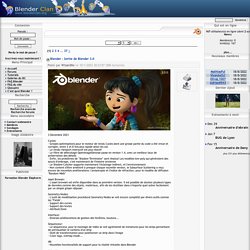 Fidèle à son habitude, Olivier Saraja m'a envoyé il y a un peu plus d'un mois la nouvelle édition de Blender de son livre intitulé La 3D Libre avec Blender 2.6. Bon je dis machinalement "son" livre, mais en réalité il en partage la paternité avec deux acolytes bienvenus vu l'ampleur de la tâche. Henri Hebeisen et Boris Fauret sont maintenant de la partie. Alors déjà un petit rappel pour ceux qui l'ignorent encore, mais l'angle pédagogique de ce livre se trouve quelque part entre le tutoriel classique et le wiki officiel de la fondation. Il est très riche par nature, même s'il ne peut être tout à fait exhaustif.
News
This is the final update for the training dvd. The next notice will be the official release, in about two weeks. It turns out that the final product is now FOUR DVD-Rs! Originally, this was supposed to be two dvds, but I found it difficult to stay within that limitation. I tried, but ultimately decided it would be simpler to not fight it. The original price for the two dvds was $35, but I will have to increase the price to $50 for the four dvds.
BlenderNewbies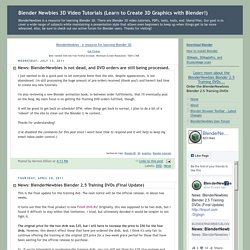 Blender 3D Design Course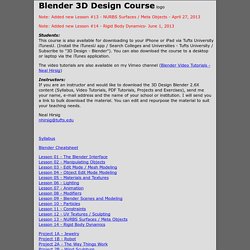 Blender 3D Design Course Note: Added new Lesson #13 - NURBS Surfaces / Meta Objects - April 27, 2013 Note: Added new Lesson #14 - Rigid Body Dynamics- June 1, 2013 Students: This course is also available for downloading to your iPhone or iPad via Tufts University iTunesU. (Install the iTunesU app / Search Colleges and Universities - Tufts University / Subscribe to "3D Design - Blender").