Stumble Art
Amazingly Creative Drawing Vs Photography. 11.jpg from humorearth.com. 127685_1207335811_large.jpg from cgsociety.org. Top 10 examples of brilliant shadow art. 049.jpg from blublu.org. Making buildings in foamboard. Miniature building construction in foamboard by Emmanuel Nouaillier Emmanuel Nouaillier shows how to scratch build and age miniature structures.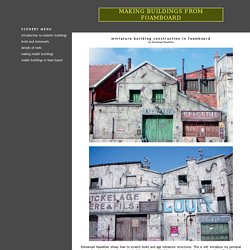 This is will introduce my personal approach and techniques for scratch building and ageing buildings, pertaining to the typical northern French urban landscape of the 1940s and early 50s. I believe that a proper rendition of textures and adequate weathering of the different elements is important when making a miniature scene, where the optimal development of each small detail of a diorama becomes more a necessity to modellers who want to show, with utmost realism, models that are better detailed and weathered I will explain stage by stage in future articles how to create peculiar materials and elements and how to give the models 'life' while employing generic methods.
Some of the 'basic' tools that I use to work the foam and give it some aspects and different alterations in scale. Top 12 Banksy Pieces of 2010. 12.)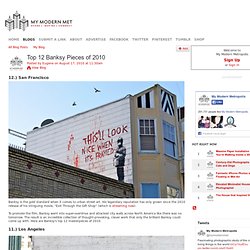 San Francisco Banksy is the gold standard when it comes to urban street art. His legendary reputation has only grown since the 2010 release of his intriguing movie, "Exit Through the Gift Shop" (which is streaming now). To promote the film, Banksy went into super-overdrive and attacked city walls across North America like there was no tomorrow. Drawing Hands. This short tutorial is a just a small taste of a larger and much more in-depth book I wrote called The Mad Art of Caricature!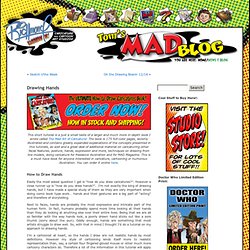 The book is 175 full-color pages, lavishly illustrated and contains greatly expanded explanations of the concepts presented in this tutorials, as well and a great deal of additional material on caricaturing other facial features, posture, hands, expression and more, techniques on drawing from live models, doing caricature for freelance illustration and for MAD Magazine. This is a must have book for anyone interested in caricature, cartooning or humorous illustration. You can order it online here. Optical Illusions & Blog Archive & Body Art - Hand Animals. 217794_1266152627_large.jpg from cgsociety.org. SexFacts_tsj.jpg from thesmokingjacket.com. 387352_1303402509_large.jpg from cgsociety.org.
---