1000000 volts
Les multiplicateurs de tension. Generateur Glassman 500 kV du Jefferson Laboratory Le multiplicateur de tension continue, nommé cascade de GREINACHER (1919) ou cascade de COCKROFT-WALTON, est constitué par une pile de n redresseurs doubleurs de tension de Schenkel.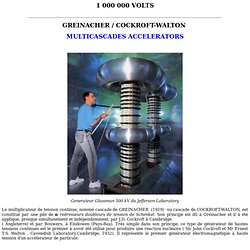 Son principe est dû à Greinacher et il a été appliqué, presque simultanément et indépendamment, par J.D. Cockroft à Cambridge ( Angleterre) et par Bouwers, à Eindowen (Pays-Bas).
Mike's Electric Stuff. News. Hello all, As part of the new anti-spam procedures in place, I ask people who are registering to send me an email confirming that they're not robots and that they've read the rules.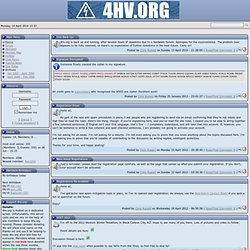 Here's the thing, though: if you're registering here, and you've read the site rules, I expect you to be able to string together a few coherent sentences. If English isn't your first language, that's fine -- I completely understand, and will take that into account. If, however, you can't be bothered to write a few coherent and spell-checked sentences, I am probably not going to activate your account. I'm not asking for an essay.
1 000 000 VOLTS.
---