E-shop inspiration
C'est ici que je place toutes les perles qui me servent d'inspiration pour mon site, les conseilles sur le moyen de mieux communiqué et de faire connaitre AntyPaperTrail. Nov 7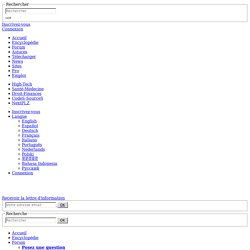 Créer son blog Un « blog » (en français blogue, journal web ou carnet web) est un site internet personnel permettant à un internaute de publier facilement et simplement des informations en ligne sous forme de journal. Le terme « blog » est la contraction de « weblog » (au même titre, «blogue» est la contraction de «weblogue»).
Création de blog : comparatif
Mars 2013 Introduction au RSS Le standard RSS représente un moyen simple d'être tenu informé des nouveaux contenus d'un site web, sans avoir à le consulter.
5th Anniversary Traveler's Notebook
unnamed pearl
Le blog/book de delphine et elodie : graphistes freelance
Charles Guillocher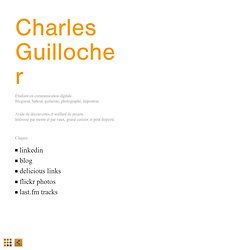 Pour le lancement de l'OS Windows 7, Crispin Porter + Bogusky , responsable du budget, a fait appel à son réseau d'annonceur et a mis Burger King sur le coup.
dossierpresse.pdf (Objet application/pdf)
Le mieux pour un Dossier de presse, c'est d'être lu.
14 moyens de rater son Dossier de presse :: Entreprise 77 ::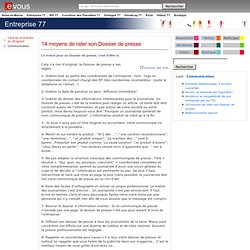 Résultats Google Recherche d'images correspondant à http://nenpluspia.free.fr/wp-content/0802_villanao_grd.jpg
PRESS
Résultats de recherche whuffie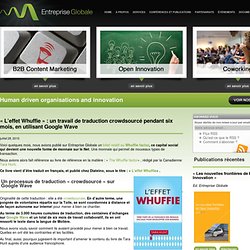 Voici quelques mois, nous avions publié sur Entreprise Globale un billet relatif au Whuffie factor , ce capital social qui devient une nouvelle forme de monnaie sur le Net . Une monnaie qui permet de nouveaux types de transaction. Nous avions alors fait référence au livre de référence en la matière : « The Whuffie factor « , rédigé par la Canadienne Tara Hunt .
Relax In The Air || Just relax. Together we can make it simple || STRATEGIE UX DESIGN
Defining Social Networks in Switzerland 2011#1
7 Ways to Increase Your Whuffie Factor | Citizen Rogue | Fast Co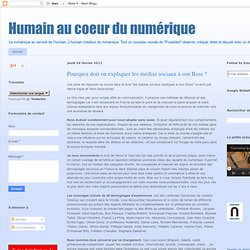 Une piste de réponses se trouve dans le livre "les médias sociaux expliqués à mon Boss" co-écrit par Hervé Kapla et Yann Gourvennec.
Pourquoi doit on expliquer les médias sociaux à notre Boss ?