Music Production Basics
Advanced Production
The Monster List Of Audio Sites | Audiotuts+ Reaper Rendering for High Quality Mixdown. In this quick tip, you will learn how to do rendering in Reaper.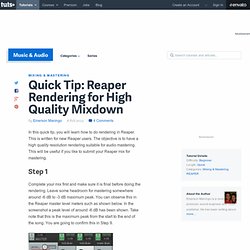 This is written for new Reaper users. The objective is to have a high quality resolution rendering suitable for audio mastering. This will be useful if you like to submit your Reaper mix for mastering. Step 1 Complete your mix first and make sure it is final before doing the rendering. The 15 Minute Mix. Consider this your challenge for today.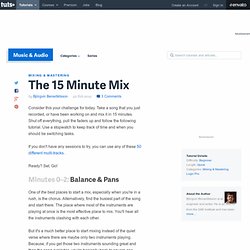 Take a song that you just recorded, or have been working on and mix it in 15 minutes. Shut off everything, pull the faders up and follow the following tutorial. Use a stopwatch to keep track of time and when you should be switching tasks. If you don't have any sessions to try, you can use any of these 50 different multi-tracks. Ready? Ricci Adams' Musictheory.net.
Teoría - Music Theory Web. The Fundamentals of Synthesizer Programming. Moog Music has released the first in Dr.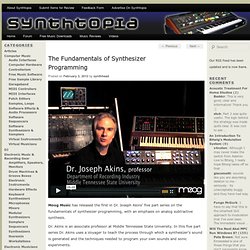 Joseph Akins' five part series on the fundamentals of synthesizer programming, with an emphasis on analog subtractive synthesis. Dr. Akins is an associate professor at Middle Tennessee State University. In this five part series Dr. Akins uses a Voyager to teach the process through which a synthesizer's sound is generated and the techniques needed to program your own sounds and sonic experiments. How to Program a Synthesizer by TweakHeadz Lab. By TweakHeadz Lab Rich was part of the programming team for the Alesis QS series synths and Q-cards Lets say you want to go beyond tweaking factory patches and doing simple stuff like changing the instruments, octave etc., and want to develop voices all your own.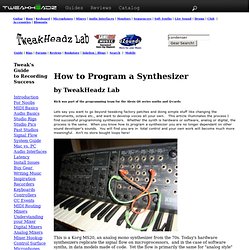 This article illuminates the process I find successful programming synthesizers. Whether the synth is hardware or software, analog or digital, the process is the same. Tweak's Guide to the Home and Project Studio. OK, so you are new.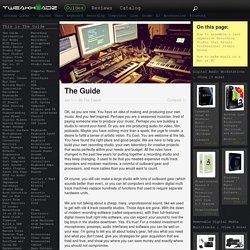 You have an idea of making and producing your own music. And you feel inspired. Perhaps you are a seasoned musician, tired of paying someone else to produce your music. Audio and production tutorials, from beginner to advanced | Audiotuts+ Music Tech - Studio Gear & Equipment. DJ Gear, Software, News & Samples.
---