Future environments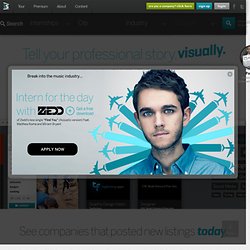 It's simple. The attributes of a great intern match the attributes of sushi. When you choose a sushi restaurant you often consider quality, variety, presentation, sophistication and innovation. You never see a messy plate of sushi. We stress the importance of being raw and transparent to display exactly who you are and what you can do.
Intern Sushi. Be Picky.
A recent post on MinimalMac posits an interesting case for the slow, growing sense of the irrelevance of Microsoft, at least in the applications space. Go and read the piece – it's excellent – but the gist is that for years Microsoft banked on Office being as important to users as, say, Windows. Office is Microsoft's biggest money maker and for most of this decade no self-respecting IT department would consider any alternatives, even though they existed. You needed it to get work done.
The Post-Office Generation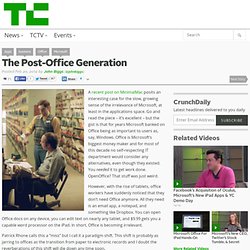 Now In Beta: Pinwheel Lets You Drop Virtual Notes Anywhere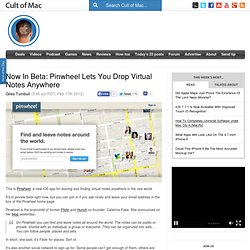 This is Pinwheel, a new iOS app for leaving and finding virtual notes anywhere in the real world. It's in private beta right now, but you can join in if you ask nicely and leave your email address in the box of the Pinwheel home page. Pinwheel is the brainchild of former Flickr and Hunch co-founder, Caterina Fake. She announced on her blog yesterday:
One of the most common questions we hear at 99U is: "How do I get more out of my brainstorming sessions?" While brainstorming sessions have become perhaps the most iconic act of creativity, we still struggle with how to give them real utility. The problem of course is that most brainstorming sessions conclude prematurely. We all love to dream big and come up with "blue sky" ideas. We're less fond of diving into the nitty-gritty details of creative execution.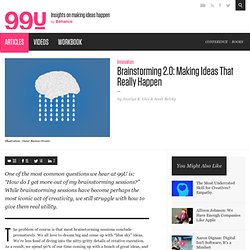 The Future of Advertising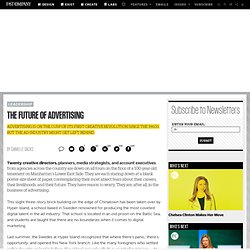 Twenty creative directors, planners, media strategists, and account executives from agencies across the country are down on all fours on the floor of a 100-year-old tenement on Manhattan's Lower East Side. They are each staring down at a blank poster-size sheet of paper, contemplating their most abject fears about their careers, their livelihoods, and their future. They have reason to worry. They are, after all, in the business of advertising.
A special report on smart systems: Living on a platform
W. Brian Arthur, PARC Visiting Researcher series: Entrepreneurial Spirit
How Technology is Recreating the 21st-century Economy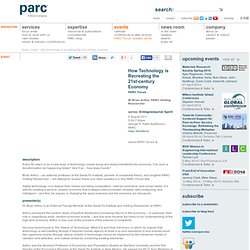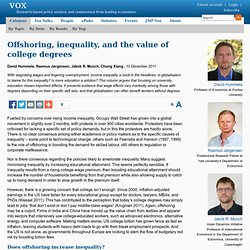 David Hummels, Rasmus Jørgensen, Jakob R. Munch, Chong Xiang , 10 December 2011 Fuelled by concerns over rising income inequality, Occupy Wall Street has grown into a global movement in slightly over 2 months, with protests in over 900 cities worldwide.
Globalisation and higher education: Different degrees of success
The British 1 Percent
This figure, via Paul Krugman, shows the income share of the top 1 percent in the United Kingdom. The broad pattern is very similar to what U.S. data shows. The figure suggests that the explanation of growing inequality over the past several decades cannot be U.S.-specific but must have broader applicability.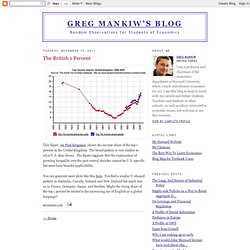 F. Scott Fitzgerald was right when he declared the rich different from you and me. But today's super-rich are also different from yesterday's: more hardworking and meritocratic, but less connected to the nations that granted them opportunity—and the countrymen they are leaving ever further behind. Stephen Webster/Wonderful Machine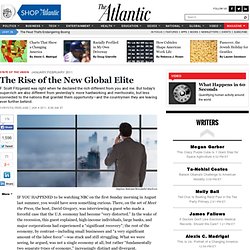 Towards the end of each year I share some thoughts on what awaits in the year ahead. It is actually a lot easier to look years into the future than just a single year, as while we can readily discern broad trends, the major events in a year are usually unforeseeable, though they may express the longer-term directions. However as the pace of change accelerates, it is becoming a little easier to see the themes, if not the specifics, of the year ahead.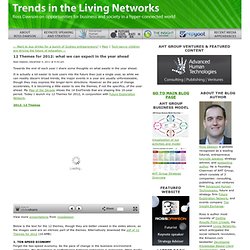 Germany: A Bric, or just stuck in a hard place?
Exit from comment view mode. Click to hide this space NEW YORK – The outlook for the global economy in 2011 is, partly, for a persistence of the trends established in 2010. These are: an anemic, below-trend, U-shaped recovery in advanced economies, as firms and households continue to repair their balance sheets; a stronger, V-shaped recovery in emerging-market countries, owing to stronger macroeconomic, financial, and policy fundamentals. That adds up to close to 4% annual growth for the global economy, with advanced economies growing at around 2% and emerging-market countries growing at about 6%. But there are downside and upside risks to this scenario.
Global Risk and Reward in 2011 - Nouriel Roubini - Project Syndicate
Five Big Trends in Business Innovation in 2012
The Ultimate Guide To Enterprise SEO: 25 Things To Know Before You Take The Plunge
Enterprise Search Engine Optimization (SEO) is not rocket science. In fact, it is not even as faceted as many other sectors of SEO in which practitioners have to perform many more nuanced SEO tasks (and often by themselves). So why is Enterprise SEO so underserved and why do so few large organizations embrace it properly? Because Enterprise SEO is much more like Supply Chain Management than it is Marketing.
Washington Post Social Reader on Facebook
Global Risks 2014 report The Global Risks 2014 report highlights how global risks are not only interconnected, but also have systemic impacts. To manage global risks effectively and build resilience to their impacts, better efforts are needed to understand, measure and foresee the evolution of interdependencies between risks, supplementing traditional risk-management tools with new concepts designed for uncertain environments.
Global Risks | World Economic Forum-Global Risks
Noam Chomsky has said, "I'm not a great enthusiast for Obama, as you know, from way back, but at least he's somewhere in the real world." He stated that the 2012 candidates are "Off the International Spectrum of Sane Behavior." The extended view by Democracy Now's Amy Goodman with Noam Chomsky --- world-renowned activist, linguist, public intellectual and Professor Emeritus at the Massachusetts Institute of Technology, author and one of the most influential political analysts of our day and age --- represents what American GOP middle-class voters are lamenting, "If only we had another candidate to pick from." This is even made more evident in Amy Goodman's latest article, "Republicans Divided, Citizens United," saying that "the Republicans are not enthusiastic about any of their candidates."
Noam Chomsky chooses Obama over GOPs as 2012 President
The 'Trophy Kids' Go to Work
Updated Oct. 21, 2008 11:59 p.m. ET With Wall Street in turmoil and a financial system in crisis mode, companies are facing another major challenge: figuring out how to manage a new crop of young people in the work force -- the millennial generation. Born between 1980 and 2001, the millennials were coddled by their parents and nurtured with a strong sense of entitlement. In this adaptation from "The Trophy Kids Grow Up: How the Millennial Generation Is Shaking Up the Workplace," Ron Alsop, a contributor to The Wall Street Journal, describes the workplace attitudes of the millennials and employers' efforts to manage these demanding rookies. When Gretchen Neels, a Boston-based consultant, was coaching a group of college students for job interviews, she asked them how they believe employers view them.