Word Clouds
Word Clouds. ABCya.com word clouds for kids!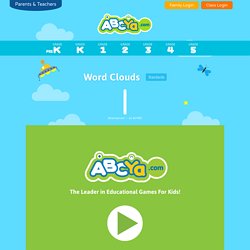 A word cloud is a graphical representation of word frequency. Type or paste text into the box below and press the arrow button to view the word cloud generated. The appearance of a word cloud can be altered using the graphical buttons above the cloud. It is also easy to save and/or print the cloud by simply pressing a button.
Beautiful Word Clouds. Wordle. Tagxedo. WordItOut - Generate word clouds (and make custom gifts) Tagul - Gorgeous tag clouds. Word Clouds for Kids! TagCrowd: make your own tag cloud from any text. WordSift - Visualize Text.
---