Web & digital
OK Go - This Too Shall Pass - Rube Goldberg Machine version - Official. TIK TOK KESHA Parody: Glitter Puke - Key of Awe$ome #13. Lego Black Ops. Nike Music Shoe. Le nouvel iPhone ressemble à s'y méprendre... à l'ancien iPhone.
MISE A JOUR LE 27 AVRIL 2010 - Une perquisition menée par les experts en informatique de la police de Californie (California's Rapid Enforcement Allied Computer Team) a eu lieu le vendredi 23 au domicile du rédacteur en chef du site Gizmodo, Jason Chen.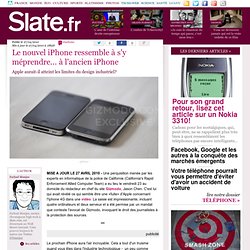 C'est lui qui avait révélé ce qui semble être une «fuite» d'Apple concernant l'Iphone 4G dans une vidéo. La saisie est impressionante, incluant quatre ordinateurs et deux serveux et a été permise par un mandat que conteste l'avocat de Gizmodo, invoquant le droit des journalistes à la protection des sources. Le Medialab de Cécile » L'iPad est l'ennemi du mot. Pour son cours magistral sur l'avenir du journalisme en ligne en tant que «Hearst Digital Media Professional-in-Residence» à Columbia, Steven B.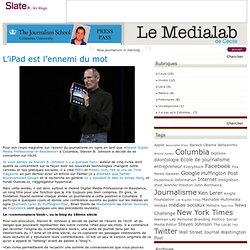 Johnson a décidé de se concentrer sur l'écrit. Je vous parlais de Steven B. Johnson il y a quelque mois: auteur de cinq livres dont quatre se concentrent sur la façon dont les nouvelles technologies changent notre cerveau et nos pratiques sociales, il a créé FEED et Plastic.com, fait la une de Time magazine en juin dernier avec un article sur Twitter (il y prédisait que Twitter bouleverserait Google et la recherche en général en y ajoutant le web en temps réel), et fondé Outside.in, l'aggrégateur hyperlocal. Chaîne de nikefootball. In 2010, eight talented players stood out above 75,000 others in the battle to go pro.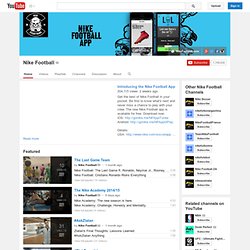 Two years ago, this young group were undiscovered and unknown. Bound together by their setbacks and successes, failures and fight-backs, for many of the Final 8, their pro football journey continues. Watch their stories. Nike Football: The Chance: Undiscovered (subtitles available) In 2010, eight talented players stood out above 75,000 others in the battle to go pro.
Two years ago, this young group were undiscovered and unknown. WWF Tiger – Expérimentez la mort en réalité augmentée. Voici une excellente opération de Moscou pour son client utilisant la réalité augmentée . rappeler aux gens que .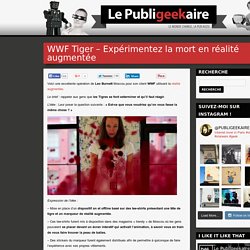 Leur poser la question suivante : - Mise en place d'un . Le péché originel de Youtube | slate. Le PDG de Google, Eric Schmidt, travaille tous les jours sur une trentaine d'ordinateurs différents.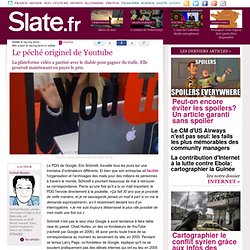 Et bien que son entreprise ait facilité l'organisation et l'archivages des mails pour des millions de personnes à travers le monde, Schmidt a pourtant beaucoup de mal à retrouver sa correspondance. Parce qu'une fois qu'il a lu un mail important, le PDG l'envoie directement à la poubelle. «Ça fait 30 ans que je procède de cette manière, et je ne sauvegarde jamais un mail à part si on me le demande expressément», a-t-il récemment déclaré lors d'un interrogatoire. «Je me suis toujours débarrassé le plus vite possible de mes mails une fois lus.» Lynnemb shared. Among Teens, Texting Tops E-Mail, Facebook. While some e-mail marketers fear losing the attention of their audience to social media, research suggests that the strengths of both media can be combined, and that the bigger threat may be text messaging.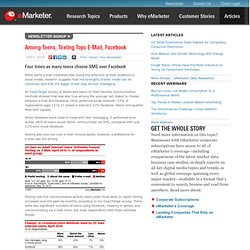 An ExactTarget survey of adults and teens on their favorite communication methods showed that was also true among the younger set. Asked to choose between e-mail and Facebook—their preferred social network—33% of respondents ages 15 to 17 picked e-mail and 31% Facebook. About one-quarter liked both equally. When Facebook went head-to-head with text messaging, it performed even worse: 48% of teens would rather communicate via SMS, compared with just 12% who chose Facebook. How Consumers Interact with Brands on Social Networks - eMarkete. The social networking audience in the US has reached critical mass. eMarketer estimates that 57.5% of all US Internet users, or 127 million people, will use a social network at least once a month in 2010.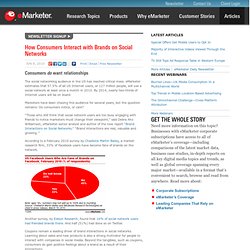 By 2014, nearly two-thirds of Internet users will be on board. Marketers have been chasing this audience for several years, but the question remains: Do consumers notice, or care?
---