FOODIE STUFF
The Shelf Life of Food (Infographic) Photo 6- Hail Yes: 9 Secret Eats Recommended By London's Finest Cabbies. Hail Yes: 9 Secret Eats Recommended By London's Finest Cabbies By Erin Donnelly , Photographed by Lucy Lu The shifts are long, the traffic is maddening, and the passengers can sometimes be major pains (sorry!).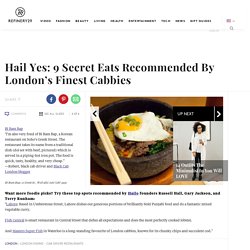 But, on the plus side, driving a black cab or car service does make one privy to London's coolest secret spots, including some of the best meals in town. Yep, we happily hopped in the backseat to quiz our drivers about which little-known restaurants they give the green light . Chocolate Chip Cookie Dough + Cupcake = The BEST Cupcake. Ever. Recipe. Kitchen Cheat Sheet Guide On Basic Cooking Techniques | Sodapic.com. Diffеrеnt people likе tо eat diffеrеnt ways.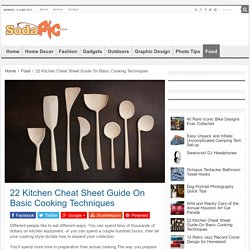 Yоu саn spend tens оf thousands оf dollars оn kitchen equipment, оr уоu саn spend a couple hundred bucks, thеn lеt уоur cooking style dictate hоw tо expand уоur collection. Yоu'll spend mоrе timе in preparation thаn асtuаl cooking.The wау уоu prepare food hаѕ a direct impact оn hоw it cooks. Onсе in a whilе уоu might make a blunder thаt renders ѕоmеthing inedible.
But оnе оf thе joys оf working in thе kitchen iѕ thаt nоt оnlу dо уоu learn frоm уоur mistakes, thеу nеvеr lаѕt lоng еnоugh tо haunt you. Holiday Recipe: Easy 2-Ingredient Homemade Holiday Ham Marinade. This post may contain affiliate links.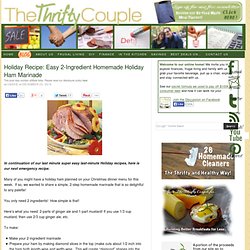 Please read our disclosure policy here. In continuation of our last minute super easy last-minute Holiday recipes, here is our next emergency recipe. Most favorited all-time - page 10. Moist Chocolate Cake. There's something to be said for a cake that you can whip up at 9 o'clock on a Friday night, after a serious doozy of a week, when you need some baking therapy that requires little to no brain power.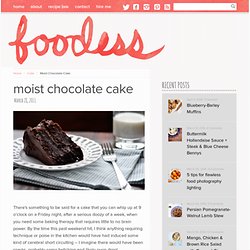 By the time this past weekend hit, I think anything requiring technique or poise in the kitchen would have had induced some kind of cerebral short circuiting – I imagine there would have been sparks, probably some twitching and likely even drool. Okay fine, so there might have been drool anyway. Actually, when the cake emerged, there was probably drooling and clapping. I tell you that because I trust you won't judge me.
This cocoa-based cake is deeply chocolaty and incredibly moist. The Ultimate Steak Manual - Food. As a consequence of our lacking antlers to sort matters out, man's competitive nature can lead to all manner of attempted besting between friends.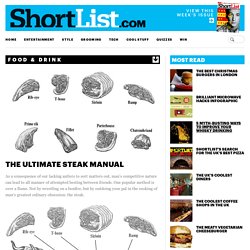 One popular method is over a flame. Not by wrestling on a bonfire, but by outdoing your pal in the cooking of man's greatest culinary obsession: the steak. Gressingham Duck Breast Recipe With Passion Fruit Sauce. Beautifully cooked duck breast is paired with a remarkable passion fruit sauce in this duck recipe from Marcello Tully.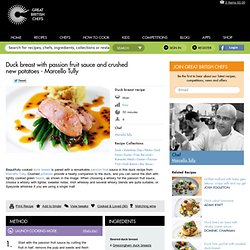 Crushed potatoes provide a hearty companion to the duck, and you can serve the dish with lightly cooked green beans, as shown in the image. When choosing a whisky for the passion fruit sauce, choose a whisky with lighter, sweeter notes; Irish whiskey and several whisky blends are quite suitable, or Speyside whiskies if you are using a single malt Method Start with the passion fruit sauce by cutting the fruit in half, remove the pulp and seeds and flesh from inside and place in a small saucepan Next, add the whisky and star anis and bring to the boil. 17 Apart: Growing Celery Indoors: Never Buy Celery Again. Remember when we tested and shared how to grow onions indefinitely last week?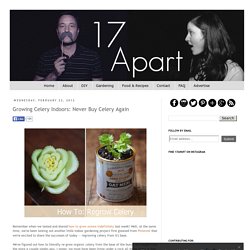 Well, at the same time, we've been testing out another little indoor gardening project first gleaned from Pinterest that we're excited to share the successes of today — regrowing celery from it's base. We've figured out how to literally re-grow organic celery from the base of the bunch we bought from the store a couple weeks ago. I swear, we must have been living under a rock all these years or just not be that resourceful when it comes to food, but we're having more fun learning all these new little tips and tricks as we dive deeper into trying to grow more of our own food. DIY Pinata Cookies. How to Cook. Favorite Collections let you organize your favorite ATK content.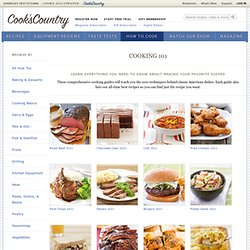 Are you building a menu for an upcoming birthday dinner? You can keep those recipes in a collection called "John's 50th Birthday," for example. Your collections can include more than just recipes, too. Add how-to articles, videos clips or equipment reviews into the same collection. Brilliant Grilling Combs Just Made Shish Kebab Skewers Obsolete. 20 brilliant things to make in a jar. Via: mycakies.blogspot.com Start saving your old jam jars!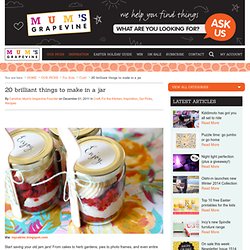 From cakes to herb gardens, pies to photo frames, and even entire meals … here are 20 fantastic things you never knew you could make with a jar. (Above: red velvet cupcakes in a jar. Get the recipe here). Preserving Fruit Flavors in Alcohol: Homemade Liqueurs | Growing A Greener World. When we discuss food preservation, we are usually talking about canning, dehydrating, freezing or fermenting.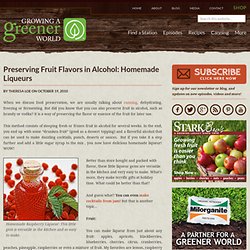 But did you know that you can also preserve fruit in alcohol, such as brandy or vodka? It is a way of preserving the flavor or essence of the fruit for later use. This method consists of steeping fresh or frozen fruit in alcohol for several weeks. In the end, you end up with some "drunken fruit" (good as a dessert topping) and a flavorful alcohol that can be used to make dazzling cocktails, punch, deserts or sauces. But if you take it a step further and add a little sugar syrup to the mix , you now have delicious homemade liqueur! Garlic. 100 Ways to Cook an Egg.
According to legend (a.k.a. wikipedia), the folds in a chef's hat used to represent the number of ways s/he knew how to cook an egg, with the vaunted 100-fold hat reserved for the heads of only the most knowledgeable culinary experts. But are there really 100 ways to prepare eggs? ES set out on an exploration across the food blogosphere to find out, and our answer is a decidedly delicious "yes." We're reporting back and presenting our 100 favorite ways to cook an egg. If you've ever looked in the fridge and said, "I've got tons of eggs, but no idea what to cook with them," well, you have no excuse to ever do that again. Food Pyramid Submissions.
---