How to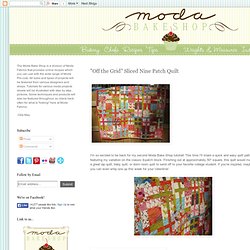 I'm so excited to be back for my second Moda Bake Shop tutorial! This time I'll share a quick and easy quilt pattern featuring my variation on the classic 9-patch block. Finishing out at approximately 50" square, this quilt would make a great lap quilt, baby quilt, or dorm room quilt to send off to your favorite college student. If you're inspired, maybe you can even whip one up this week for your Valentine! 2 charm packs (Note: you will need a total of 81 charm squares. My two charm packs of MoMo's "Wonderland" line only yielded 80 squares, so I cut my final square from my backing fabric.) 1 honey bun of the same line 3 yards of a coordinating backing fabric 1 yard of a coordinating binding fabric
"Off the Grid" Sliced Nine Patch Quilt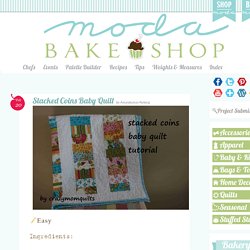 Stacked Coins Baby Quilt
2 charm packs-Soiree by Lila Tueller 1 1/2 yards white fabric for sashing/borders 1/2 yard fabric for binding 1 1/2 yards of fabric for backing batting that measures 44" x 55" quilting thread please note: 1/4" seams are used throughout this project. Cut each charm in half. This will yield 144 "coins". Each will measure 2.5" x 5".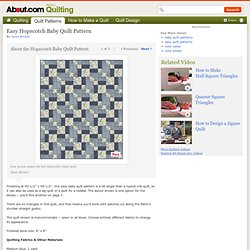 Hopscotch Quilt - Make a Baby Quilt or Toddler Quilt
Finishing at 40-1/2" x 48-1/2", this easy baby quilt pattern is a bit larger than a typical crib quilt, so it can also be used as a lap quilt or a quilt for a toddler. The layout shown is one option for the blocks -- you'll find another on page 3. There are no triangles in this quilt, and that means you'll work with patches cut along the fabric's sturdier straight grains. The quilt shown is monochromatic -- sewn in all blues. Choose entirely different fabrics to change its appearance. Finished block size: 8" x 8"
Pattern: Hide and Seek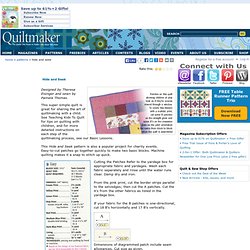 Designed by Theresa Eisinger and sewn by Pamela Thomas. This super simple quilt is great for sharing the art of quiltmaking with a child. See Teaching Kids To Quilt for tips on quilting with children, and for more detailed instructions on each step of the quiltmaking process, see our Basic Lessons. This Hide and Seek pattern is also a popular project for charity events.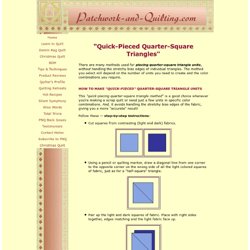 Quick-Pieced Half-Square Triangles
There are many methods used for piecing quarter-square triangle units , without handling the stretchy bias edges of individual triangles. The method you select will depend on the number of units you need to create and the color combinations you require. This "quick-piecing quarter-square triangle method " is a good choice whenever you're making a scrap quilt or need just a few units in specific color combinations. And, it avoids handling the stretchy bias edges of the fabric, giving you a more "accurate" result!
so what makes it SUPER easy???well it's made with a charm pack.so all the precutting hassle is not there.yayyy!!! note to add: for those that don't know...a charm pack consist of 5" x 5" precut squares of moda fabric.you CAN follow this tutorial using your own fabrics cut at 5" x 5" squares. i'm using hartfield by barbara brackman.{it has 30 charms.}
p.s. i quilt: disappearing 9-patch tutorial. {the SUPER easy way.}