Portfolio Traam fontpro.com Font Pro - is a free fonts database with awesome typeface testing tool. It provides more than 20,000 free fonts and web fonts. Font Pro has made the process of searching fonts, previewing fonts, collecting fonts, to discovering new font combinations super easy and awesome. This tool can save hours of design time every week. You can start a new project with a blank canvas, and get some pretty detail options in minutes.
IconFinder - http://www.iconfinder.net
Icones_Pro - http://icones.pro
Gridulator - http://gridulator
Patternry - http://patternry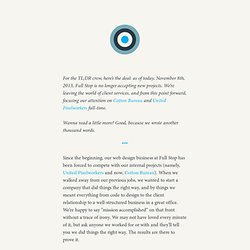 For the TL;DR crew, here's the deal: as of today, November 8th, 2013, Full Stop is no longer accepting new projects. We're leaving the world of client services, and from this point forward, focusing our attention on Cotton Bureau and United Pixelworkers full-time. Wanna read a little more?
Full Stop — Web design from Pittsburgh, PA
Hitmo - hittin' the web
Vision18 Technologies-Web design studio, web development, software development, SEO, India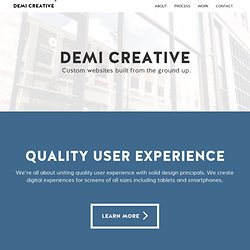 We're incredibly enthusiastic about every project we take on and love working with clients who are as enthusiastic about their business as we are about design. "Dan and Chad are two creatives who were not just fun to work with but impressively organized and responsive. They paid fine attention to every detail to make sure we have one of the best of the best Rotaract websites out there today." Lindsey Neddenriep – President, Springfield Rotaract
AFD-Folio - The portfolio of a type lover website maker
Hello visitor ! Thank you for taking the time to come to my site. If you are reading these lines, you probably want to know more about me. My name is Aurélien Foutoyet, I am a 29 year old French web designer living in Marseille, southern France.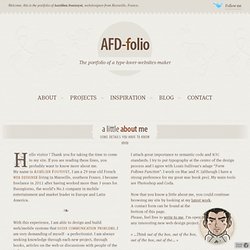 Dan Wiersema: Designer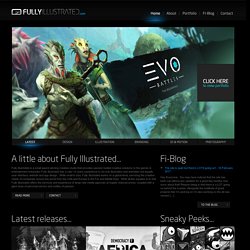 Fully Illustrated is a small award winning creative studio that provides passion fuelled creative solutions to the games & entertainment industries! Fully Illustrated has a vast 12 years experience in not only illustration and animation but equally user interface, website and app design. While small in size, Fully Illustrated works on a global level, servicing the creative needs of companies around the world from the USA and Europe to the Far and Middle East. What all this equates to is that Fully Illustrated offers the services and experience of large new media agencies at hugely reduced prices, coupled with a giant dose of personal service and oodles of passion.
As web design and development evolves, roles of who does what within the process begin to overlap. Over the past couple of years, the role of the front-end web developer has changed greatly as it begins to mingle with UX, UI and IA. Companies have taken many different approaches in dividing tasks and responsibilities in order to be efficient.
The IdeaLists matches ideas, opportunities and talent.
I've used various versions of Windows for years, Linux in various flavours for another few years, and OS X for about 2-3 years total. I'm now a convert to OS X (though proudly not part of the cult of Mac — I enjoy the OS, I don't want Jobs' offspring) for general desktop use, switching to Windows for gaming. I find app quality is generally significantly higher on OS X than Windows (and certainly Linux). Do note the word "generally" — some of this stuff is cross-platform and in some cases Windows offers something better! The drawback of this is that most of it costs a couple of bucks, but that's a small price to pay if you're using your computer for various tasks daily.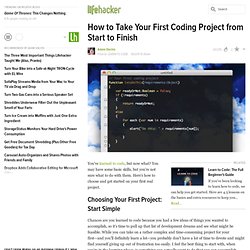 Web development News, Videos, Reviews and Gossip - Lifehacker
Hands-on Mentorship Entrepreneurs, developers and designers are volunteering their time to mentor you. Learning requires support, and thanks to our mentors, everyone in The Starter League can pair one-to-one with a mentor from a passionate community of industry professionals and initiated Starter League members.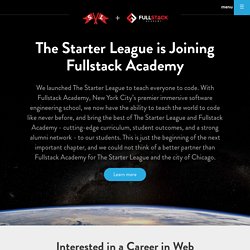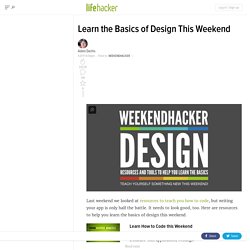 Last weekend we looked at resources to teach you how to code, but writing your app is only half the battle. It needs to look good, too. Here are resources to help you learn the basics of design this weekend.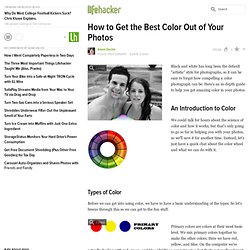 @bigbill25: Yes I know, that ergs me as well, but the idea that those are "primary" colors seems to be embedded in a persons mind by those darn 3rd grade art teachers. I guess we will just have to accept the fact that the general populace is mis-informed. @bigbill25: Actually, thats not entirely true.
Localmotive Organic Food Co-op
Website of Canadian non-profit farmers' co-operative Localmotive. Lovely looking website that makes good use of HTML5′s structure elements. The fresh items and news boxes on the left-hand side are correctly within aside elements.
Martin Stephens | Web and Print Designer from Finchley
Marquee Hire from Up Marquees - For Weddings, Events & Festivals - Based in Flintshire, North Wales, UK
Providing a fresh and innovative approach to marquee hire Our service covers all areas in North Wales and the North West. From weddings to large scale events, shows and festivals, our experienced team is on hand to make your event one to remember.
mm studio