Design Resources
A proof-of-concept effect recreation of the animation seen in a prototype app by Marcus Eckert. The idea is to flip a grid item in 3D, expand it to fullscreen and reveal some associated content. We've created two demos with a vertical and a horizontal rotation. read more Some inspiration and ideas for item transitions considering different scenarios and use cases, including a small component, a full-width image header and a product image with a transparent background. State transitions are done using CSS Animations. read more A tutorial on how to recreate the slideshow seen on the FWA landing page with 3D effects involving random animations. read more
Web Design Tutorials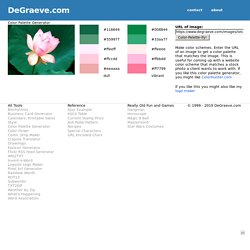 Color Palette Generator URL of image: Make color schemes. Enter the URL of an image to get a color palette that matches the image.
How To Use Photos To Sell More Online - Smashing Magazine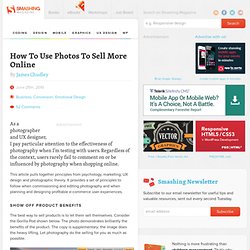 Advertisement As a photographer and UX designer, I pay particular attention to the effectiveness of photography when I'm testing with users. Regardless of the context, users rarely fail to comment on or be influenced by photography when shopping online. This article pulls together principles from psychology, marketing, UX design and photographic theory.