Software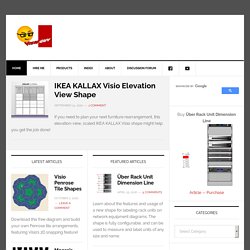 Front Page » Visio 2013 CAD Import Fixed with SP1 February 28, 2014 – 10:22 am | 6 Comments | 1855 views If you've been frustrated by the fuzziness of AutoCAD imports in Visio 2013 at high zoom levels, then you'll be pleased to know that the issue has been fixed with SP1. Share: Read the full story »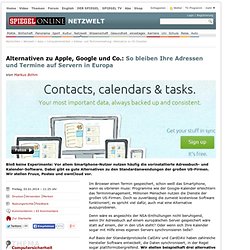 Adress- und Terminverwaltung: Alternative zu US-Diensten
Im Browser einen Termin gespeichert, schon weiß das Smartphone, wann es vibrieren muss: Programme wie der Google-Kalender erleichtern das Terminmanagement, Millionen Menschen nutzen die Dienste der großen US-Firmen. Doch so zuverlässig die zumeist kostenlose Software funktioniert; es spricht viel dafür, auch mal eine Alternative auszuprobieren. Denn wäre es angesichts der NSA-Enthüllungen nicht beruhigend, wenn Ihr Adressbuch auf einem europäischen Server gespeichert wäre statt auf einem, der in den USA steht? Oder wenn sich Ihre Kalender sogar mit Hilfe eines eigenen Servers synchronisieren ließe? Auf Basis der Standardprotokolle CalDAV und CardDAV haben zahlreiche Hersteller Software entwickelt, die Daten synchronisiert, in der Regel sogar plattformübergreifend.
Server ist ausgelastet: Wie ihr auf die Fehlermeldung reagieren solltet
Ohne Panik verbreiten zu wollen, aber erhaltet ihr beim Neustart von Windows die Fehlermeldung "Server ist ausgelastet", habt ihr euch höchstwahrscheinlich Malware eingefangen. Vielleicht macht aber auch nur ein Avira-Tool Schwierigkeiten. Wir helfen euch dabei, sie wieder loszuwerden und nebenbei euren Systemstart aufzuräumen. Egal ob Windows XP, Vista, Windows 7 oder 8: Erhaltet ihr die Fehlermeldung "Server ist ausgelastet.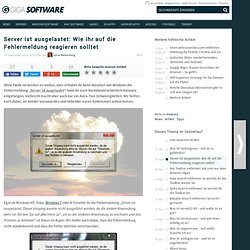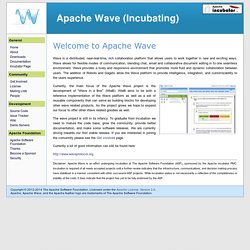 Wave is a distributed, near-real-time, rich collaboration platform that allows users to work together in new and exciting ways. Wave allows for flexible modes of communication, blending chat, email and collaborative document editing in to one seamless environment. Wave provides a lively and responsive environment that promotes more fluid and dynamic collaboration between users. The addition of Robots and Gagets allow the Wave platform to provide intelligence, integration, and customizability to the users experience. Currently, the main focus of the Apache Wave project is the development of "Wave in a Box" (WiaB).
Walkaround is a variant of Wave, based on the Apache Wave code base, that runs on App Engine. Walkaround can import waves from wave.google.com to allow users to keep working with their data after wave.google.com is shut down. You can use a volunteer-maintained walkaround server at https://wavereactor.appspot.com/, or you can run your own. Walkaround supports live collaborative rich-text editing, diff-on-open, in-line replies, user avatars, wave gadgets, attachments, full text search, and we are working on robots as well as inbox management features like archiving and muting.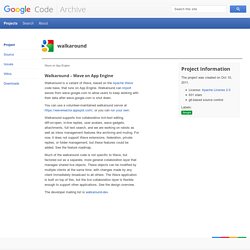 From CVS to SVN 2008-01-26 21:16 - ReZoundReZound has now switched from using CVS to SVN. All old history has been preserved in the new SVN repository. Read More » 0.12.3beta Release 2007-01-13 19:43 - ReZoundApologies for the long release time. This is a maintenance release just to fix some issues with compilers and platforms and other bugs.
ReZound Homepage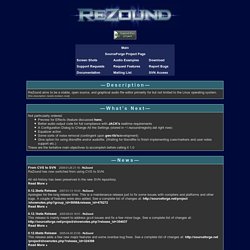 Insert Sound | Prezi Learn Center
Wiclear - Wiclear[en]
You've come a long way, Tux the Penguin. The Linux Foundation is celebrating 20 years of the famous FOSS operating system, Linux — or GNU-slash-Linux, depending on how hard-line a fossie you're talking to — with a slew of special events, both online and IRL. Linux enthusiasts can check out the official anniversary site for details. The Foundation is also sharing a few other exciting news items, including: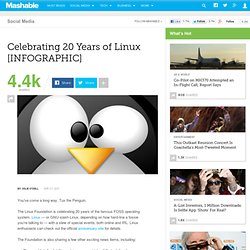 Celebrating 20 Years of Linux [INFOGRAPHIC]
Vollversion Spezial AcdSee verschenkt aktuell den hauseigenen Video Converter. Die Aktion ist zeitlich limitiert, es heißt also zugreifen. Lesen Sie mehr.. Mitmachen & gewinnen an Ostern Für alle Daheimgebliebenen und Mobilsurfer gibts dieser Tage jede Menge schicke Softwares abzustauben.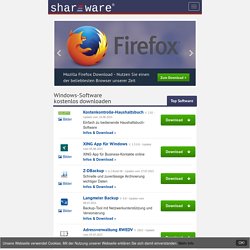 Download Portal Shareware.de: Software kostenlos downloaden
CampusSource Engine Die CampusSource Engine (CSE) ist eine Lösung zur Kopplung von IT-Systemen an Bildungseinrichtungen. Als Middleware ermöglicht sie eine prozessorientierte, lose Kopplung der beteiligten IT-Systeme, gewährleistet eine robuste Kommunikation und nutzt aktuelle Schnittstellen-Technologien (z.B. WebServices). Die CSE unterstützt damit den Aufbau von serviceorientierten Architekturen (SOA) in einer heterogenen IT-Landschaft.CampusSource CommSy CommSy ist eine web-basierte Kooperationsplattform, die eine asynchrone Kommunikation und Kooperation in (Lern-) Projekten und (Bildungs-) Institutionen unterstützt.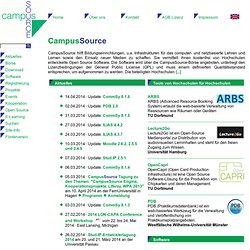 CampusSource
apache, mysql, php und perl installation leicht
Apache HTTP Server Test Page powered by CentOS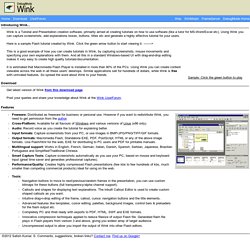 Here is a sample Flash tutorial created by Wink. Click the green arrow button to start viewing it.
★ 4.5 Stars (972) 682,623 Downloads (This Week) Last Update: Download Installer Enabled i Direct Download Browse All Files BSD Windows Mac Linux FileZilla is a cross-platform graphical FTP, FTPS and SFTP client with a lot of features, supporting Windows, Linux, Mac OS X and more.
Echtzeit mp3 Aufnahmen Zusammenfassung: Dieser Artikel zeigt, wie man Musik mit Linux aufnehmen kann. Im Gegensatz zum LinuxFocustip in der Januar 2001 Ausgabe wird nicht das 'teure' WAV-Format benutzt. Stattdessen wird direkt im dünneren mp3-Format aufgenommen. 24 Stunden Aufnahmen in CD-Qualität werden Realität, wenn dieses Format benutzt wird. Die Prozedur
lf178, Applications: Echtzeit mp3 Aufnahmen
Scribe! - XHTML Editor / Freeware / kostenlos
Scribe! ist ein kostenloser, quelltext-basierter HTML-Editor für Windows, der es ermöglicht, schnell und einfach anspruchsvolle Internet-Seiten zu erstellen. Scribe! ist ebenso für Anfänger geeignet, die HTML erlernen wollen, als auch für Profis, die sich die Arbeit erleichtern und trotzdem die volle Kontrolle über den Quelltext behalten möchten. Erweiterungen wie Cascading Style-Sheets und JavaScripts sind in Scribe!
There is Firefox, which stepped into Netscape's pioneer position. Opera, the fastest. Safari, the Mac browser.
3 Steps To Efficiently Work With Multiple Browsers
Adobe Reader herunterladen
Info: Adobe® Flash® Player ist ein leichtes Browser-Plug-in und Laufzeittool für Internet-Anwendungen, das konsistente und fesselnde Benutzererfahrungen, packende Audio-/Videowiedergabe und spannende Spiele ermöglicht. Dies ist die einzige Leseanwendung für PDF-Dateien, die alle Arten von PDF-Inhalten inklusive Formulare und Multimedia lesen und mit ihnen interagieren kann. Geschäftsbedingungen:
Osborn Software - Advanced File Security 3 Basic
Award-Winning NoteTab Text Editors and HTML Editors
Macromedia HomeSite - Download
Forum: Homesite
Macromedia - HomeSite 5.5 : Update
ASP4HS: ASP/PHP/.Net/etc Development Extensions for HomeSite
Using TextExpander to conquer email
Zooming into presentations - Zoomit, Prezi & pptPlex
Mehr als nur Powerpoint-Folien: Tools für starke Präsentationen - Seite 1 von 5 - Business-Software | Tests & Technik | ZDNet.de