SocialMedia
• Mitglieder des Social Network Xing 2011
infografik_10022012_Das_Karrierenetzwerk_Kennzahlen_zu_LinkedIn_n.jpg (960×684)
Twitter 2012 Statistics
It was a huge year for Social Media and here is a great infographic that rounds up the key Social Media Statistics to kickoff 2012. It's pretty impressive to see that Facebook has grown to more than 800 million active users, adding more than 200 million in a single year. Twitter now has 100 million active users and LinkedIn has over 64 million users in North America alone.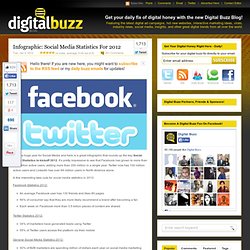 Infografik: Social Media in Healthcare Infographic - Tim Krischaks Posterous
0inShare INFOGRAFIK: Social Media ist krasseste Entwicklung seit der industriellen Revolution Posted In Facebook, Infografik, Trends, Video | 5 kommentare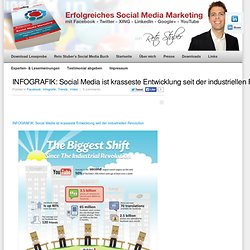 INFOGRAFIK: Social Media ist krasseste Entwicklung seit der industriellen Revolution
Social Media Statistiken | Studien, Slides, Infografiken und Videos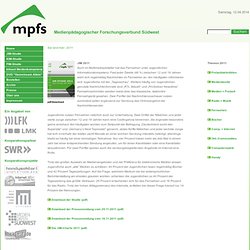 Auch im Multimediazeitalter hat das Fernsehen unter Jugendlichen Informationskompetenz. Fast jeder Zweite (46 %) zwischen 12 und 19 Jahren sieht sich regelmäßig Nachrichten im Fernsehen an. Am häufigsten informieren sich Jugendliche mit der "Tagesschau". Weitere häufig von Jugendlichen genutzte Nachrichtenformate sind "RTL Aktuell" und "ProSieben Newstime".
» MPFS - Medienpädagogischer Forschungsverbund Südwest : 2011
Die Anteil der Menschen in Deutschland, der das Internet inzwischen als wichtigste Nachrichtenquelle bezeichnet, ist seit 2004 von 15 auf fast 36 Prozent gestiegen, hat das Institut für Demoskopie Allensbach in seiner Computer- und Technik-Analyse (ACTA) 2011 herausgefunden. Die Zahlen zeigen jedoch eine Beschleunigung des Medienwandels: Betrug der Zuwachs zwischen 2004 und 2007 nur 9 Prozentpunkte, legte der Anteil zwischen 2008 und 2011 um 13 Punkte zu. Noch deutlicher wird die Beschleunigung, wenn man nur den Medienwandel der jungen und gut ausgebildeten Menschen betrachtet: Zwischen 2004 und 2007 stieg dieser Anteil in der Gruppe der 20 bis 39 Jahre alten Akademiker in Deutschland um 13 Prozentpunkte, in den Jahren 2008 bis 2011 aber um mehr als 23 Prozentpunkte. Ähnlich schnell hat das Internet bei den Menschen mit Abitur zugelegt, während die Bedeutung des Netzes als Nachrichtenquelle bei den Menschen ohne Abitur wesentlich langsamer wächst, wie die Allensbach-Zahlen zeigen.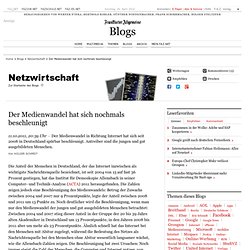 F.A.Z.-Community
Im Internet tobt ein Wettbewerb der großen Plattformen um die Gunst der Nutzer. Deren Vorlieben zu treffen wird allerdings immer schwieriger, ändern sie sich doch dramatisch schnell. Wie schnell, das zeigen die Verschiebungen der Zeit, die auf die Kategorien im Web entfallen. In den vergangenen 12 Monaten haben die Nutzer in Deutschland ihre Online-Zeit auf den klassischen Portalen wie T-Online um durchschnittlich 24 Prozent gesenkt, dafür aber um 49 Prozent in den sozialen Netzwerken erhöht, hat das Marktforschungsunternehmen Comscore gemessen. Besonders schnell vollzieht sich diese Zeitenwende unter jungen Menschen zwischen 15 und 24 Jahren. Die Zeit auf den Portalen ist in diesem Zeitraum um 50 Prozent auf nur noch 923 Millionen Minuten in Deutschland gefallen, während die Aufenthaltsdauer in den sozialen Netzwerken um 64 Prozent auf 4,5 Milliarden Minuten gestiegen ist.
F.A.Z.-Community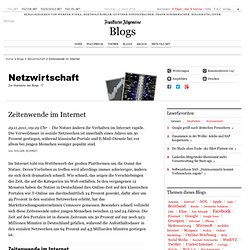 Infografik: Demographie der Sozialen Medien bei Glaserei
Die sozialen Netze bei Glaserei
2010 Social Network Analysis Report - Geographic - Demographic a
Ignite Social Media // Blog // Social Media Stats // 2011 Social Network Analysis Report – Geographic – Demographic and Traffic Data Revealed
News
Berlin, 24.
SchülerVZ beliebteste Community bei Teenagern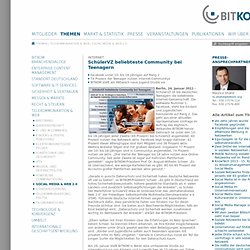 Kanye Tweep It will be really interesting to see in which way Twitter will head in this year, although I doubt after releasing their new interface and new business model that we will be seeing many big stories from the service. Regardless of its fate in the future, Twitter was a very influential medium last year and it was interesting to see how it's demographics changed during the past year.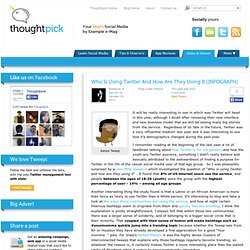 Who Is Using Twitter And How Are They Using It [INFOGRAPH]
Im Rahmen der Veredelung unserer Zutaten analysieren wir kontinuierlich eine Vielzahl unterschiedlicher Studien.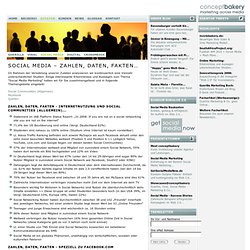 social media | marketing | agentur | web 2.0 | studien | zahlen | daten | fakten
Facebook hatte im laufenden Jahr einen enormen Wachstum in Deutschland.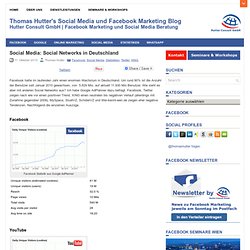 Social Networks in Deutschland
Everybody's Doing It: How Marketers Are Utilizing Social Media In 2010
This post was written by Annie Tsai, our Chief Marketing Officer. Picture this: After a long day's work, you sink onto the couch and turn on the television.
20+ more mind-blowing social media statistics
The social media statistics I posted a few weeks ago seemed to strike a chord amongst the digital community, especially in highlighting just how big an issue this particular area of online currently is.
2010 Social Media Statistics | General
Posted by Joey Wolff on August 11, 2010 With all the hub-bub around social media, I thought it was time to put together some social media statistics for 2010.
Hamburg (ots) - Nur ein Drittel der deutschen Unternehmen verfügt über eine Social-Media-Strategie. Gut jede vierte Firma stellt zusätzliche finanzielle Mittel für die Web2.0-Kommunikation bereit. Das ergab die Umfrage "Social Media in Unternehmen" der dpa-Tochter news aktuell und Faktenkontor. Mehr als 1.700 Pressesprecher und PR-Fachleute haben sich beteiligt.
news aktuell GmbH - Nur jedes dritte deutsche Unternehmen hat eine Social-Media-Strategie
This series is supported by Ben & Jerry's Joe, Ben & Jerry's new line-up of Fair Trade and frozen iced coffee drinks.
Studie zu Social Media in der Unternehmenskommunikation: Marktforschung im Mittelpunkt - Apps und Video-Plattformen die stärksten Treiber