Shops
Camden Town has been a residential area since the 1790s, but it was only the development of the Grand Union canal and the improved railway transport that turned it into a bustling part of London. Today, visitors and locals gather to hunt for treasures in Camden's markets, stroll by Regent's Canal , gaze at the beautiful buildings, sample cuisine from around the world, listen to live music and soak up the vibrant and diverse atmosphere. Many famous people, including Dylan Thomas, Walter Sickert and Amy Winehouse, have made Camden their home. Camden Markets The labyrinthine open-air markets and myriad retail outlets of Camden will keep the keenest shoppers busy, with everything from vintage to futuristic designs on offer. The individual markets are:
Camden Town, London - VisitLondon.com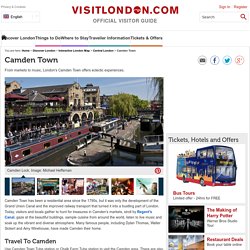 Shop by theme > Museum of Childhood
Spring Market
For one day only, visit our pop-up Market on the Piazza and buy some of the fabulous products created by designers/makers who have used the British Library. Our stall-holders are the winners of our Spring Market competition to find the most impressive products, inspired by our collections and Business and IP Centre. Come and buy innovative jewellery, crafts, homeware and fashion products, all at an affordable price. Find out more about the stall holders This event is part of the British Library's Spring Festival, a five-day celebration of creativity, fashion and design. Tweet about Spring Market: #BLSpring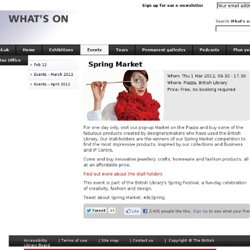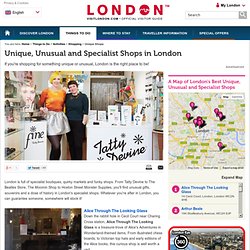 If you're shopping for something unique or unusual, London is the right place to be! London is full of specialist boutiques, quirky markets and funky shops. From The Beatles Store to the Christmas Shop, Forbidden Planet to Junky Styling, you'll find unusual gifts, souvenirs and fashion in London's specialist shops. Whatever you're after, you can guarantee someone, somewhere will stock it! The Beatles Store A fan of the Fab Four?
London Shops: Unique, Unusual and Specialist Shops in London - Things To Do
360 - a virtual tour of Harrods store london at harrods.com
Harrods' Egyptian room.JPG
Retail Store (United Kingdom) - Regent Street
London's favourite shopping streets - Street Sensation!
Discount Britain - Save 20% at London & Britain's Tourist Attrac