Furniture & Decoration
Get flash to fully experience Pearltrees
<img class="alignnone size-full wp-image-297047" alt="2013 rca winner" src="http://makezineblog.files.wordpress.com/2013/03/2013-rca-winner.png?
Many years ago a teacher told me that you could steam out a dent in a piece of wood (one where the wood fibers had been compressed, not a where they had been removed) using a wet rag and an iron. This technique was meant for unfinished wood, but unfortunately, most of the wood we deal with in our homes has some sort of finish on it. With some research I learned that this technique can work with finished wood but it depends greatly on the type of finish you are dealing with. So I decided to do a couple of tests to see the results for myself. The first test was a on a birch table from IKEA.
Here at Infarrantly Creative, I've been busy showing you how I utilized the space on the inside of cabinet doors to better organize my own kitchen . As it turns out, that empty space on the inside of my doors had amazing hidden potential! When you stop to consider the square footage of level, usable space on the interior of your cupboard doors, you can start to envision new possibilities for controlling kitchen clutter. I've found a wealth of ideas for taking advantage of both sides of your cabinetry that I can't wait to show you in this installment of 5 Ways Saturdays.
Shanty 2 Chic Turning shanty to chic one bargain at a time You are here: Home / Not found: Not Found, Error 404 The page you are looking for no longer exists.
I don't know about you, but I've seen a lot of rustic accessories and tableware popping up all over design blogs lately. The wood cake stand is one of my favorites, and I'm hoping to be able to make one soon so I can share the DIY with you! I love the idea of bringing the outdoors in through rustic or organic design elements. Which is why I was thrilled when my husband made me this wooden pencil holder.
As Fall approaches, I love to fill my home with all the warm inviting scents the season brings along. With my precious little guy running around, it's important to try and find scented alternatives that are not only flameless but safe and non-toxic - unlike most of the commercial fragrances sold in the stores today. Reed diffusers are a great option, especially if you make your own. They work really well in smaller areas since they do not have a very powerful scent throw. They are quite simple to put together and pretty inexpensive plus you have the option to create your own favorite fragrant combinations.
In need of a mouse pad for my room-to-room roving laptop I made a quick no-sew version from fabric and cork. I thought I'd share the process in a first ever Funky & Delightful tutorial. Trace and cut the desired shape from a piece of cork. My mouse pad is an 8" circle.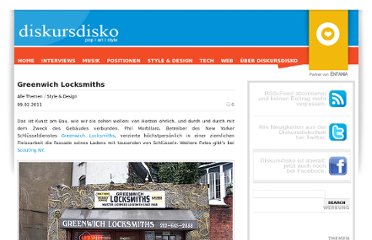 Greenwich Locksmiths Das ist Kunst am Bau, wie wir sie sehen wollen: von Herzen ehrlich, und durch und durch mit dem Zweck des Gebäudes verbunden. Phil Mortillaro, Betreiber des New Yorker Schlüsseldienstes Greenwich Locksmiths , verzierte höchstpersönlich in einer ziemlichen Fleissarbeit die Fassade seines Ladens mit tausenden von Schlüsseln. Weitere Fotos gibt's bei Scouting NY . (via Boing Boing ) Vincent Wilkie hat diesen tollen Beitrag verfasst.
Some keys are cheap to copy at your local hardware store, and others can be fairly expensive. Some you're not supposed to copy, too. As Instructables user Brna points out, with the right tools you can easily copy most keys yourself.