Best Practice
Layout-o-matic
Three Column Layouts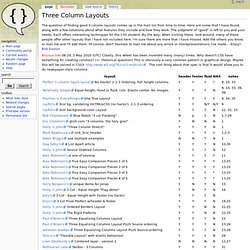 From CSS Discuss The question of finding good 3 column layouts comes up in the mail list from time to time. Here are some that I have found, along with a few notations about what features they include and how they work. The judgment of "good" is left to you and your needs. Each offers interesting techniques for the CSS student. By the way, when visiting these, look around; many of these people offer other layouts that I have not included here.
This post was written by Liz Frisch, our Trade Show Coordinator. Here at Demandforce, we exhibit at over 300 trade shows and industry events each year. Last month we packed our warmest clothes and flew back east to the Greater New York Dental Meeting.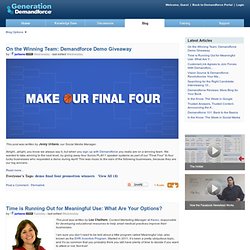 facts_about_bottled_water.jpg (JPEG Image, 1110x4140 pixels)
Some cells are visible to the unaided eye The smallest objects that the unaided human eye can see are about 0.1 mm long. That means that under the right conditions, you might be able to see an ameoba proteus, a human egg, and a paramecium without using magnification. A magnifying glass can help you to see them more clearly, but they will still look tiny.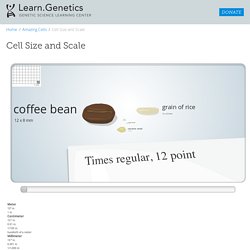 Good Call-To-Action Buttons
What can you do to make your calls-to-action more effective? The call-to-action button is an important tool in the user experience designer's box of tricks. In this article I'll give you a few pointers on providing effective ones. Prioritizing tasks Some tasks on your website are more important than others.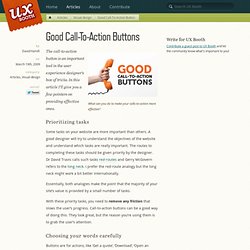 Web-Sites of the Month: The Best of January 2007 | Smashing Maga
web2.0 top designs
Fancy Formatting, Fancy Words = Looks Like a Promotion = Ignored
app « sharedrobotics.com
Reuse, recycle, but don't reinvent the wheel unless necessary. by Brian Christiansen at UI Engineering. Via. This collection captures findings of consistent, unique or interesting interfaces and design flows from across the web. Please note that the content of these sets is not representative of all of the patterns I've captured. I tend to use tags more religiously and recommend that you look there for more patterns:
Free CSS Templates · Solucija
45 Fresh, Clean and Impressive Designs
Advertisement Sometimes it's just amazing to see, which level of usability, legibility and visual appeal can be achieved using some basic design techniques. In fact, some talented web-developers manage to deliver powerful, functional and gorgeous web-design in "look-and-feel"-style, which is easy to use and nice to see. Recently we've listed 50 Beautiful CSS-based web-design of 2006 and chosen some of the most beautiful and inspiring dark web-designs. Now we've selected 45 more fresh, clean and impressive designs.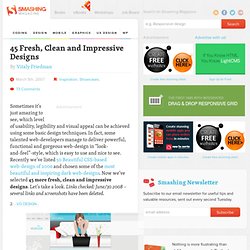 73dpi
Great Visualizers: Always With Honor
Design duo Tyler Lang and Elsa Chaves are Always With Honor, an Portland-based design team with a specialty in beautifully simple information displays and iconography. I first got turned on to / by their work when I spotted this awesome poster. It visualizes the many domains within design. Somewhat awesomely. (Here's a link to a massive hi-res version) Simple shapes, simple typography, simple colour characterises their work.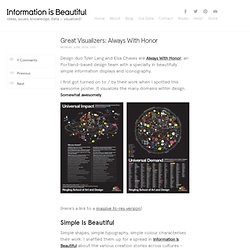 El Clampersand Happy to announce the first batch of Clampersands is now on sale at Core77's Hand-Eye Supply. The Many Faces of Don Draper The dude has become so boring lately. Some spec work that never made it to print.
lunchbreath
Visual Loop
How The World Spends Its Time Online |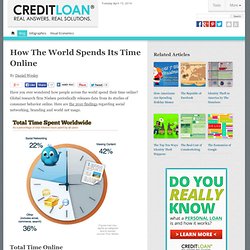 Have you ever wondered how people across the world spend their time online? Global research firm Nielsen periodically releases data from its studies of consumer behavior online. Here are the 2010 findings regarding social networking, branding and world net usage. Total Time Online