iPad Coding
Conceptual Dependency (CD) is a content theory of how to represent simple sentences. Since it was created by Roger Schank (1972), CD has gone through various incarnations - different sets of primitive actions, different types of states, and different theories of inference. We'll consider a cleaned-up, "canonical" CD theory which is fairly close to Schank's original conception but includes a cleaned-up theory of states, relations, and inferences.
Scientific Paper Document Template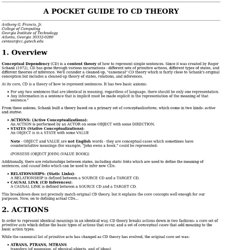 Building iPhone Apps
Design Then Code ~ iPhone & iPad Interface Design Tutorials
iOS Developer Library
Here are the 16 chapters and 91 essays that make up the book. Introduction chapter 1 What is Getting Real?