Listen
This oft-referenced article is from the early '90s, and originally appeared in Maximum Rock 'n' Roll magazine. While some of the information and figures listed here are dated, it is still a useful and informative article.
The Problem With Music
Welcome to The Frogs Archive - A Loyal Fan's Frog Memoirs from the Cloud of Green Smoke
Naturally 7: Where Voices Become Instruments Of Soul
Soul Train
The Not for Profit Exchange Online Radio by NotForProfitExchange
Home - Arts and Culture @ MSU - Michigan State University
Music Downloads, MP3 Downloads, MP3 songs from eMusic.com
Decibel Magazine
convert video to MP3 | convert audio to MP3 | MIDI to MP3 converter | MP3 sound recorder
eJamming AUDiiO | Home
Moreschi - The Last Castrato: Giovanni Aldega, Anonymous, Luigi Pratesi, Paolo Tosti, Salvatore Meluzzi, Johann Gustav Eduard Stehle, Wolfgang Amadeus Mozart, Gioachino Rossini, Leibach, Eugenio Terziani, Charles Gounod, Gregorian Chant, Gaetano Capocci,
annamaria1231's Music Profile
Royal Crown Revue
ChooseYourSongs.com
"RIZE official web site"
La comptine Frère Jacques à travers le monde: canon multilingue vidéo
Topics: Music
Soul Power Written by Captain Performed by Captain Courtesy of Killer Tracks Escape (The Pina Colada Song) (1979) Written by Rupert Holmes Performed by Rupert Holmes Courtesy of MCA Records Under license from Universal Music Enterprises Blue Devil Jump (1977) (Also known as "Blue Devil's Jump") Written by Paul Quinichette Performed by Jay McShann Courtesy of Atlantic Recording Corp.
American Splendor (2003) - Soundtracks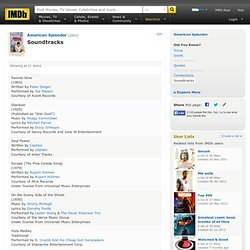 Michigan Radio - Your NPR News Station
WKAR.org Public Broadcasting from East Lansing -- WKAR-TV -- 90.5 -- AM 870