Listen
This oft-referenced article is from the early '90s, and originally appeared in Maximum Rock 'n' Roll magazine. While some of the information and figures listed here are dated, it is still a useful and informative article. And no, we don't know how to reach Steve Albini. -Negativland www.negativland.com Belorussian translation
The Problem With Music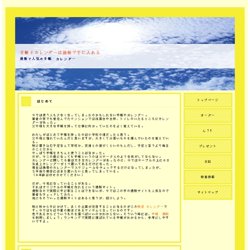 はじめて 今では使う人も少なくなってしまったのかもしれない手帳やカレンダー。 筆者の家でも昔住んでたマンションでは洗面台や台所、トイレのいたるところにカレンダーがあった。 父や母も大きな手帳を持って仕事に向かっていたのをよく覚えている。 わたしがはじめて手帳を持ったのは小学校の頃だったと思う。 父や母に憧れていたんだと思いますが、大きくて分厚いものを選んでいたのを覚えている。
Welcome to The Frogs Archive - A Loyal Fan's Frog Memoirs from the Cloud of Green Smoke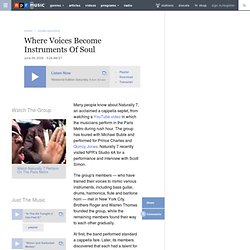 Naturally 7: Where Voices Become Instruments Of Soul
Fiona Garden Many people know about Naturally 7, an acclaimed a cappella septet, from watching a YouTube video in which the musicians perform in the Paris Metro during rush hour. The group has toured with Michael Buble and performed for Prince Charles and Quincy Jones. Naturally 7 recently visited NPR's Studio 4A for a performance and interview with Scott Simon.
Soul Train
The Not for Profit Exchange Online Radio by NotForProfitExchange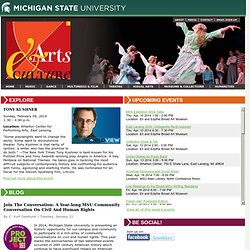 Home - Arts and Culture @ MSU - Michigan State University
[External Link] Sunday, February 09, 20141:30 - 4:00 p.m. Location: Wharton Center for Performing Arts, East Lansing "Some playwrights want to change the world. Some want to revolutionize theater.
Music Downloads, MP3 Downloads, MP3 songs from eMusic.com
Decibel Magazine
convert video to MP3 | convert audio to MP3 | MIDI to MP3 converter | MP3 sound recorder
eJamming AUDiiO | Home
Moreschi - The Last Castrato: Giovanni Aldega, Anonymous, Luigi Pratesi, Paolo Tosti, Salvatore Meluzzi, Johann Gustav Eduard Stehle, Wolfgang Amadeus Mozart, Gioachino Rossini, Leibach, Eugenio Terziani, Charles Gounod, Gregorian Chant, Gaetano Capocci,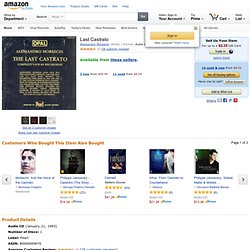 If you are a fan of Opera or history or music or any of these things then you simply must hear this disc. These are recordings of extreme rarity which are made available and, perhaps more importantly, audible, through the dedication of the producers and the miracle of modern technology at the Yale noise reduction lab. Professor Moreschi's voice is something that will never be heard again, and is the only example of what a Castrato sounded like, and that sound is amazing. It is at the same time beautiful, ethereal, and a little bit disturbing. In the event of a fire I will grab my wallet, my autographed Renee Fleming picture and this disc; everything else can burn.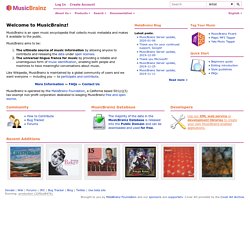 MusicBrainz is an open music encyclopedia that collects music metadata and makes it available to the public. MusicBrainz aims to be: The ultimate source of music information by allowing anyone to contribute and releasing the data under open licenses. The universal lingua franca for music by providing a reliable and unambiguous form of music identification, enabling both people and machines to have meaningful conversations about music. Like Wikipedia, MusicBrainz is maintained by a global community of users and we want everyone — including you — to participate and contribute.
annamaria1231's Music Profile
Hey Kids! Here's latest from your friends at RCR: RCR to headline the Amelia Island Jazz Festival in October, 2013: We'll be closing the show on Friday, October 11th at this incredible festival on Amelia Island, just off the coast of Jacksonville, Florida. More Info
Royal Crown Revue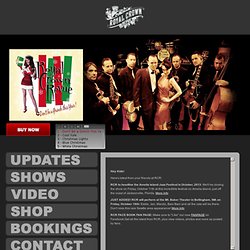 ChooseYourSongs.com
"RIZE official web site"
La comptine Frère Jacques à travers le monde: canon multilingue vidéo
Topics: Music
Soul Power Written by Captain Performed by Captain Courtesy of Killer Tracks Escape (The Pina Colada Song) (1979) Written by Rupert Holmes Performed by Rupert Holmes Courtesy of MCA Records Under license from Universal Music Enterprises Blue Devil Jump (1977) (Also known as "Blue Devil's Jump") Written by Paul Quinichette Performed by Jay McShann Courtesy of Atlantic Recording Corp.
American Splendor (2003) - Soundtracks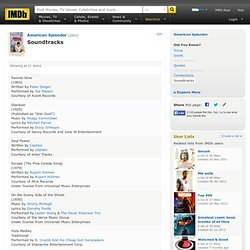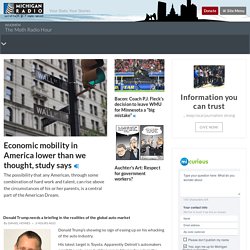 Many political deals have been dubbed a "grand bargain." This "grand bargain" involves private money and potential state money to save Detroiters' pensions and the artwork at the Detroit Institute of Arts. This morning federal mediators involved in the Detroit bankruptcy released a statement saying in part: "We are advised that the governor of the State of Michigan, Rick Snyder, intends to announce soon his support for significant state participation in the plan to help protect the pensions of city of Detroit retirees, support the DIA, and revitalize the city in the aftermath of the bankruptcy. The governor has indicated that he will engage with the Michigan Legislature to help secure this support for the plan."
Michigan Radio - Your NPR News Station
WKAR.org Public Broadcasting from East Lansing -- WKAR-TV -- 90.5 -- AM 870