Frivolty
Celebrity Gossip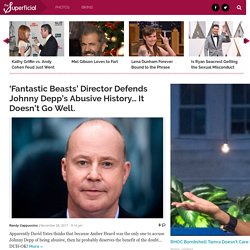 The Crap We Missed – Thursday 1.16.14 Welcome to Thursday's The Crap We Missed where I'd like to deviate from the usual program of yoga-panted ass to share with you guys a lesson I learned today. You see, when you live on the Internet like I do, it's not always kittens in baskets and Saved By The Bell gifs, sometimes it's plain hard truths. Truths like instead of wasting four years of life on exactly the college major I chose – #5, I should have learned how to manage the restaurant I'll inevitably end up working in.
Home Page
play Nintendo 8-bit games online (no download required)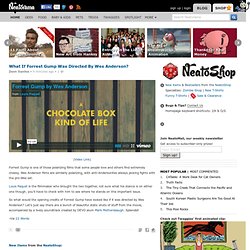 We have an auspicious occasion coming up. The Lunar New Year begins this coming Friday, January 31st. 新年快樂! According to the Chinese zodiac, we will enter the Year of the Horse. Or, if you're a Brony, it will be the Year of the Pony. Get ready for all that entails (ha -entails).
Neatorama
The Muppets Take the Internet
SPAM® Shop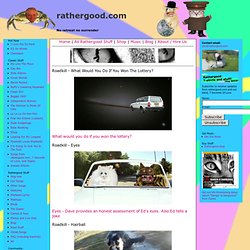 The Lair of the Crab of Ineffable Wisdom - a load of stuff by Joel Veitch that will probably crush your will to live
Hot Now Classic Stuff Rathergood Stuff Community: Follow me on Twitter! Contact email:joel@rathergood.com
Les "pouvoirs miraculeux" de la radioactivité Il fut un temps où l'on enveloppait les bébés dans de la layette enrichie au radium pour qu'ils aient bien chaud. Leurs mères, très avant-gardistes, s'enduisaient le visage de crèmes de beauté «irradiantes» en buvant à la paille des sodas atomiques... En 1896, un savant français, Henri Becquerel, découvrit la radioactivité par accident, alors qu'il faisait des recherches sur la fluorescence des sels d'uranium. Encouragé par son ami Henri Poincaré, il cherchait à déterminer si ce phénomène était de même nature que les rayons X. C'est Marie Curie qui appelle cette bizarrerie scientifique la « radioactivité » et bientôt les Curie décèlent l'élément radioactif appelé radium, dont ils parviennent à isoler une petite quantité.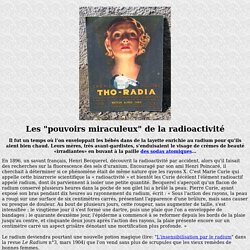 http://www.dissident-media.org/infonucleaire/radieux.html
Funny Videos, Funny Pictures, Flash Games, Jokes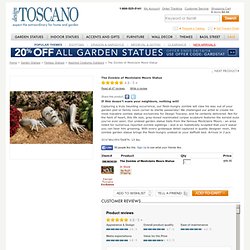 The Zombie of Montclaire Moors continues to be the highlight of my Halloween cemetery going on five years now. The quality is outstanding and he's held up extremely well. Storing him is easy due to his three piece construction. He's so realistic that many of my trick-or-treaters (the braver ones) have to touch him. This past year, I added rubber rats to chew on his ears which added a nice touch.
The Zombie of Montclaire Moors Sculpture - DB383020
Jaco Strauss' Tech Support Excuse Generator
Bizarro
Column by Jeff Whitson – contributing film critic. I love watching my favorite movies over and over again. There are many reasons we watch movies more than once.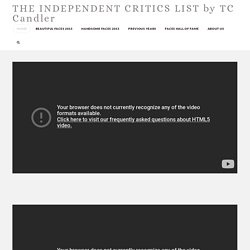 The 100 Best Movie Posters of All Time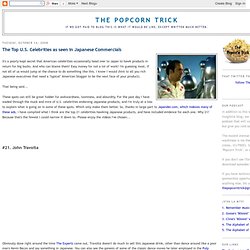 The Top U.S. Celebrities as seen in Japanese Commercials
It's a poorly kept secret that American celebrities occasionally head over to Japan to hawk products in return for big bucks. And who can blame them? Easy money for not a lot of work? I'm guessing most, if not all of us would jump at the chance to do something like this.
Adventure Time Vlogs: Fionna and Cake Nash: WTFIWWY Live: Midvale School for the Gifted Diamanda Hagan: Hagan Reviews - Prelude to Season 5 Brad: I, Frankenstein and The Nut Job Thumb Wars Ep 62 A Fond Farewell for Now Lotus Prince: Ico - Parts 1-3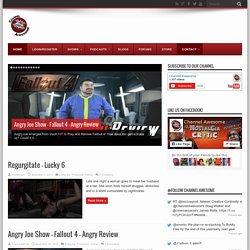 That Guy With The Glasses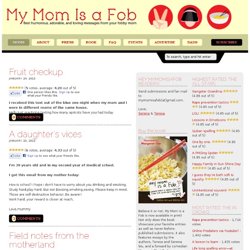 My Mom Is A Fob - Funny Asian Mother Jokes and Quotes
Loading ... I received this text out of the blue one night when my mom and I were in different rooms of the same house. Hello.Just practicing texting.how many apricots have you had today I'm 30 years old and in my second year of medical school.
Garkov Other Markov toys: Previously, on the X-Files...The Big MarkovskiJesus Markoving Christ Garfield is a comic strip by Jim Davis, who seems like a pretty good guy.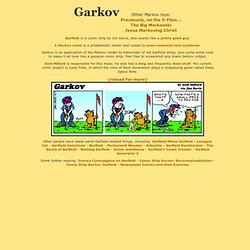 Garkov -- Garfield + Markov chains -- Josh Millard
The annual GenCon gaming convention is one of the biggest gatherings of geekly types in the world. So it probably won't suprise you that it's also one of the highest concentrations of Shirt.Woot tees outside of our warehouse. Two of our number, Dave and Luke, go every year - but this year, along with the capes and the chainmail, an elite few among the GenCon mob were lookin' sharp in their Shirt.Woot finery... Unlike previous years, there were no reported zombie fatalities at GenCon 2008.
Shirt.Woot Sightings At GenCon 2008
Beautiful Word Clouds
Wordle is a toy for generating "word clouds" from text that you provide. The clouds give greater prominence to words that appear more frequently in the source text. You can tweak your clouds with different fonts, layouts, and color schemes. The images you create with Wordle are yours to use however you like. You can print them out, or save them to the Wordle gallery to share with your friends.
Mark Twain Motivational Posters
Page 1 of 2 BLUE: info from my personal MLP collection and MLP bookletsGREEN: info provided by other MLP collectors and from pictures Year 4 was the year when My Little Pony made an incredible comeback after a very slow Year 3. With more new new ponies appearing in 1985, than ever before, My Little Pony came in to 1986 with a movie, followed by a TV series, and even extra ponies as the year went on. This year marked the end of the round scented puffy stickers that came with each pony and replaced them with grape-scented body sticker in the shape of each pony.
Year 4 - Ponies (1985-1986) --Page 1 of 2
Celebrity gossip juicy celebrity rumors Hollywood gossip blog from Perez Hilton