Blogs
Letters of Note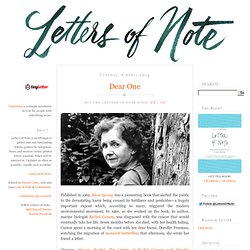 In March of 1980, a school librarian by the name of Jo Ellen Misakian wrote to Francis Ford Coppola and, on behalf of the students at Lone Star School in Fresno, California, asked him to consider adapting their favourite novel, S. E. Hinton 's The Outsiders , for the big screen. Also included with her letter were a copy of the book, and a petition signed by 110 of the kids.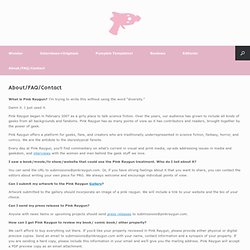 About/FAQ/Contact | Pink Raygun.com
What is Pink Raygun? I'm trying to write this without using the word "diversity." Damn it. I just used it.
Anonymous I workship you! Please make a tag page because I need to stalk you properly!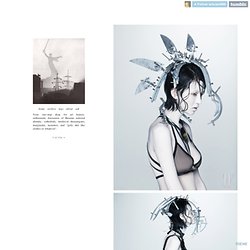 lolpocalypse
I am a mermaid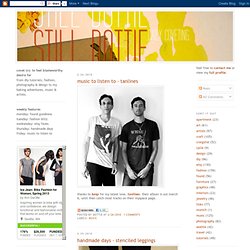 02.10
yeah, there's a bit of a leggings debate. they aren't pants - i'm aware of that & argued it to my death a year ago. my question now, is how i'm supposed to ignore a trend that allows women to be fashionable in something so close to sweatpants. hell, there were sweatpants on the runway in ny. until i realize what a silly phase this was, i will embrace it & even adorn the leggings with sweet little stencils. thanks to transient expression for the idea & tutorial .
Full List - TIME.com's First Annual Blog Index
NewBlackMan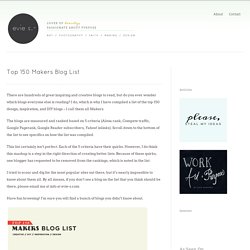 Top 150 Makers Blog List
There are hundreds of great inspiring and creative blogs to read, but do you ever wonder which blogs everyone else is reading? I do, which is why I have compiled a list of the top 150 design, inspiration, and DIY blogs – I call them all Makers. The blogs are measured and ranked based on 5 criteria (Alexa rank, Compete traffic, Google Pagerank, Google Reader subscribers, Yahoo!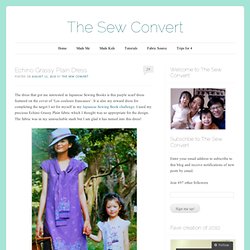 Echino Grassy Plain Dress « The Sew Convert
The dress that got me interested in Japanese Sewing Books is this purple scarf dress featured on the cover of 'Les couleurs francaises'. It is also my reward dress for completing the target I set for myself in my Japanese Sewing Book challenge. I used my precious Echino Grassy Plain fabric which I thought was so appropriate for the design. The fabric was in my untouchable stash but I am glad it has turned into this dress! The dress is Project C from 'Les couleurs francaises'. It is relatively easy to make with many detailed diagrams.
Mozilla Firefox
The Scripture of Nick
Hidden Peanuts
A while back I spent a weekend in Nashville with a bunch of Gonzos at a gathering of gathers called Hutchmoot . It was a marvelous time and I'm finally getting around to writing about it. Anyone involved in a creative process knows how exhausting it can be, and collaborative, which adds to the fatigue. The ability to be creative is a blessing. J. R.
David Michael Bruno
We worked with 10 category experts to identify 100 voices that matter.
Church Of The Geek
A few weeks ago the "collective" (Jen, Seth, and myself) took advantage of one of Gamestop's extra trade-in bonus weekends to clear out some old games and pick up a brand new Xbox 360 for a very, very cheap price. And so far we love it. Of course the picture being painted here is far too rosy, so of course a problem must enter into it somewhere. That somewhere is the recently announced price cut for all 360 models.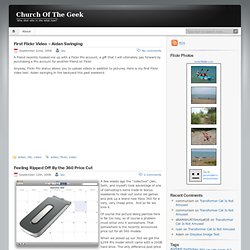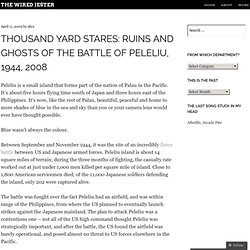 Thousand Yard Stares: Ruins and Ghosts of the Battle of Peleliu, 1944 ...
Peleliu is a small island that forms part of the nation of Palau in the Pacific. It's about five hours flying time south of Japan and three hours east of the Philippines. It's now, like the rest of Palau, beautiful, peaceful and home to more shades of blue in the sea and sky than you or your camera lens would ever have thought possible. Blue wasn't always the colour. Between September and November 1944, it was the site of an incredibly fierce battle between US and Japanese armed forces. Peleliu island is about 14 square miles of terrain; during the three months of fighting, the casualty rate worked out at just under 1,000 men killed per square mile of island.
This is a novel about books and technology, cryptography and conspiracy, friendship and love. It begins in a mysterious San Francisco bookstore, but quickly reaches out into the wider world and the shadowed past. I talked about the ideas behind the book on NPR's Morning Edition, and had a real-life bibliophile adventure with the New York Times. George Saunders says: [This book] is a real tour-de-force, a beautiful fable that is given legs by the author's bravado use of the real (Google is in there, for instance, the actual campus) to sell us on a shadow world of the unreal and the speculative. Robin Sloan comes across as so bighearted, so in love with the world—the ancient world, the contemporary world—so in love with love, in love with friendship, in love with the idea that our technical abilities can serve as conduits for beauty, that the reader is swept along by his enthusiasm.
Mr. Penumbra's Twenty-​​Four-​​Hour Book Store > Robin Sloan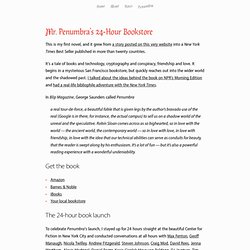 Mommy Baby Time
altzen - User Profile
dankish links
sweet juniper!
My Whole Expanse I Cannot See... " About the Author
A day in the life