TODO : Le changement c'est maintenant
Startup Stay: Couch-surfing for entrepreneurs - Aug. 21. Startup Stay connects entrepreneurs around the world with for business travel and networking.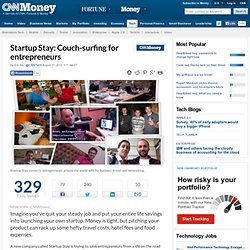 NEW YORK (CNNMoney) A new company called Startup Stay is trying to save entrepreneurs from a life on the road filled with instant ramen and sketchy youth hostels.
Humanités
Design. Entrepreneuriat social. Même pas mal ! | Partage d'alternatives pour mode de vie en temps de crise, le blog d'Anne-Sophie Novel. Vidéos. Innovation. Associations et projets - à trier. Sites colab.
---