Stories
Business Story-Telling - Communication Skills Training from MindTools. Using Stories to Inspire Learn how to tell stories that will help you sell products, build trust, or inspire your team. © iStockphoto How many times have you been enthralled by a good story?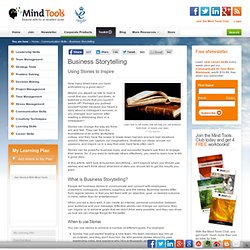 A.S. Byatt on the Power of Fairy Tales. The Storytelling Animal: The Science of How We Came to Live and Breathe Stories. By Maria Popova Where a third of our entire life goes, or what professional wrestling has to do with War and Peace.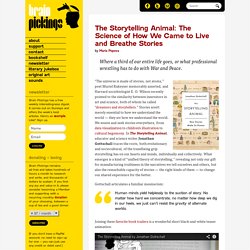 "The universe is made of stories, not atoms," poet Muriel Rukeyser memorably asserted, and Harvard sociobiologist E. Why Storytelling Is The Ultimate Weapon. In business, storytelling is all the rage.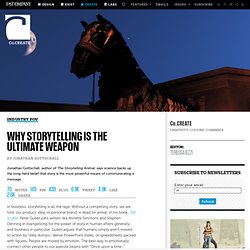 Without a compelling story, we are told, our product, idea, or personal brand, is dead on arrival. In his book, Tell to Win, Peter Guber joins writers like Annette Simmons and Stephen Denning in evangelizing for the power of story in human affairs generally, and business in particular. Guber argues that humans simply aren't moved to action by "data dumps," dense PowerPoint slides, or spreadsheets packed with figures. People are moved by emotion. The best way to emotionally connect other people to our agenda begins with "Once upon a time…" Einstein, music lessons and opening the mind.
This story is from Jerome Weidman, with no known copyright info.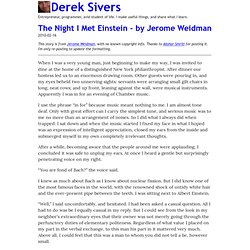 Thanks to Akshar Smriti for posting it. I'm only re-posting to update the formatting. When I was a very young man, just beginning to make my way, I was invited to dine at the home of a distinguished New York philanthropist.
---